10 most popular investment trusts - November 2017
by

interactive investor

|

from
In November, Scottish Mortgage kept its position as the most popular investment trust to buy on the Interactive Investor trading platform.
The investment trust was able to maintain its place as the most-bought trust, despite a 4.7% slide in the share price in November. Over a three-year period, it has seen a positive return of 77.3%.
Rising up into second place, having been as low as sixth in our league table in October, is Neil Woodford's Woodford Patient Capital trust. Woodford continues to test the patience of shareholders, with the trust's share price showing a loss of 8.1% over the past year.
Completing the top three is Witan, which dropped one place from the October standings.
Other trusts also enjoyed a continued increase in popularity. Baillie Gifford Shin Nippon, following its entry into the top 10 most-bought in October, continued its rise in November, moving up three places to become the fourth most popular trust among Interactive Investor users.
There is a general trend towards Japan-focused investment trusts, with Baillie Gifford Japan IT also entering the top 10 most-bought table in November, coming in at eighth place.
Both of Baillie Gifford's Japan focused funds have seen handsome returns over the past three years. BG's Shin Nippon's share price return over three years was 171.1% and BG Japan's being 117.4%.
Both funds also saw the only positive returns over the past month, with Shin Nippon seeing a return of 6% and BG Japan 2.4%.
Another new entrant into the rankings was Templeton Emerging Markets IT, perhaps indicative of a growing move towards emerging markets among investors as returns and opportunities in the region continue to pick up.
Despite a general trend away from UK equities and trend towards European equities, this wasn't reflected in people's investment trust buying choices.
City of London, which focuses on buying UK shares that pay dividends, maintained its place in fifth position. At the same time, TR European Growth, focused on European small-cap companies, continued its decline in popularity, slipping from fourth to seven this month.
Fidelity China Special Situations and RIT Capital Partners exited the top 10.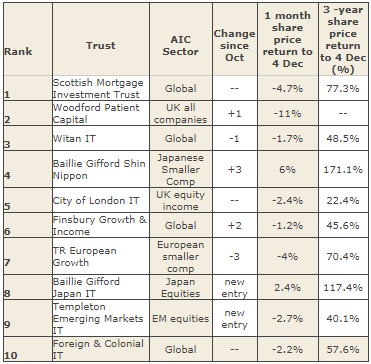 This article was originally published in our sister magazine Money Observer. Click here to subscribe.
This article is for information and discussion purposes only and does not form a recommendation to invest or otherwise. The value of an investment may fall. The investments referred to in this article may not be suitable for all investors, and if in doubt, an investor should seek advice from a qualified investment adviser.