What's really going on at Finsbury Food?
by

interactive investor

|

from
So, Richard, it seems investors have lost confidence in Finsbury Food?
Certainly does. I halved the Share Sleuth portfolio's holding nearly two years ago. The share price then was more than it is now, yet it's more profitable now.
Seems like scant reward…
Indeed, the earnings yield then was 5%, today it's 8%. We like our sugary treats, and I reckon it should be a pretty stable business, as long as it's run by stable characters. Eight per-cent is not a bad return, considering it doesn't account for growth, and Finsbury should grow modestly over time. Maybe the shares are undervalued...
Go on, tell me, what does Finsbury do?
Clue's in the name. It's a baker. It supplies supermarkets and coffee shops with cake and bread
Supermarkets are tough customers. It sounds like a gruelling business…
That's a fair assumption. Profit margins are not exactly high, they range between about 3% when the company was in difficulty during the financial crisis and 5% now.
The company has some advantages. It's large, which gives it economies of scale. Its wholesalers supply the food service industry (i.e. cafes and caterers), which, Finsbury says is a higher margin business.
Finsbury's breads are premium healthy brands, gluten free, organic, coated with seeds, that kind of thing. They may earn a higher markup.
In cakes, it also differentiates itself by partnering with big names. It's recently launched a range in collaboration with Mary Berry and Disney-themed cakes are a perennial birthday favourite. It has a longstanding agreement to make and market bite-sized cakes stamped with the Thornton's brand.
Brands. I like brands. They're a license to print money aren't they?
Apparently not. Look at those profit margins. Mary Berry's going to attract custom of course, but Finsbury is reliant on other people's brands; Cranks', Vogel's (some of the bread brands), Disney and the rest.
To use the name, Finsbury has to pay a license fee. Presumably it makes some extra profit from the arrangement, but there are plenty of bakers. And there's only one Mary Berry, so the power to negotiate a good deal probably lies with Mary.
Like you say, it's a tough business and I think Finsbury's main source of advantage is cost. It's got to keep costs low so the supermarkets and distributors keep buying from it.
So, if Finsbury's trapped between powerful supermarkets and powerful brand owners, why are you interested in it?
Good question. Low margin business can still be highly profitable if they are more efficient than their rivals, if they churn out more cake and bread for every pound they invest in ovens. At first blush Finsbury is highly profitable. Take a look at this:
You can see the low profit margins (red line), but you can also see high capital turnover (yellow line). Combined, they produce a normalised return on capital of between 15% and 23%.
But I don't think this is a very accurate measure of profitability. I think it's more of an upper limit. Return on Capital is no more than 15-23%, and it could be a lot less.
OK, what's the worst-case scenario then?
Actually, I think I can tell you that too, but first some arcane accounting. Arcane that is, even to me.
I may be doing them an injustice, but I think bakers are just that - bakeries. Their main assets are buildings and equipment, if they own them. They don't have brands, or intellectual property or other intangible assets that would be worth more than book value if they were acquired.
Finsbury has racked up quite a bit of goodwill over the years buying other companies. Goodwill is necessary to balance the books after an acquisition if a company has paid more for the target than the book value of its physical assets. Being a historical cost, I ignore it in the calculation of return on operating capital as the goodwill doesn't represent assets that need to be replaced. The book value of physical assets, ovens, is consolidated into the acquirer's balance sheet on acquisition.
This presents us with something of a mystery. According to my over-simplified model of a baker, it has no intangible assets, so what is the goodwill the acquirer's paid for? There are probably synergies, the opportunity to cut costs and acquire new customers for example, but one theory I've been unable to substantiate is Finsbury acquires old equipment at zero book value because it has already been fully depreciated by the acquired company. This equipment will need to be replaced, and should be included in the capital part of the return on capital calculation.
I don't know how much, if any, of the goodwill is attributable to the purchase of physical assets, but the worst case is all of it. If we add back all goodwill and intangible assets at cost, we get Return on Total Invested Capital.
ROTIC is, currently 10%, which is fine. But it's fallen as low as 6% in the past, which is not really worth being in business for.
The truth, though, is almost certainly in-between my two Return on Capital scenarios.
Finsbury is a good business, so long as management don't mess up…
Why are you worried management will mess up. I hear the CEO rescued the company?
John Duffy? Yep, he was promoted from chief operating officer in 2009.
Though the business was profitable at an operating level, previous managers had accumulated so much debt, Finsbury's interest bill had increased to the point it was gobbling the lion's share of that profit.
Duffy sold off businesses to pay off some of the debt.
Take a look at this chart: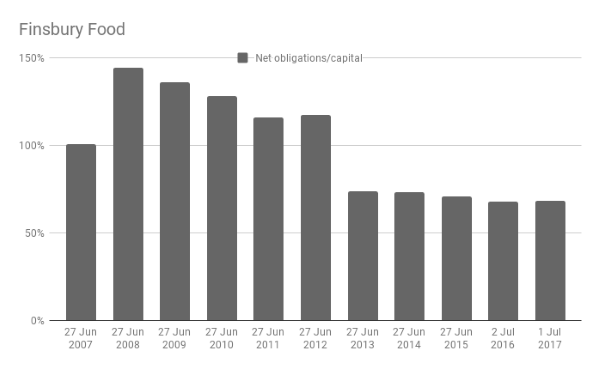 It lumps borrowings with other debt like obligations: the approximate value of operating lease commitments and how much money the company owes its pension fund.
Finsbury is still pretty heavily dependent on outside finance, but it has at least stabilised at a lower level while at the same time making acquisitions and spending record amounts automating production lines and building new bakeries. Admittedly, it's sold shares to raise funds too.
Sounds like Finsbury is investing from a position of increasing strength?
To a point yes. But remember what I said about costs. Finsbury must invest to keep costs low. High levels of investment in automation now may be required to mitigate increases in the wage bill. Baking employs a lot of people on low wages, and as we know, the government has pledged to increase the National Minimum Wage to £9 by 2020.
So, tell me what you really think Richard…
It's a tough business run well at the moment, but to increase efficiency it must invest in machines and acquisitions, and I wonder where the money will come from.
The AGM's next week. If the year before last's anything to judge by, I'll go loaded with questions and come back loaded with treats.
Hopefully I'll understand it a bit better too…
Contact Richard Beddard by email or on Twitter: @RichardBeddard.
This article is for information and discussion purposes only and does not form a recommendation to invest or otherwise. The value of an investment may fall. The investments referred to in this article may not be suitable for all investors, and if in doubt, an investor should seek advice from a qualified investment adviser.