Polar Capital Global Healthcare trust plc
Large caps driving changes in healthcare
As well as disruption and innovation coming from smaller, more nimble companies we are now seeing the proactive, larger businesses driving structural change across the healthcare sector.
Since the beginning of 2017, small and mid-cap healthcare companies have significantly outperformed the large caps, a trend that started to reverse in 2H18. While we are not disputing the level of innovation we are seeing in small companies – we continue to see them as key disrupters of the industry – we think some of the valuations are beginning to get stretched.
Valuations of large healthcare companies, on the other hand, continue to look attractive on both a relative and an absolute basis. The healthcare sector's price-to-earnings ratio is broadly in line with the market on a relative basis and is sitting on its long-term absolute average. We believe healthcare deserves a premium rating.
From an investment perspective, these large companies generally offer the potential of steady earnings growth, strong cash generation and, ultimately, compounding returns for investors.
Given the potential uncertainties going into 2019 – Brexit, trade wars, rising interest rates, geopolitical uncertainty etc – we think there is a strong case to be made for investing in large healthcare stocks given they offer investors defensive growth. Our focus is on the large companies that are adopting proactive business strategies to embrace and drive change in the way healthcare is being managed, delivered and paid for.
Structural change in any industry has the potential to create winners and losers and we think the healthcare sector will be no different. In 2017, we articulated a two-pronged investment strategy for investing in healthcare during this period: (a) focus on the large-cap consolidators that are adjusting to change, and (b) identify the small/mid-cap innovators that are disrupting the industry.
Over the past year, we have seen a significant change at some of the larger companies that has begun to blur these two trends. We are now seeing healthcare management teams that are becoming more proactive, developing innovative business strategies, disrupting healthcare value chains and building new competitive barriers to entry.
We believe we are entering a new phase of structural disruption that is not just about a new therapy – be it drug or device – or developing a new technology to address a problem (such as GP visits). While all of these are still important, and can be good investments at the right price, the next phase of disruption requires a realignment of interests across the value chain and relies on collaboration.
Dealing with this type of complexity is more the preserve of large companies. All of the stakeholders need to be engaged and this means nudging patients, persuading doctors, corralling politicians and influencing payers. Certain management teams in the sector are adopting a deliberate strategy where they are trying to be the agents of change. This may be driven partly by their own vested interest, but we think it also reflects a recognition that healthcare disruption is inevitable.
Not all large companies are capable or willing to drive such change – certainly some will get left behind in this fluctuating environment. There are still many companies that have more of a reactive approach, often reeling from the new regulations or procedures that are being forced upon them either by a regulator or by a payer.
We recognise that not all proactive strategies will succeed and creating an alignment of a diverse set of stakeholders is never an easy feat, even for an industry leader. Nevertheless, there are a few themes we see emerging that are a useful guide to which companies may be successful.
We are seeing management teams of large-cap companies getting ahead of healthcare affordability challenges, the most obvious of which is drug pricing in the US. We are now seeing some pragmatic approaches to pricing that are a significant diversion from what has been standard industry practice. The migraine market in the US is a great example of how quickly the pricing landscape is changing.
Amgen and Novartis launched their novel migraine drug, Aimovig, in May 2018 with a list price of $6,900pa. This was at a significant discount to the $8,500pa recommended by the Institute for Clinical and Economic Review based on its independent pharmacoeconomic analysis. In response, Eli Lilly launched its competitor drug, Emgality, in September at a similar price point. Moreover, both drugs are available to new patients on a patient access programme that initially provides drugs for free. With new competitors set to launch over the coming year, we think the companies are trying to exploit their first-mover advantage and mitigate pushback on reimbursement from insurers.
We have also observed another new dynamic related to the change in priorities when it comes to negotiating a product label with the regulators. One of the strict regulations for drug companies is that they can only promote medical data and indications that are contained on the product label. Historically, the industry's approach has been to apply for as broad a label as possible with a view to using sales and marketing muscle to drive wide adoption by the prescribing community.
We are now seeing companies looking for narrow labels that target very specific populations where a drug candidate can show strong efficacy. This improves product differentiation, demonstrates value when it comes to reimbursement discussions, and should drive high levels of adoption within the defined patient populations. Novartis' BAF312 for secondary progressive multiple sclerosis and AstraZeneca's Imfinzi for early-stage lung cancer (so-called stage III) are two good examples of this strategy. The filing for BAF312 has only recently been accepted by FDA, so the commercial success has yet to be assessed, but Imfinzi's rapid uptake underpins the value of this targeted strategy.
The challenge and opportunity for us is to find companies and management teams that have differentiated assets and who are adapting to a rapidly changing healthcare landscape. Not all large companies will be able to drive such change, some will get left behind, but we are already seeing large companies adopt a proactive strategy to be the agents of change. These are the ones making investment decisions today that will help shape the future of healthcare tomorrow.
Daniel Mahony, Gareth Powell and James Douglas
Fund Managers, Polar Capital Healthcare Trust
6 December 2018
Disclaimer
All opinions and estimates in this report constitute the best judgement of Polar Capital as of the date hereof, but are subject to change without notice, and do not necessarily represent the views of Polar Capital. Polar Capital is not rendering legal or accounting advice through this material; viewers should contact their legal and accounting professionals for such information. This document does not constitute a prospectus, offer, invitation or solicitation to buy or sell securities and is not intended to provide the sole basis for any evaluation of the securities or any other instruments, which may be discussed in it. This is not a financial promotion. Past performance is not indicative of future results. A list of all recommendations made within the immediately preceding 12 months is available upon request. This document is not a personal recommendation and you should consider whether you can rely upon any opinion or statement contained in this document without seeking further advice tailored for your own circumstances. This presentation is only made available to professional clients and eligible counterparties. Shares in the fund should only be purchased by professional investors. The law restricts distribution of this presentation in certain jurisdictions; therefore, persons into whose possession this presentation comes should inform themselves about and to observe, all applicable laws and regulations of any relevant jurisdiction.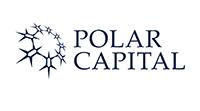 Polar Capital
Polar Capital is a specialist, investment-led, active fund management company.
We offer investors a wide range of regional and sector-based funds built using a fundamental, research-driven approach, run by dedicated, specialist investment teams. 
The Company manages three sector-based investment trusts, covering some of the largest sectors in the world: technology, healthcare and financials.