Music-streaming revenues hit a high note
The music royalties industry is on the cusp of a new era, with specialist fund Hipgnosis Songs well-placed to benefit, says Gary Moglione of Seneca Investment Managers
Music rights have become increasingly attractive to investors and Hipgnosis Songs Fund (LSE: SONG), the investment company set up to buy music rights, is certainly making waves in the music industry. The outlook for the music industry and revenues from songs are favourable for Hipgnosis and have further been boosted in recent years due to the strong growth in streaming services.

Hipgnosis Songs made its £200 million stock market debut in July 2018. Over the past year the fund has bought the rights to songs by artists such as Justin Bieber, Little Mix, Beyoncé, Emeli Sandé, Rihanna, Jay-Z and James Arthur. Investors own the rights until 70 years after the death of the writer or last co-writer and the rights effectively provide an annuity-like cash flow.

Although the music industry has been plagued by piracy, which caused a near-uninterrupted decline in earnings between 1999 and 2014, this trend has clearly reversed following three years of market growth (see chart). We therefore believe the music royalty market is on the cusp of a new era.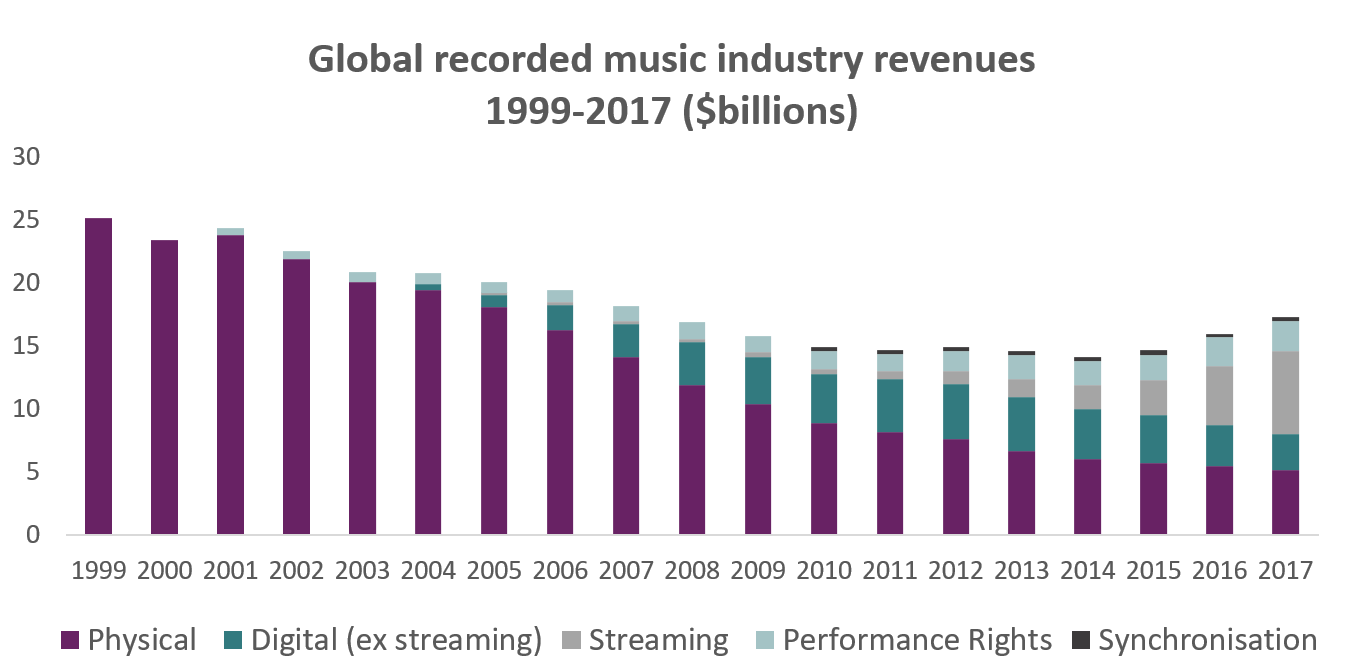 Source: IFPI 2018
LOW VALUATIONS AND CORRELATION
Seneca Investment Managers has been investing in songwriter royalties because we value their bond-like characteristics. Valuations are currently low, relative to stock markets. Sustainable cash flows are available at a decent discount to global stocks, based on a five-year period in which global recorded music industry earnings have troughed. In 2017 these were still only 68% of their 1999 peak.

Music royalties have a low correlation to other asset classes such as stocks and bonds.This is important to us from the perspective of portfolio construction and risk. We believe music industry revenue is more heavily influenced by factors such as music piracy, legislative change, emerging market growth and technological advances than it is by interest rates and stock market fluctuations.

The valuation process is difficult to explain as this is a fairly opaque market. However, Round Hill Music's acquisition of one of the industry's prized assets – the Carlin music catalogue –provides an interesting case study. The catalogue contained songs from James Brown, AC/DC, Meatloaf and Billie Holliday; plus Christmas classics such as "Santa Baby" and "Jingle Bell Rock". The reported price paid was 16 times the catalogue's earnings, generating yields of around 6%.

An "evergreen" catalogue may trade at 11 to 13 times earnings (yielding 7 to 9%). The more speculative "unproven" catalogues will trade on lower multiples. Our process is to understand these valuations, verify if the cash flows are sustainable and assess their long-term growth potential.
ATTRACTIVE GROWTH DRIVERS
Getting to grips with the valuation process led us to understand some of the key themes that will drive potential growth in this market.
Technology disruption: Globally, streaming grew 41% last year, outstripping a reduction in music purchases and direct downloads. This highlights the shift we're seeing from a consumption model (i.e. buying music) to a subscription model (such as services offered by Spotify and Pandora). Music piracy has damaged earnings over the past two decades but this has provided an opportunity for reliable and broad subscription services to emerge.
Emerging market growth: China, the world's most populous country, is a particularly strong example. Our analysis of revenue by country shows that China only recently entered the top 20 countries by music revenue. However, momentum has been building and in 2017 China entered the top 10 countries by music revenue, following revenue growth of 35%. The average spend on music in China is $0.21 (£0.16) per head compared to $19.98 in the UK. The potential upside is huge but the downside is limited as the industry has never generated significant revenue in China.
Legislative changes: Songwriters' share of royalties increased from 10.5% to 15.1% in the US streaming market in 2017 (it will increase gradually over five years). To date the music streaming market has been dominated by YouTube with a 46% share. However, YouTube pays a much smaller percentage of revenue on royalties compared to companies such as Spotify. YouTube takes advantage of outdated "safe harbour" laws from 1998 that were intended to protect passive online intermediaries. If legislation were updated, potentially forcing YouTube to move towards Spotify's level of royalty payments, this would provide a sizeable revenue uplift.
The equity market would place a very high valuation on a technology disruptor with huge upside potential from emerging market growth. As value investors, we have found a way to access these powerful themes at a fraction of the cost, via Hipgnosis Songs.
We have invested in the fund because we understand the broad cash flows and pricing models. The Hipgnosis team is comprised of music industry veterans, from senior managers to songwriters. We believe they are well placed to identify the best catalogues, complete purchases at the right price and manage those assets by enhancing revenue from other areas, such as advertising and video games, to give us that extra upside potential.
The views expressed are those of Gary Moglione at the time of writing and are subject to change without notice. They are not necessarily the views of Seneca Investment Managers Limited and do not constitute investment advice. Whilst Seneca Investment Managers has used all reasonable efforts to ensure the accuracy of the information contained in this communication, we cannot guarantee the reliability, completeness or accuracy of the content. This communication provides information for professional use only and should not be relied upon by retail investors as the sole basis for investment. Seneca Investment Managers Limited (0151 906 2450) is authorised and regulated by the Financial Conduct Authority and is registered in England No. 4325961 with its registered office at Tenth Floor, Horton House, Exchange Flags, Liverpool, L2 3YL. FP19 223.


Seneca
Seneca Investment Managers is a long established boutique investment house, based in Liverpool, with a national client base. Investors range from institutions such as pension funds and charities, through to financial advisers, discretionary private client managers and personal investors. 
Where we differ from other providers of multi-asset investment products is in our 'value' based approach. This means we pride ourselves on the ability to identify and invest where there is both quality and unrecognised value.
Simply put, we create funds that combine stocks and shares in companies (equities) with fixed interest investment vehicles (bonds or debts) and a wide range of specialist assets such as property, private equity, specialist finance and infrastructure. We believe our multi-asset value approach gives us the edge in delivering the right outcomes for our investors.