Home
>
sponsored
>
Baillie Gifford Investment Trusts
This section is sponsored. Sponsored content is paid for and produced by an advertiser rather than interactive investor (ii). ii does not endorse any particular product. If you are unsure if an investment is suitable for you please seek advice from an independent financial adviser. Sponsored content (whole pages or sections within a page) will always be marked by a green "Sponsored" tag and have a green border.

Independent Global Investment Managers
Baillie Gifford has been managing investments since 1908. As a wholly independent partnership, with no external shareholders demanding short-term gains, we can focus on what we do best, seeking out long-term investment returns for our clients. Our investment philosophy focuses on growth, while our universe is global. Over a century of investment experience has taught us that patience is vital, and we are not interested in following fads
and fashions or pursuing short-term performance. It's a philosophy that has guided our investment strategy for over 100 years. We are the largest manager of investment trusts in the UK with a range of nine trusts.
The value of a stock market investment and any income from it can fall as well as rise and investors may not get back the amount invested. Baillie Gifford & Co Limited is authorised and regulated by the Financial Conduct Authority.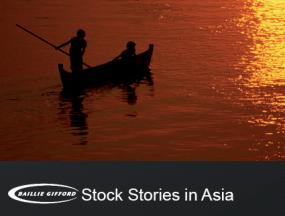 Pacific Horizon Investment Trust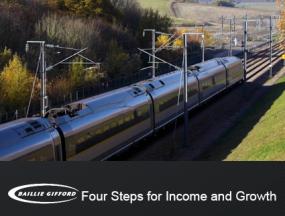 Scottish American Investment Company (SAINTS)

The Monks Investment Trust PLC
Launched in 1929, Monks is quite simply an investment trust that searches the world for investments with exceptional growth opportunities. Managed according to Baillie Gifford's Global Alpha investment strategy, Monks takes a highly active approach to investment and its portfolio looks nothing like the index.
Scottish Mortgage - Invest in Progress
Join joint managers of the Scottish Mortgage Investment Trust, James Anderson and Tom Slater, as they discuss why they believe that the rapid progress in several industries has created some exciting new businesses with deep competitive advantages.
The Scottish American Investment Company P.L.C. (SAINTS)
SAINTS is designed to generate an inflation-beating income from your investments that won't weaken in the long term. It aims to deliver a winning combination of growth, income and dependability. Please note, the level of income is not guaranteed, and you may not get back the amount invested.


Baillie Gifford Trust Magazine
Baillie Gifford is unique in the UK in being a large-scale investment business that has remained an independent private partnership. This ownership structure has allowed us to keep our efforts focused entirely on our clients and their investments.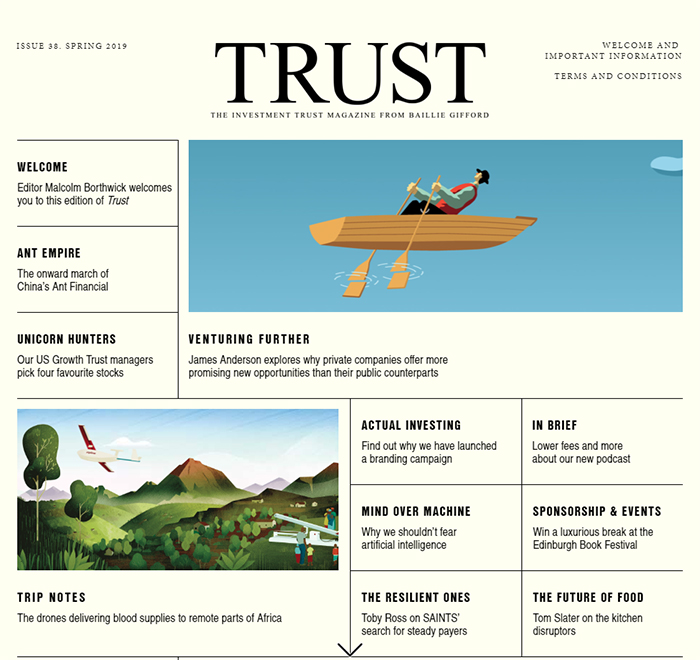 Short Briefings on Long-Term Thinking – the Baillie Gifford podcast
Baillie Gifford's Short Briefings on Long Term Thinking brings valuable insights into the benefits of taking the long view. You'll hear frank, often contrarian opinions from our team in Edinburgh and from experts around the world.
The podcast series is available through iTunes, TuneIn Radio and Spotify. Subscribe now to keep up-to-date with all the episodes as they become available.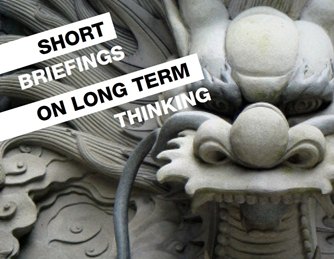 Risk Warnings and Important Information
The trust directors and staff of Baillie Gifford & Co may hold shares in the trusts and may buy or sell shares. The trusts can make use of derivatives, which may impact on their performance. The investment trusts managed by Baillie Gifford & co are listed UK companies. They are not authorised or regulated by the Financial Conduct Authority. The trusts can borrow money to make further investments (sometimes known as 'gearing' or 'leverage'). When this money is repaid by the trust, the value of the investments may not be enough to cover the borrowing and interest costs, and the trust will make a loss. If the trust's investments fall in value, any borrowings will increase this loss. If a trust invests in unlisted investments, it could increase the risk. These assets may be more difficult to buy or sell, so changes in their prices may be greater.