Friends and Family.
Free investing to help your friends and family take control of their financial future.
With Friends and Family, you can give up to 5 people a free subscription to ii. It's simple – you pay a single extra fee of £5 a month, and their monthly cost is zero.
Each member can invest up to £30,000 in an ISA or a general investing account.
With our free regular investing service, they'll pay no investing fees at all. And if they want to buy and sell investments, they'll simply pay our normal investing fees (usually £7.99 per trade).
Those new to investing will also have exclusive access to an online beginners' course, with guidance and support from our experts.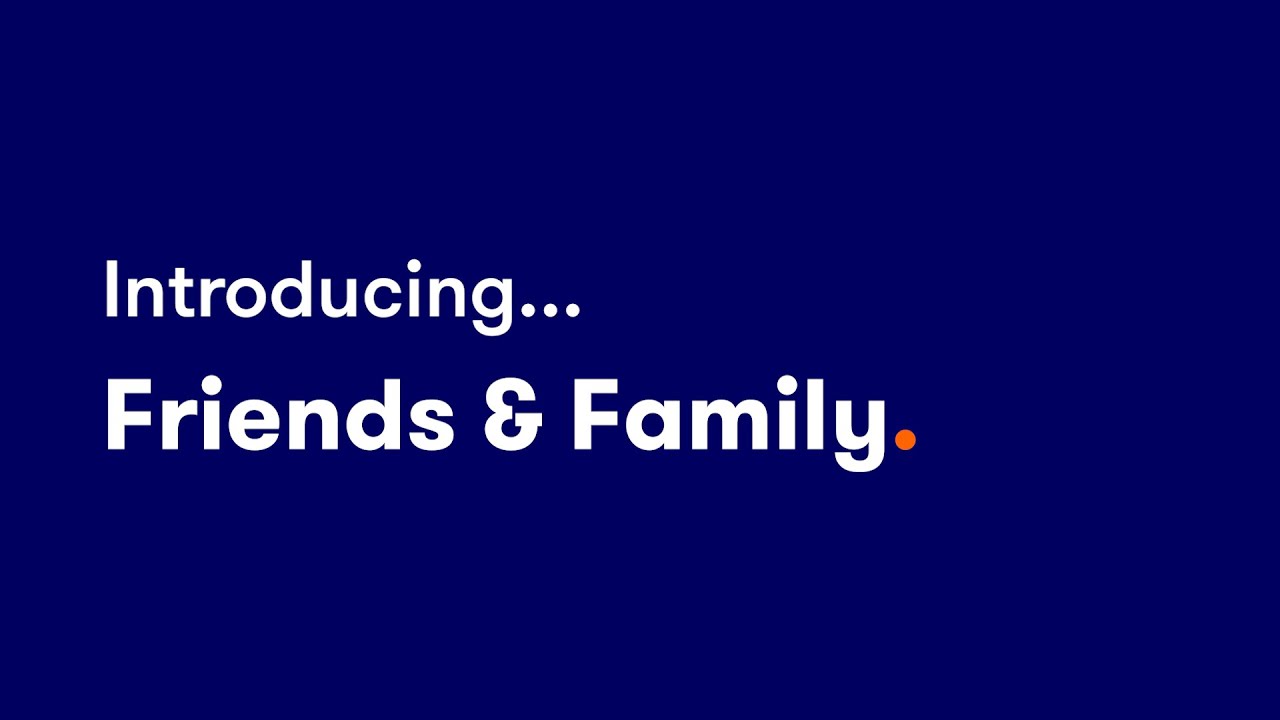 Good to know
Whether you invite two or five people to join for free, you will only ever pay an extra £5 on top of your existing monthly charge.
Friends and Family is free with our Super Investor service plan. You can invite friends and family to join for no extra monthly cost.
How to get started
You'll then receive an email to confirm your accounts are linked.
You'll see the additional £5 monthly charge on the Service Plan page in your online account.
Invite a friend or family member
You can share this offer by copying the link below:
https://www.ii.co.uk/family-member
What you need to know
Any introduced members are not charged a fee. They will pay standard investing costs (usually £7.99 per trade). They won't receive a monthly trading credit. Monthly regular investing is free.
Every invited member will have their own separate account with no link to yours, giving everyone security and privacy.
They can invest up to £30,000 each. Above this amount they will move onto the standard Investor Plan (£9.99 per month).
Introduced members can hold a Stocks & Shares ISA and/or a Trading Account.
For more information please read the terms and conditions.
Lessons for investing
We've produced a course of guides, tools and tutorials to help your loved ones become confident and responsible investors. They'll receive a weekly lesson email, but can access all the lessons from day one if they wish.
And like all ii customers, they'll have access to daily news and analysis from our expert writers.
Important information - Investment value can go up or down and you could get back less than you invest. If you are unsure about the suitability of a particular investment or think that you need a personal recommendation, you should speak to a suitably qualified financial adviser.
Friends and Family terms and conditions
Subject to these offer terms, this Friends and Family offer (the "Offer") is available to Qualifying Customers (as defined in clause 2) of Interactive Investor Services Limited ("ii", "us", "we" or "our") who meet the Qualifying Criteria (as defined in clause 3).
The Offer is only available to:

existing ii customers who have an open ii Stocks and Shares ISA and/or ii Trading Account and/or ii SIPP account (joint accounts are not eligible for the offer) (each a "Primary Customer") ;
up to five people nominated by the Primary Customer in accordance with these Offer terms who are each UK resident and aged over 18 (each a "Secondary Customer"),
(each Primary Customer and all linked Secondary Customers together the "Qualifying Customers").

In order to qualify for the Offer, the following criteria must be met:

a Primary Customer must follow the process for nominating Secondary Customers as set out by ii from time to time;
each Primary Customer must have an open ii Stocks and Shares ISA; or SIPP; or ii Trading Account (joint accounts are not eligible for the Offer);
each Secondary Customer must have an open ii Stocks and Shares ISA and/or ii Trading Account (for the avoidance of doubt, ii SIPPs are not eligible for the Offer);
each Secondary Customer shall only be eligible for the Offer for such time as they hold an aggregate balance of less than £30,000 between their ii Stocks and Shares ISA and Trading Account (as applicable); and
there must be no more than five Secondary Customers per Primary Customer at any one time,
(together the "Qualifying Criteria").

For those Qualifying Customers meeting the Qualifying Criteria, the terms of the Offer are as follows:

each Primary Customer agrees to pay a monthly supplementary charge of £5 (the "Supplement") to allow their nominated Secondary Customers to benefit from the Offer. However, each Primary Customer on the Super Investor Service Plan will be exempted from paying the Supplement and will have access to the Offer for £0 per month for such period as they remain on the Super Investor Service Plan. If any such Primary Customer subsequently moves to an alternate plan they become liable for the Supplement from such date; and
in consideration for the payment of the Supplement, each Secondary Customer linked to the relevant Primary Customer shall receive ii's Investor Service Plan for a Service Plan fee of £0 per month (please note that all other fees and charges applicable to the Investor Service Plan will apply during the Offer and Secondary Customers are ineligible for trading credits during the Offer).

If any Secondary Customer's aggregate ii account balance exceeds £30,000 at any time, they will be immediately withdrawn from the Offer and transitioned onto ii's standard Investor Service Plan rates and charges as set out in our rate card.
If, during the Offer, a Secondary Customer changes to any Service Plan other than the Investor Service Plan, they will be immediately withdrawn from the Offer and will be subject to the rates and charges payable for such alternative Service Plan as set out in our rate card.
A Primary Customer and each of their linked Secondary Customers may opt-out of the Offer at any time by giving written notice to us. In the case of an opt-out by the Primary Customer under this clause 7:

the Primary Customer will revert to the pricing that applied to their ii account(s) immediately prior to the Offer; and
each linked Secondary Customer will be transitioned onto ii's standard Investor Service Plan rates and charges as set out in our rate card.

In the event that a Primary Customer is no longer linked to any Secondary Customers (for example as a result of the relevant Secondary Customer(s) closing their ii accounts or changing to a Service Plan other than the Investor Service Plan), the Primary Customer will immediately revert to the pricing that applied to their ii account(s) immediately prior to the Offer.
In the event that a Primary Customer fails to pay the Supplement at any time, all linked Secondary Customers will be withdrawn from the Offer immediately and will be transitioned onto ii's standard Investor Service Plan rates and charges as set out in our rate card.
Anyone who is seen to be abusing the Offer may be excluded at our absolute discretion (a non-exhaustive example may include a Primary Customer nominating themself as a Secondary Customer).
All of our existing terms and conditions apply in addition to these Offer terms. In the event of any conflict between our terms and conditions and the terms of the Offer, the terms of this Offer shall prevail.
By participating in the Offer all participants agree that ii will not be liable for any costs, expenses, loss or damage sustained or incurred by any participant with regards to the Offer.
There is no alternative to the Offer.
Any personal data processed by ii in connection with the Offer will be processed in accordance with ii's privacy policy here. By participating in the Offer, Qualifying Customers consent to any incidental sharing of personal data effected by ii between such Qualifying Customers as is necessary in order for ii to service the Offer.
All other rates and charges not varied by this Offer shall continue to apply.
We reserve the right to alter, withdraw or amend this Offer and/or these terms and conditions at any time without prior notice.
This Offer is governed by the laws of England and Wales.
All participants in this Offer agree to be bound by these terms and conditions.
ii is the promoter of this Offer. The registered office for ii is 201 Deansgate, Manchester, M3 3NW.