SIPP income drawdown
Take up to 25% of your SIPP tax-free, and the remainder as taxable income when you need it.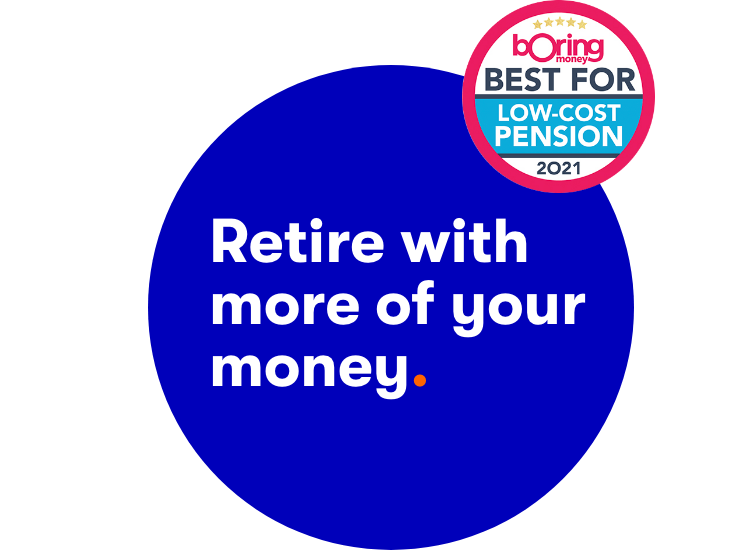 What is drawdown?
Income drawdown is a way of funding your retirement. It allows you to take a tax-free lump sum (up to 25%) out of your pension pot, and the rest as taxable income when you need it.
It can be used as an alternative to an annuity, or in combination. Annuities provide a guaranteed income for life but are much less flexible than drawdown, and there will be nothing left when you die.
How to use drawdown with your ii SIPP
There are no charges for entering drawdown with ii. It's all covered by your monthly SIPP fee.

Move funds into drawdown
If you want to move some or all of your SIPP into drawdown and take a tax-free lump sum, use our simple online form.
At the same time, you will be able to set up single or regular income withdrawals.
You will need to do this whether you are moving into drawdown for the first time, or moving further funds into drawdown. Learn more
Change your existing drawdown arrangement
If you want to set up, change or stop income withdrawals from an existing drawdown arrangement, complete a 'Start or amend flexi-access drawdown payments' form.
Capped drawdown
This is only available if you have already moved into capped drawdown. You can have a mix of capped and flexi-access drawdown funds in your SIPP.
If you would like to move further funds into capped drawdown, you will need to download and complete a Taking Pension Benefits Capped form.
If you want to set up, change or stop income withdrawals from an existing capped drawdown arrangement, complete a 'Starting or amending income payments for capped drawdown' form.
Choosing investments in drawdown
When you move funds into drawdown with your ii SIPP, you will need to decide how you want your fund to be invested in the future.
You can continue to choose your own investments, or you can choose from our four Investment Pathways.
These are selected by our experts to match four common goals people have when moving funds into drawdown. They also offer excellent value for money.
SIPP drawdown rules
You can begin to drawdown your pension from age 55 (57 from 2028). Whatever percentage you choose to withdraw as a tax-free sum, the rest may be withdrawn later as taxable income.
Drawdown options
If you want to take your full tax-free lump sum (25%) in one go, you can move your full SIPP into Flexi-Access Drawdown (FAD), where it will remain invested.
If you want to take only a portion of your tax-free allowance at one time, you can move part of your SIPP into FAD (e.g. to receive £10,000 tax-free, you would move £40,000 to FAD). You can then receive further tax-free payments later.
More about pension drawdown
What are the pros and cons of income drawdown?
Benefits:
Flexibility: Unlike an annuity, you can change the amount you receive to suit your circumstances.
Estate Planning: Pass on any remaining pension fund to your beneficiaries without inheritance tax.
Increased Control: You decide the returns you want to target, the risks you're willing to accept and the investments you want to pick
Tax Efficiency: Managing the amount of tax free sum you receive, and choosing when to go into drawdown, can help to minimise your tax exposure.
Risks:
Investment Issues: Your pension pot remains invested after it is placed into income drawdown. Therefore its value could reduce if the market dips.
Tax Implications: After you have taken your first income from your SIPP, the annual contribution allowance drops to £4,000. This prevents you from topping up your pension pot with larger sums even if you have the funds available.
Management Issues: The value of your pension pot will be affected by the success of your investments, and the charges you pay. This means you must manage your SIPP carefully, or pay for help from a suitable financial adviser.
How can Pension Wise help?
If you have a Defined Contribution pension scheme then you can access free, impartial guidance on your pension options.
This includes a face-to-face or telephone appointment provided by Pension Wise, a service from MoneyHelper.
No income option
You may decide to leave your pension pot untouched on retirement. It will then continue to grow, tax-free, meaning that you will potentially have more income if you decide to access it at a future date.
Open a SIPP by 31 October and pay no SIPP fee until May 2022.
This means your service plan fee of £9.99 covers you for all of your investment accounts. Following the offer period, the ii SIPP fee is only £10 a month more, and could save thousands compared to other pension providers who charge a percentage fee. Terms apply
The ii SIPP is aimed at clients who have sufficient knowledge and experience of investing to make their own investment decisions and want to actively manage their investments. A SIPP is not suitable for every investor. Other types of pensions may be more appropriate. The value of investments made within a SIPP can fall as well as rise and you may end up with a fund at retirement that's worth less than you invested. You can normally only access the money from age 55 (age 57 from 2028). Prior to making any decision about the suitability of a SIPP, or transferring any existing pension plan(s) into a SIPP we recommend that you seek the advice of a suitably qualified financial adviser. Please note the tax treatment of these products depends on the individual circumstances of each customer and may be subject to change in future.