Open a SIPP and get £200 cashback.
Planning for your future? Get your pension SIPP-shape and start your retirement journey with ii today. ​Now from just £5.99 a month - trading fees apply.
New customers only. Offer ends 31 December. Subject to a minimum £15k account value and holding period. Terms apply.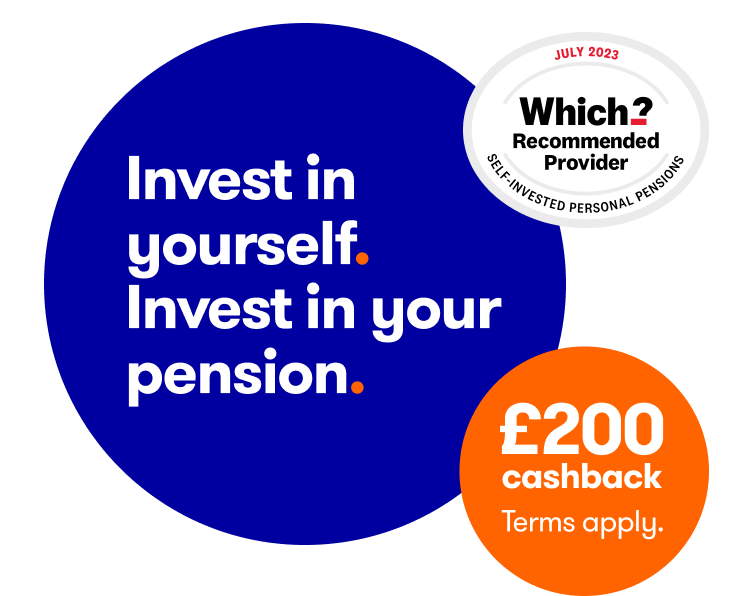 Please remember, SIPPs are aimed at people happy to make their own investment decisions. Investment value can go up or down and you could get back less than you invest. You can normally only access the money from age 55 (57 from 2028). We recommend seeking advice from a suitably qualified financial advisor before making any decisions. Pension and tax rules depend on your circumstances and may change in future.
What is a SIPP?
A Self-Invested Personal Pension (SIPP) is a type of pension that lets you choose how and where it is invested.
We make this easy for you with our Quick-start Funds - but more confident investors can choose from a wide range of funds and shares.
You can combine your other pensions into one SIPP for simpler retirement planning. And like all pensions, you'll get generous tax benefits every time you contribute.
Low fees? Yes please.
Save and invest with ii's Which? recommended SIPP pension from just £5.99 a month. Additional fees and charges apply.
Easy to get started - it only takes a few minutes to open an ii SIPP. You can also transfer exiting pensions to us once you open your SIPP.
Easy to invest - choose from our Quick-start Funds or a wide range of shares and funds.
Easy to manage - keep track of your pension online or using our easy-to-use app
Benefits of our SIPP
Control - you can choose where your pension is invested, keep track of your pot, and make changes whenever you want.
Convenience - if you transfer your other pensions to our SIPP, you'll be able to see everything in one place, and pay just one monthly fee. Learn more
Low cost - we charge a low, flat fee. Most providers charge a percentage fee that grows with your pension. Learn more
Tax benefits - like all pensions, contributing to a SIPP provides a range of generous tax advantages. Learn more
Flexible retirement options - when you reach 55 (57 from 2028), we provide a range of options for taking an income from your pension. Unlike many other providers, there is no extra charge for this. Learn more
Security - your pension is safe with us. Your money is always kept separate from our own, and we are fully FSCS protected. Over 400,000 people trust us with their pensions and other investments.
Our SIPP charges
When you open our SIPP you will start on our £5.99 a month Pension Essentials plan.
When the value of your account grows above £50,000 you will move onto our £12.99 a month Pension Builder plan.
Existing customers with an ISA and/or Trading Account on our Investor Essentials plan can add a SIPP for an extra £5 a month. You can then invest up to £75,000 across your accounts. Above this you will move onto Investor + SIPP for £21.99 a month.
You can add a SIPP on our Investor plan for just £10 a month (plus your existing monthly fee).
There are some other fees for things like foreign currency exchange and Stamp Duty on shares. View our charges page for a full list.
Benefits of our plans
All our plans allow you to invest as little as £25 a month using our free regular investing service.
UK and US trades cost only £3.99.
There are no extra fees for taking money out of your pension.
Full terms for our Pension Essentials plan can be found here.
*Analysis shows you could be better off over 30 years of investing in an ii SIPP with our Pension Builder plan due to our low flat fees. This is just for illustration if all other factors were the same. The advantage of lower flat fees over time means that you could be significantly better off in the long run. By how much will always depend on your personal circumstances. More about our analysis
Planning for your future? Get your pension SIPP-shape
.
Take control of your future with ii's Which? Recommended SIPP. Open before 31 December. New customers only. Minimum £15k investment. Capital at risk. Terms apply.
Transfer existing pensions (optional)
You can transfer most types of pension to us. Keeping all your pensions in one place keeps things simple, and could reduce your costs.
You can start a transfer while opening your SIPP, or you can do it later by logging in to your account.
Choose your investments
Our low-cost Quick-start Funds are an ideal way to get started.
If you prefer, you can choose your own investments from a wide range of shares and funds.
Why choose interactive investor?
More than 400,000 people already trust us with their pensions or other investments.
We've won multiple awards - most recently 'Investment Platform of the Year' at the Investors' Chronicle and Financial Times Celebration of Investment Awards - and are Which? Recommended.
Our customers have rated us as 'excellent' on Trustpilot (4.7 out of 5).
We offer one of the widest choice of investments in the market - and the expert insights to help you choose.
And if you're not satisfied with our service, it's completely free to leave.
Learn more about our SIPP
Learn how to make the most of your SIPP with our useful guides.
How can Pension Wise help?
If you have a defined contribution pension scheme and are 50 or over, then you can access free, impartial guidance on your pension options by booking a face to face or telephone appointment with Pension Wise, a service from MoneyHelper.
If you are under 50, you can still access free, impartial help and information about your pensions from MoneyHelper.