Transfer my pension
Switch your pension to our low-cost SIPP and you could have thousands more in retirement.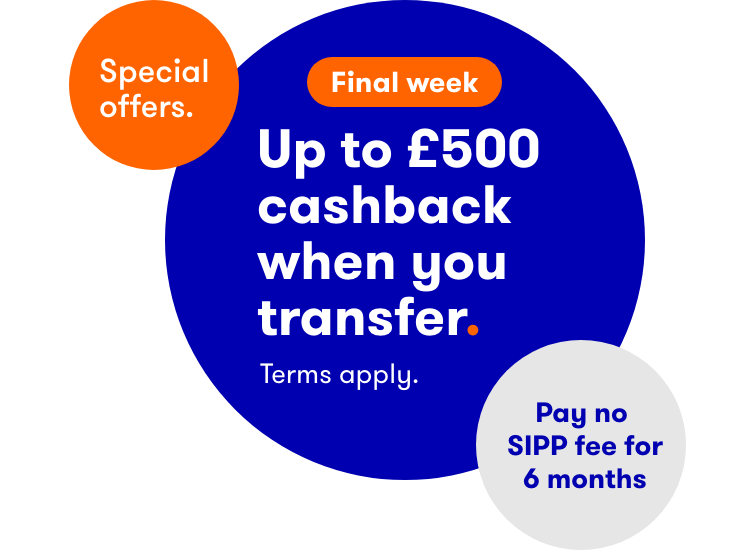 Please remember, SIPPs are aimed at people happy to make their own investment decisions. Investment value can go up or down and you could get back less than you invest. You can normally only access the money from age 55 (57 from 2028). We recommend seeking advice from a suitably qualified financial advisor before making any decisions. Pension and tax rules depend on your circumstances and may change in future.
Why transfer your pension to the ii SIPP?
Retire with up to £94,000 more thanks to our low, flat fees. Take more of what you earn into retirement by paying less in charges at ii.*
There's no fee to transfer in, and it's free to leave.
Choose from more than 40,000 UK and global investment options– including funds, trusts and ETFs.
Flexible retirement options available, including drawdown
Combine old pensions for simpler retirement planning
Before you transfer, please consider whether you would lose any safeguarded benefits from existing schemes, which could include guaranteed annuity rates or a protected pension age that is lower than the Normal Minimum Pension Age (rising from 55 to 57 in 2028). You should also check for any transfer-out fees from your current provider(s).
*Analysis shows you could be better off by £94k over 30 years of investing in an ii SIPP due to our low flat fees. This is just for illustration if all other factors were the same. The advantage of lower flat fees over time means that you could be significantly better off in the long run. By how much will always depend on your personal circumstances. More about our analysis
How to transfer your pension to our SIPP
You will need your National Insurance number and details of the pension(s) you want to transfer.
Download our ii SIPP Transfer In Guide (PDF)
Having everything under one roof makes things much easier, as I no longer have to deal with multiple providers.
SIPP fees and charges
With our SIPP you'll pay a low, flat fee. Most providers charge percentage fees that grow with your pension value.
Richard Wilson, CEO, interactive investor says:
4 out of 5 pensions transferred to ii come from the major pension and life companies. Those companies tend to have complex and opaque charges, and hope their customers won't notice when they are being quietly ripped off. Our customers won't fall for that. They want a simple, transparent service where they have full control of their financial future.
Pay no SIPP fee for 6 months
.
Open a SIPP by 30 September and pay no SIPP fee until April 2022 – saving you £60. Following the offer period, the ii SIPP fee is only £10 a month more, and could save thousands compared to other pension providers who charge a percentage fee. Terms apply
Up to £500 cashback
.
Start the transfer of a pension (or pensions) worth £25,000 or more to us between 1 August and 30 September, and we'll give you up to £500 in cash on completion. This offer's available to new and existing customers transferring their pensions to us. You'll need a linked Trading Account, which is free with your SIPP. Terms apply