Home
>
SIPP investment ideas
SIPP Investment Ideas
Make the most of your SIPP investments with our helpful guide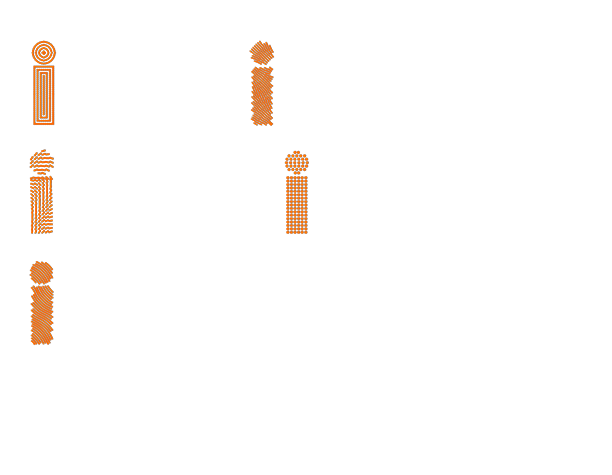 We're living longer, staying active longer and that means a different way of planning for, and funding, our retirement. The ii SIPP helps you to take control of your plans, and the investment decisions you make can have a big impact on your eventual return, and your quality of life in retirement.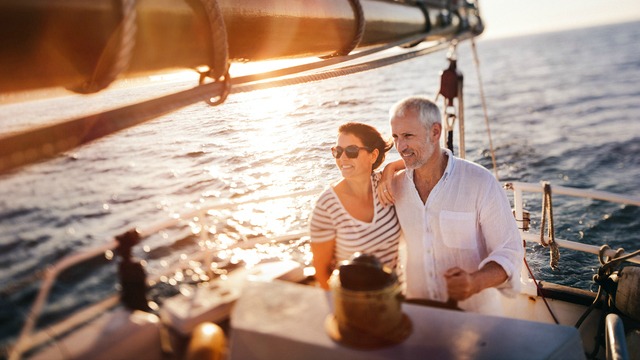 SIPP Investment Best Practice
SIPPs put you in charge of your pension planning, but it's important to make the most of the advantages open to you. Find out more about how to maximise the value of your pension pot with our handy guide.
1) Pay in as much as you can: You might be tempted to start small, and increase your contributions later in your career, but increasing your investments now can make a big impact thanks to compound interest. Regular Investing in your SIPP is a great way to build up your pension pot, and our Dividend Reinvestment service is another useful tool for boosting your capital.
2) Take full advantage of tax relief options: Tax relief on SIPP contributions mean that you can put £10 in your pension for a cost of only £8 – an immediate return of 25%! For higher rate tax payers, the return is even greater. You can also maximise returns by signing up for salary sacrifice contributions. This means that you will not pay National Insurance on the income being used to make contributions, leaving you with more money to invest.
3) Increase contributions in line with earnings: It's a good idea to increase your SIPP contributions as you progress in your career, and pay-rises and bonuses represent a great opportunity to do this without seeing a reduction in your take home pay.
4) Compare the full costs of holding a SIPP: SIPPs tend to attract higher costs than other forms of investment, because they are complex products to administer. It is important, when opening your pension, to compare the full costs and think about the future. Percentage-based fees may save money now, but over the course of a long-term investment might end up costing significantly more than a fixed fee. And high exit fees can mean that you're trapped in a pricier SIPP.
5) Build a diverse portfolio: SIPPs give you the opportunity to invest in a wider set of stocks and shares than traditional pensions, and you should make the most of this flexibility. By building a diverse portfolio, you have the ability to manage your level of risk and adapt to changing circumstances, in your own life and in the market. Use the resources available to you to research and stay on top of current trends.
6) Take benefits from your SIPP options: You can decide how you take retirement benefits from your SIPP, and choose how to use this to your advantage. From the age of 55, you can withdraw up to 25% of the value of your SIPP tax-free – but you don't have to do it in one go. It's also no longer a requirement for you to purchase an annuity with this cash. Investigate which of the pension drawdown options will be the best for you.
Things to avoid:
1) Don't breach your lifetime allowance: The current SIPP lifetime allowance is £1.055 million. If you go over the lifetime allowance, you may be subject to charges from HMRC. If you've used up your SIPP allowance, consider other forms of tax efficient investing.
2) Don't breach your annual allowance: Again, it's important to be aware of the annual SIPP allowance (currently £40,000 including employer contributions and tax relief). The only time you are able to exceed this figure is if you qualify for Carry Forward.
3) Don't withdraw too much from your pension in one tax year: After your initial tax-free lump sum, any income drawn down from your pension will be subject to income tax. If you withdraw too much in the tax year, you may find yourself liable for higher rate income tax.

We all like to know what other investors are doing. It helps us make sure we've not missed out on a new investment opportunity, or provides a helpful nudge into thinking about our own portfolios.
Here's how our SIPP investors are managing their investments. While there are perennial favourites that span the demographic divide, some of the results might surprise. From internationally-focussed starters who also like passive funds to UK-biased older investors, who prefer active investing, the results are interesting and informative.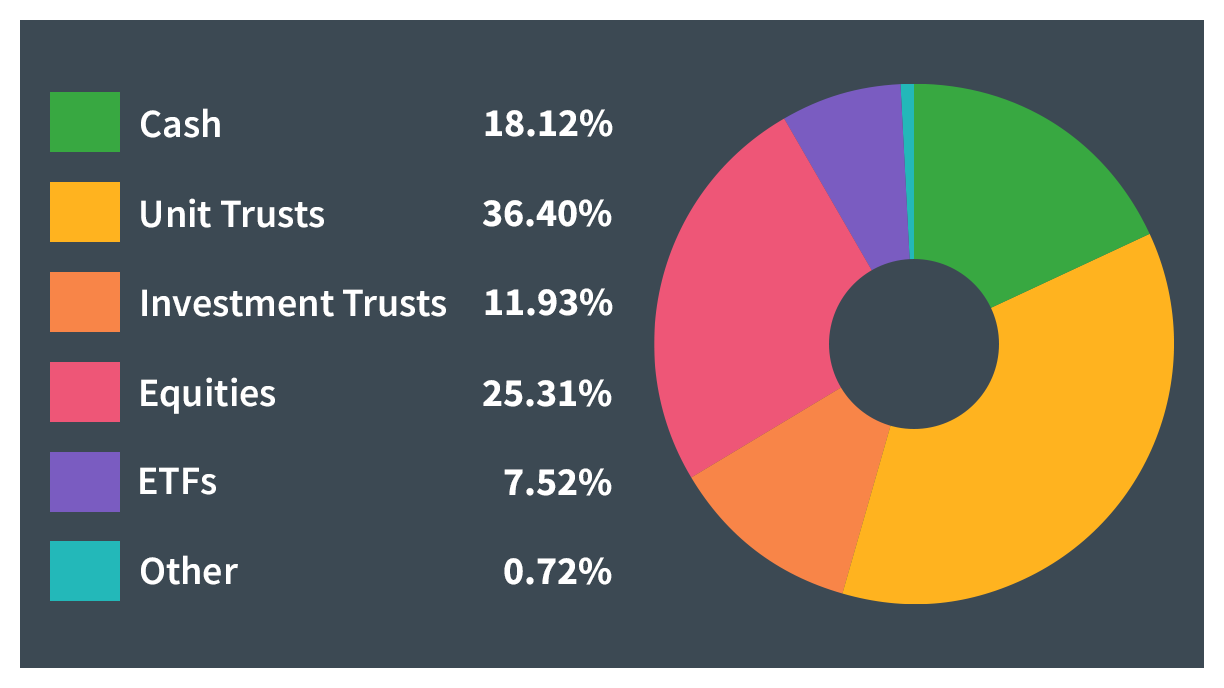 Look at your own age group or explore the whole spectrum to find out what our SIPP customers, aged between 18 and 94 hold.
Our Analysis
Charts show the percentage of assets by value invested in each asset type.
Tables show the top 5 holdings by popularity, based on the number of customers holding them.
Source: ii SIPP holdings at end July 2018.
Note, this material is intended for educational purposes only and is not investment research or a personal recommendation to buy or sell any financial instrument or product, or to adopt any investment strategy.
Starter investors
Aged under 35
You are potentially relatively new to investing, but have the longest investment horizon available. A time frame for investing of at least 20 (and possibly up to 50) years means that you can withstand the ups and downs of the stock market and should consider high risk options.
Four of the top five most popular funds with ii's under 35s are low cost trackers from Vanguard. Tracker funds are good choices for all types of investors. But they work particularly well for starter investors who may not have the time or experience to look through active alternatives and want a diversified portfolio.
On the direct equity side, two of the five most popular stocks are US technology giants Tesla and Amazon. This shows investors aged under 35 are internationally orientated and more likely to embrace technology stocks than older investors.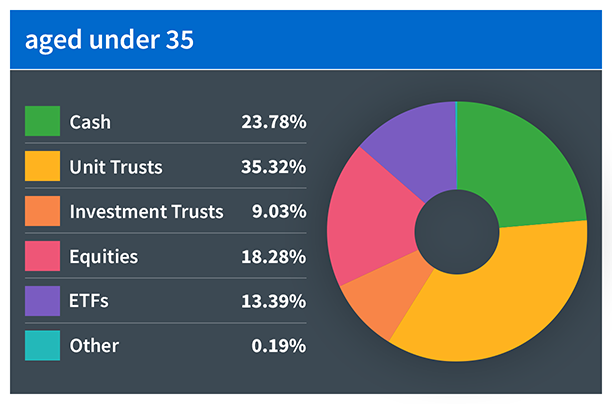 Top 5 Unit Trusts
Top 5 Investment Trusts
Growing confidence
Aged 35 to 44
You typically have the benefit of some experience and a long investment horizon. However, you may be time poor as the competing priorities of families and careers take precedence.
Our investors in this age group are now choosing a mixture of active and passive funds. Investment trusts are global in nature, topped by the investor favourite Scottish Mortgage.
Among most held companies, Lloyds Banking Group tops the list, with three other UK companies and Amazon making up the Top 5. ETFs are broad ranging and include the US, UK, Gold, Emerging markets and global options.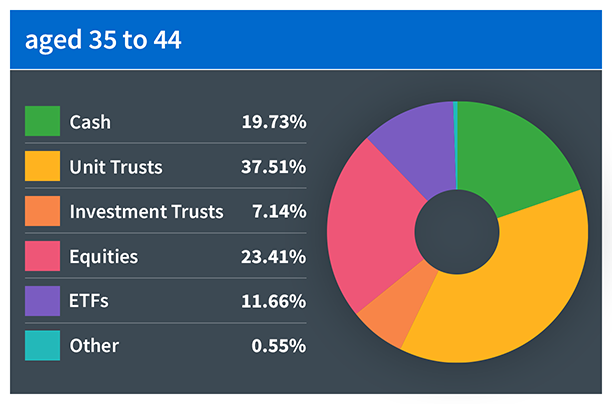 Top 5 Unit Trusts
Top 5 Investment Trusts
Sweet spot investors
Aged 45 to 54
You may be in a sweet spot for investing, as the combination of experience and a sufficiently long investment timeframe, as well as reduced family responsibilities, mean that you can really make the most of any opportunities.
The top four funds are active options, including India, with Vanguard's LifeStrategy 80% Equity taking the final spot. On the trust side, yet again Scottish Mortgage can be found in the number one spot, but there are a variety of different global options including Japan.
All five of the most popular equities are UK large cap stocks, many of which are income options. Although there is likely to be little need for any income at this stage, the popularity of income stocks in the low interest rate environment has made them an attractive choice for growth as well as income investors.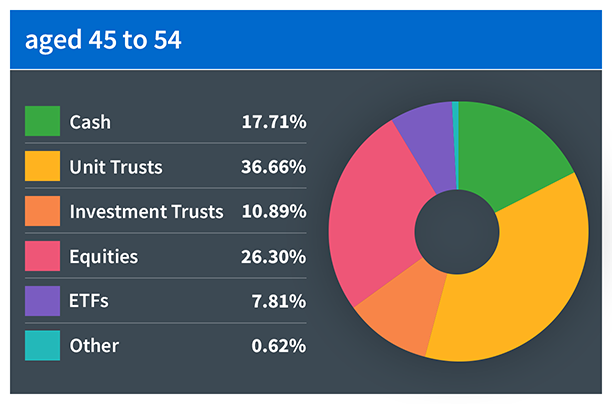 Top 5 Unit Trusts
Top 5 Investment Trusts
Approaching retirement or starting to use some of your pension savings
Aged 55 to 64
You have a great chance to maximise pension contributions and give your SIPP a boost before you start to draw a retirement income. You may also have refined your investment style, based on experience. Some investors may be accessing their SIPP already and funding the gap between early retirement and their other pensions, including the state pension.
For the 55-64 year group, all five of our most popular funds among investors are active options, with global funds from Fundsmith and Lindsell Train topping the list. On the trust side, two of the top three are UK orientated, while three of the five top ETFs in this age group are UK options, making this age group the most exposed to the UK.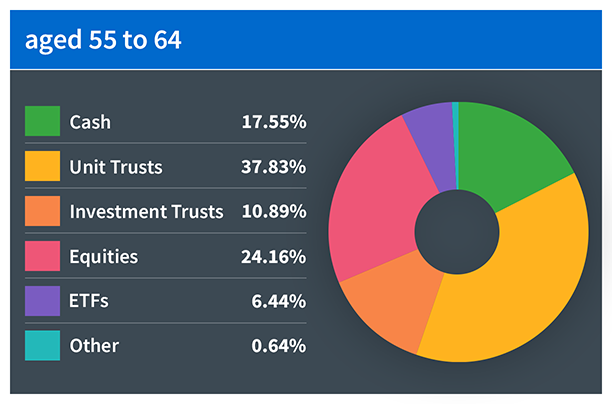 Top 5 Unit Trusts
Top 5 Investment Trusts
Beginning drawdown or managing income requirements
Aged 65 and over
Previously, over 65s would be reducing their risk profile, but with most investors this age entering drawdown rather than taking an annuity, investors still have a 20-30-year investment horizon and have plenty of time to take risk and enjoy the markets.
Our over 65 investors' like active, unconstrained managers who invest globally and whose objective is to outperform the market. On the equity side, most are invested in large-cap UK dividend-paying stocks, which provide a welcome income stream for their retirement.
There is an element of defensiveness, as gold tops the most popular ETF, but overall our over 65s are engaged investors who are researching the market, choosing high-performing collective global funds and trusts and are pro-active with their investment choices.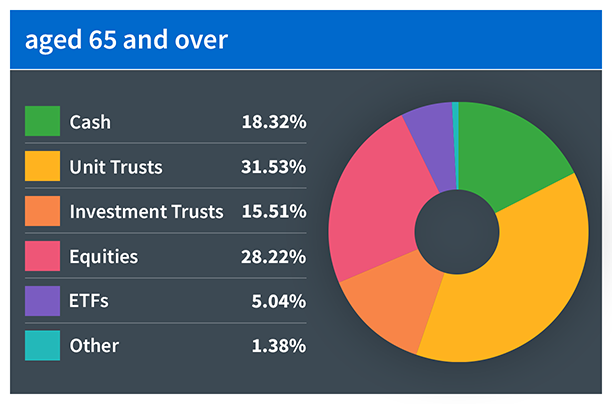 Top 5 Unit Trusts
Top 5 Investment Trusts
Take control of your retirement
Whatever your retirement goals, our SIPP could help you achieve them.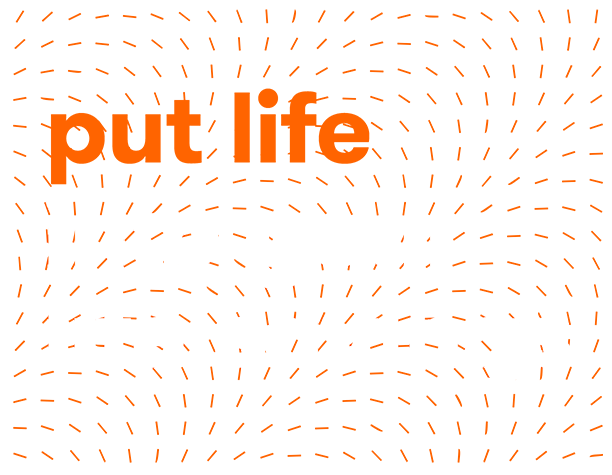 An award-winning SIPP
Transfer to us and benefit from an award-winning service at the low price of just £10 per month, with trading commissions from £3.99 depending on your service plan. We are proud to have been named Best SIPP Provider at the 2019 ADVFN Awards.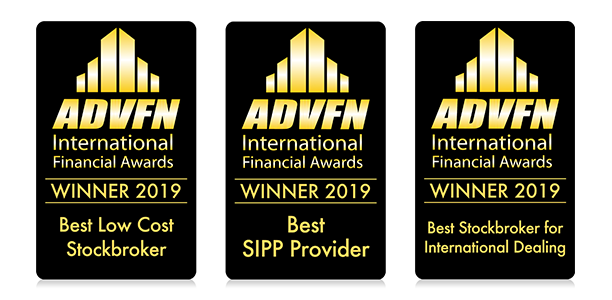 The ii SIPP is aimed at clients who have sufficient knowledge and experience of investing to make their own investment decisions and want to actively manage their investments. A SIPP is not suitable for every investor. Other types of pensions may be more appropriate. The value of investments made within a SIPP can fall as well as rise and you may end up with a fund at retirement that's worth less than you invested. You can normally only access the money from age 55 (age 57 from 2028). Prior to making any decision about the suitability of a SIPP, or transferring any existing pension plan(s) into a SIPP we recommend that you seek the advice of a suitably qualified financial adviser. Please note the tax treatment of these products depends on the individual circumstances of each customer and may be subject to change in future.