International investing & share dealing
With our award-winning service, it's easy to buy shares in household names like Apple, Microsoft and Tesla.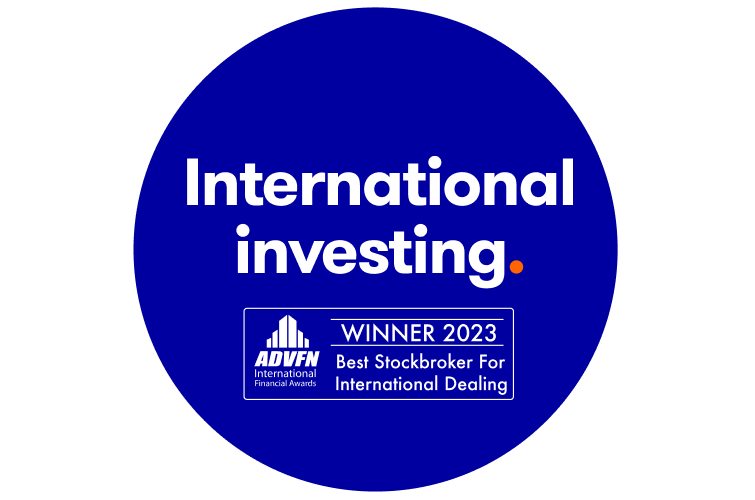 Please remember, investment value can go up or down and you could get back less than you invest. The value of international investments may be affected by currency fluctuations which might reduce their value in sterling. We may receive two elements of commission in relation to international dealing - Trading Commission and our FX Charge. Please see our rates and charges for full details of the relevant costs. Foreign markets will involve different risks from the UK markets. In some cases the risks will be greater.
Search international shares
With global market conditions so variable, there has never been a better time to broaden your horizons and look overseas for investment ideas.
Investment ideas
Need help with choosing international investments? We've put together a few handy tools to help you choose:
Multi award-winning service
We've won 'Best International Share Dealing Service' at the Shares Awards every year since 2017, and ADVFN's 'Best Stockbroker for International Dealing' every year since 2018.
Why we're best for international investing
We offer one of the widest choice of international investments on the market.
In Trading Accounts and SIPPs you can convert currency from GBP into overseas currencies online or via the ii app. You can receive proceeds and income payments back in those currencies, ready to invest again. Learn more
Unlike other platforms, we give you access to new shares and stock splits on day 1 - thanks to our direct access to global markets.
Get the insights you need
As an ii customer, you can get the latest news and analysis straight to your inbox. Take a look at some of our recent articles below:
Fees and charges
When you open a Stocks and Shares ISA or Trading Account you will start on our £4.99 a month Investor Essentials plan. Should your investments grow above £50,000, you will move onto our £11.99 a month Investor plan.
Investor Essentials plan: £4.99 a month. Our low-cost plan for those investing up to £50,000. UK and US trades are £3.99.
Investor plan: £11.99 a month. Our most popular plan. Includes your first trade free every month. Add as many Junior ISAs as you have children, and 2 free friends and family members. Additional UK and US trades are £3.99.
Super Investor plan: £19.99 a month. Your first two trades free each month. Add as many Junior ISAs as you have children and up to 5 free friends and family members. UK and US trades only £3.99.
All our plans allow you to invest as little as £25 a month using our free regular investing service.
Other fees such as stamp duty and foreign exchange charges may apply.
On Investor Essentials, you must be set up to pay your fees by direct debit, and receive your communications electronically. Full terms for our Investor Essentials plan can be found here.
Read more: Our charges
Important information
To trade US shares you must complete a W8-BEN declaration. This can reduce the amount of tax you pay on US dividends and interest payments. Find out more about W8 declarations.
If you trade Canadian securities, you will automatically receive relevant treaty rates.
For assets held in a Trading Account, you will be provided with an annual Consolidated Tax Certificate (CTC) summarises your UK and overseas income, and any tax on dividends and interest paid on shares for the period shown. You may be able to use this information as evidence to make your own application to the applicable tax authority to reclaim the difference between withheld rate and treaty rate.
No CTC is provided for assets held within a SIPP, ISA or Junior ISA. You will therefore be liable for all tax withheld at source and you may be unable to reclaim such tax from the relevant authority who required tax to be withheld.
Available markets
With ii you can buy and trade international shares on 17 global exchanges in the following countries:
* phone orders only
Get set up for international trading
Before you can buy international shares, there are a few things you'll need to do.
Sign the online Exchange Agreements
This allows us to make live international share prices available to you. You will be prompted to sign the exchange agreements when you log in to your account and search for a non-UK stock using Find & Invest or Quote.
US shares – complete a W-8BEN form
You can now do this online by logging in and visiting our Useful Forms page.
Alternatively, you can can print and complete a paper W-8BEN form, then scan and return by secure message from your online account. Please be aware that this will take longer to process.