Bitcoin $1 million treasure hunt starts now
Bitcoin rallies as crypto millionaires bicker, bitcoin clone BSV is delisted and a treasure hunt begins.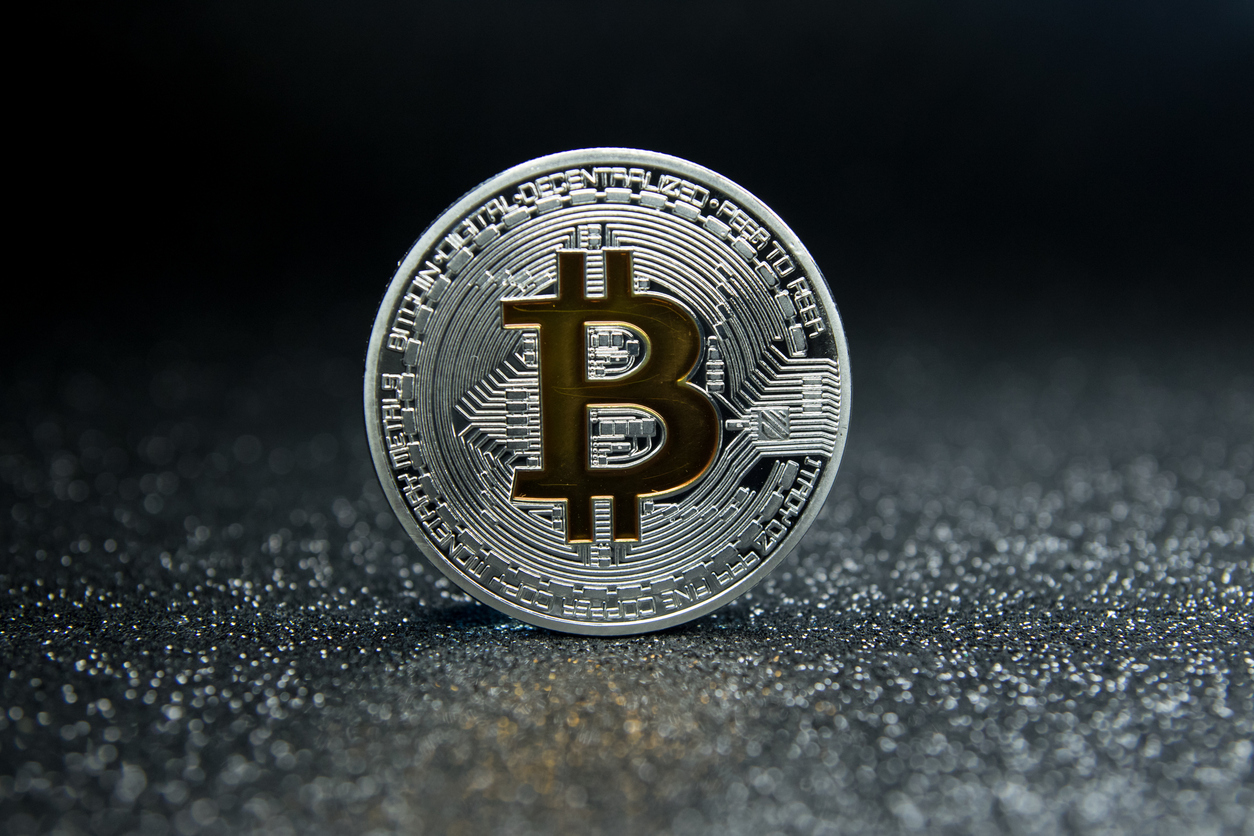 Bitcoin is consolidating support above $5,000, although it had failed to advance beyond $5,400 last week.
Languishing under the important $5,200 level since last Thursday 11 April, bitcoin has today risen back above that support to currently trade at $5,235. The bitcoin price saw a brief week low at $4,960 but quickly rebounded higher.
However, it was the powerful rejection at $5,400 a week ago (Wednesday 10 April) that confirmed that level as a point of major resistance. If that barrier is surmounted expect rapid progress to $6,000.
Despite the latest outbreak of bullish intent, the possibility of retracing lower hasn't gone away and a slip below $5,000 could yet see the bleeding return.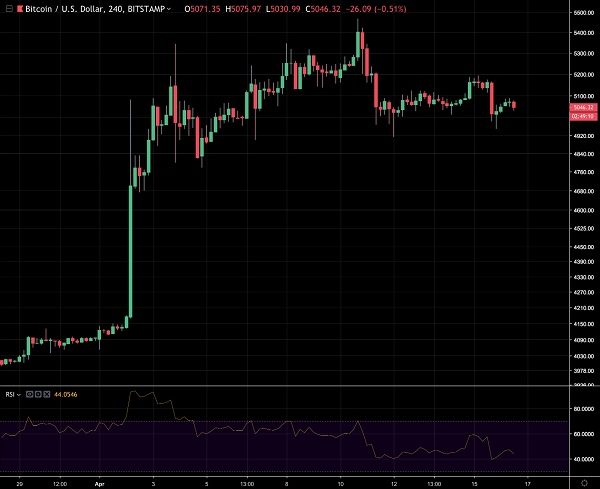 (Courtesy TradingView)
Bitcoin (BTC) price targets round-up
As you would expect, the bitcoin rally of the past month has seen the bulls come out to play with predictably optimistic price targets.
Some of the price projections might be described as wishful thinking or well-grounded assessments of the state of the market, depending on your mindset – a crypto believer or a cynic.
Thomas Lee, co-founder of Wall Street analyst FundStrat, claims that fair value for bitcoin is around $14,000 and he thinks the price will reach $10,000 by year-end.
But readers will remember that in January last year, Lee said fair value for bitcoin was $25,000 and by the end of 2018 had reduced his price target to $15,000, which was considerably wide of the actual year-end price of $3,800.
To be fair to Lee he isn't just picking figures out of the air as he says they are based on a calculation of mining break-even rates.
Another industry permabull is Arthur Hayes, chief executive of the BitMEX crypto exchange.
He weighed in with a price target for bitcoin "in a few years" of $50,000 or higher but was a little more measured as far as the year-end goes, with a $10,000 target.
Holding back bitcoin's advance, in Hayes's view, is the US central bank's easing off on interest rate hikes, which means investors have a little longer to party in the equity markets, as seen in a succession of tech IPOs coming to market.
Hayes reckons millennials will be the key drivers of adoption of cryptographically secured "digital cash", with countries such as China and India leading the way as cash gets increasingly squeezed out of the financial system and consumers take to mobile payments.
Further super bullish pronouncements came from another industry chief executive in the shape of Wences Casares of longstanding crypto custody firm Xapo.
"If bitcoin succeeds," says Casares, then "bitcoin may be worth more than $1 million in 7 to 10 years". He advises investors to allocate no more than 1% of their portfolio to bitcoin "as the risk of losing this investment is high".
Perhaps all of these price targets should be taken with a pinch of salt because they come from those with a direct interest in the price recovering.
The less optimistic market watchers see bullish exhaustion and the possibility of the bitcoin price going back to December $3,600-3,800 range or even lower, with the most bearish analysts pencilling a capitulation at the $1,000 levels.
Survey: 94% of endowments have crypto holdings
Perhaps a more solid gauge of sentiment and future prospects comes from a survey by research firm Global Custodian and The Trade Crypto in partnership with blockchain security company BitGo.
From the 150 responses received from endowment funds, the survey found that 94% said they already held investments in crypto.
Although the institutions had continuing concerns about the immaturity of the asset class, only 7% of those surveyed said they would be decreasing their allocation.
Just over half of the endowment funds, 84% of whom are US based, had invested directly into a cryptoasset, while the remainder had exposure through a collective vehicle of one kind or another.
In a press release Jonathan Watkins, managing editor, Global Custodian and The TRADE, said: "All the talk over the past 18 months has been around when institutional investors will begin participating in cryptocurrency investments, but it turns out they had already arrived, in the form of endowment funds."
Last year, it was reported that Yale, Harvard University, Stanford University, Massachusetts Institute of Technology (MIT), Dartmouth College and the University of North Carolina endowment funds all had crypto investments.
Trump remittance clampdown to boost crypto
So, college endowment funds are onboard, but what about the progress on the original "digital cash" use-case of bitcoin and other cryptoasset?
Well, there has been some progress building on that front from an unlikely quarter.
Remittance payments have long been targeted by crypto projects as ripe for disruption.
Those possibilities were underlined by the news a week ago that Western Union was partnering with a crypto wallet service in the Philippines, Coins.ph, to improve the speed of remittance transfers.
But it is Trump who could provide the unexpected boost to crypto.
A story on crypto news outlet Bitcoinist on 12 April highlighted how the Trump administration's recent statements about clamping down on remittance payments by immigrants in the US could be a plus for bitcoin and crypto.
Now analysis from data site Coin.Dance shows a surge in volumes on peer-to-peer bitcoin exchange LocalBitcoins from users in Mexico. Peru and Venezuela also saw spikes.
It is estimated that Mexican immigrants sent $33 billion back to relatives in Mexico last year.
With the US government threatening to introduce taxes on these remittance transactions, people are expected to seek out other ways to transfer value, and crypto is the most obvious alternative.
Back in 2017 Trump threatened to tax remittances but never followed through, but reports suggest the administration could be planning to make a move in that direction.
Although the amounts involved are still small beer at present only 10.7 million pesos from the week since 13 April, that nevertheless beats the previous record on the 3 March 2018 of 10.6 million pesos.

(Source: coin.dance)
Nimble new network IOST beats Ethereum in transaction volumes
Decentralised applications development continues apace. This week we have news from IOST, which launched its mainnet a month ago.
The network announced that on 6 April it logged 580,231 transactions, beating the original smart contract platform Ethereum with its lower transaction volume of 588,272.
IOST uses what it describes as a Proof-of-Believability consensus mechanism, which is a mixture of proof-of-work (used by bitcoin and Ethereum) and proof-of-stake (used by the likes of EOS and TRON).
In comments provided to interactive investor, chief executive Jimmy Zhong said: "The IOST ecosystem is supported by a unique Proof-of-Believability Consensus Mechanism (PoB) combining the decentralised benefits of Proof-of-Work (PoW) and Proof-of-Stake (PoS) systems, which allow for more efficient and decentralised transactions across the network, higher speeds, and therefore, the scalability needed to power the next generation of internet services."
The network already has 12 applications up and running, the most popular of which is casino game Endless Game IOST. At the time of writing it had 3,078 users across a 24-hour period.
It costs nothing to play a game on the IOST network. Application developers stake the IOST token to access network resources using iRam and iGas.
The project is based in Singapore and the token is currently priced at $0.0129 and ranked 47th by market capitalisation, according to coinmarketcap.
Bitcoin SV (BSV) delisted from Binance as lawsuits fly
On a sour note for the crypto community, Dr Craig S Wright, who claims to be the inventor of bitcoin, and his collaborator on the Bitcoin SV project billionaire Calvin Ayre, have been at the centre of attention for all the wrong reasons.
Bitcoin SV (the SV stands for Satoshi Vision) is a software fork from Bitcoin Cash which itself is a fork from bitcoin.
For the so-called bitcoin maximalists, these forks are best described as copies of the original that bring nothing new to the table and only serve to confuse the uninitiated.
As such there has always been some hostility in evidence towards those behind the bitcoin clones, but that animus has been particularly severe in the case of Wright and his as yet unproven claim to be Satoshi Nakamoto, the pseudonymous inventor of bitcoin.
His failure to sign transactions with the digital signature associated with the private key of the genesis block of the bitcoin blockchain, has left the community on the whole sceptical of his claim, to put it mildly.
Precisely because Wright's detractors have been anything but mild, the Australian computer scientist and chief executive of London-based nChain, has sued those who accuse him of being a fraud.
That was pouring fuel onto the fire and Changpeng Zhao, chief executive of perhaps the largest crypto exchange, Binance, has had enough.
He announced a couple of days ago that Binance will delist BSV on 22 April.
BSV immediately dropped 13% on the news and has been falling ever since, and is 30% lower on a week view.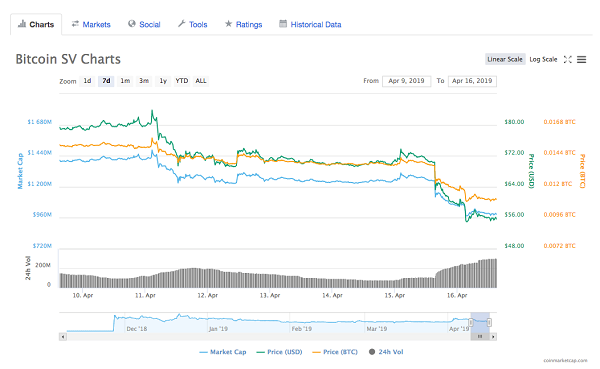 (Source: coinmarketcap)
Other exchanges are threatening to follow suit. Kraken is running a poll in which more than 70% of participants said it should delist BSV, while Shapeshift has already done so.
If the delisting gathers pace then it could be the end for BSV.
And even if other exchanges don't follow suit, Binance accounts for 60% of trading volume according to openmarketcap.com, which does not include data from exchanges with suspect volume reporting.
War widens – now Japan's SBI exchange to delist Bitcoin Cash
Bitcoin cash had been the chief beneficiary of BSV's problems, reaching a high of $321 yesterday.
However, the SBI exchange in Japan has just announced it is planning to delist Bitcoin Cash (BCH), which saw the price drop 5% in response, with BCH priced at $311.
SBI claims that the BCH network is not secure as it could be subject to a 51% attack in which a bad actor take control of the network. But there are claims that SBI has a relationship with Wright's nChain and so the move could be connected to the travails of BSV.
Wright had threatened to launch a 51% attack on BCH at the time of the fork in November last year.
The bad blood between the two camps played out in the fork battle that was blamed by some for crashing the crypto market in November, when the bitcoin price fell $2,000 – from $6,300 to $4,300 – in the immediate aftermath of the fork.
Although many have welcomed Binance's move and have rallied to the defence of persons and entities who stand accused of defamation by Wright's lawyers, it is all a far cry from the hopes of a decentralised future where the little people hold sway.
Wright's lawyers are suing the person behind the hodlonaut Twitter account, Peter McCormack and Vitalik Buterin the co-founder of Ethereum.
Binance has just shown the crypto world that it can seriously damage a coin (BSV) all by itself, although in this case the coin's principal cheerleaders could be said to have done that all by themselves.
Calvin Ayre launches legal action against crypto news site Coin Rivet
The mess doesn't end with Wright's legal actions.
BSV supporter and billionaire Calvin Ayre separately threatened to sue news site Coin Rivet and a number of individuals associated with it after it published accusations against him of improper sexual conduct.
In a blog editorial on 8 April CoinGeek, which is owned by Ayre, it was revealed that he had launched legal action against Coin Rivet, seeking damages for libel.
Coin Rivet has complied with Ayre's demands to remove the offending articles. It is not known whether damages have been paid.
Through the mouthpiece of CoinGeek, Ayre laid down the gauntlet to others, threatening to sue any other parties he alleges are sullying his good name.
The statement on CoinGeek in part read:
"Parkin [Darren Parkin, editorial director] and Coin Rivet CEO Sheba Karamat – as well as other individuals at crypto blogs that published similar articles – are about to discover that this 'episode' is anything but over, as Ayre's attorneys have responded with a new letter seeking more info on 'whether others at Coin Rivet were driven by a dishonest agenda' in deciding to publish these articles."
China to ban crypto mining?
In other crypto news, China's state economic planners indicated that they were minded to ban the mining of crypto in the country.
The news has not impacted prices in the crypto markets, presumably because others will enter the market to take up the slack.
Also, the manufacture and export of ASIC processors, which are used to mine bitcoin and are mostly made in China, will not be affected.
Amun XRP exchange traded product
Swiss fund management firm Amun has followed up on its bitcoin and Ethereum exchange traded products with a similar vehicle for Ripple's XRP token.
Amun Ripple XRP launched on SIX, the main Swiss stock exchange, on 2 April.
eToro launches crypto exchange
Social trading platform eToro has rolled out a fully fledged crypto exchange subsidiary, eToroX.
The exchange lists six cryptoassets – Bitcoin (BTC), Ethereum (ETH), Ripple (XRP), Dash (DASH), BitcoinCash (BCH) and Litecoin (LTC) – and offers a total of 37 trading pairs.
Eight stablecoins developed and issued by eToro Digitial Assets – eToro Pound Sterling, eToro US Dollar etc – will be used on the exchange.
Asked how the stablecoins were collateralised, a spokesman for eToroX said the stablecoins "are hedged 1:1".
The exchange is based in Gibraltar and regulated by the Gibraltar Financial Services Commission.
Bitcoin $1 million treasure hunt
A bitcoin treasure hunt has been launched from space.
A Twitter user received a message transmitted via the Blockstream satellite, announcing the start of a treasure hunt with $1 million worth of bitcoin up for grabs.
Hunters will need to find 400 of a total of 1,000 crypto keys created with the Shamir algorithm that enables distribution of multiple keys to unlock a single secret.
The winner will require a high level of cryptographic knowledge by solving puzzles which will be posted at https://satoshistreasure.xyz/.
They also need to find the keys. The first three of the 1,000 keys has been hidden in 12 locations and hunters can begin searching on 17 April.
Copies of the first key are in four US locations, the second in four Asian locations and the third in Uganda, Australia, Argentina and London.
Here's the UK location, which is somewhere in Notting Hill – latitude and longitude: 51.5082944, -0.2013407.
These articles are provided for information purposes only. Occasionally, an opinion about whether to buy or sell a specific investment may be provided by third parties. The content is not intended to be a personal recommendation to buy or sell any financial instrument or product, or to adopt any investment strategy as it is not provided based on an assessment of your investing knowledge and experience, your financial situation or your investment objectives. The value of your investments, and the income derived from them, may go down as well as up. You may not get back all the money that you invest. The investments referred to in this article may not be suitable for all investors, and if in doubt, an investor should seek advice from a qualified investment adviser.
Full performance can be found on the company or index summary page on the interactive investor website. Simply click on the company's or index name highlighted in the article.