Disquiet calls for defensive Income Growth Portfolio position
Money Observer's hypothetical income growth portfolio had a good quarter. But its manager, Tony Yarrow at Wise Investments, decided to give it an overhaul.
Despite some stockmarket uncertainty during the past quarter, investors decided shares were the place to be and the UK stockmarket resumed its upward progress. As a result, the FTSE All-Share index has risen by 4% since the last review. The Wise portfolio was not far behind, with a 3% increase.
However, Tony Yarrow now believes markets are in a period of transition and has decided to reconfigure the portfolio. He has sold three holdings, reduced five others and used the proceeds to add three new holdings and top up four existing stakes.
The three holdings he has decided to sell are Investec Emerging Market Local Currency Debt, Smaller Companies Dividend Trust and Polar Capital Emerging Markets Income, despite buying the latter holding just three months ago. There are a variety of reasons for these disposals.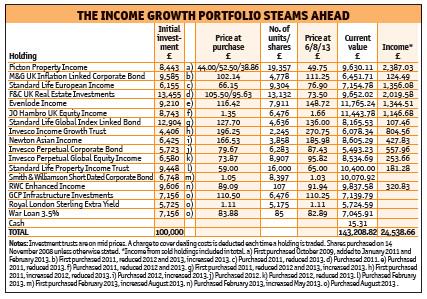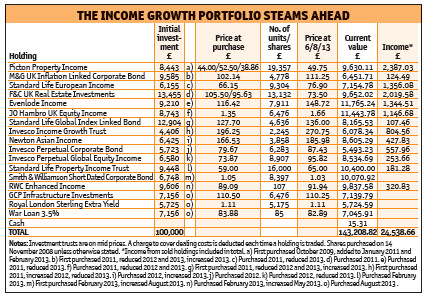 The Smaller Companies Dividend Trust has been sold because its price has gone "ballistic". Yarrow added it to the portfolio a year ago and it has jumped more than 50% since then, so he has decided to take profits. Polar Capital Emerging Markets, on the other hand, has moved in the other direction, losing 7.5% over the past quarter - it was the portfolio's worst performer.
Emerging markets have fallen out of favour with investors, due to China's economic problems, and Yarrow thinks there will be a few more rough quarters to come. One option, he says, is to grin and bear it, but he has decided to come out of this holding for the time being.
He has also decided to top-slice several of his more successful holdings - Evenlode Income, Invesco Income Growth, Invesco Perpetual Global Equity Income, JO Hambro UK Equity Income, and Standard Life European Income. He points out: "Developed markets have started to look expensive, and although I am happier with these quality invested funds than I am with the market in general, I think it is a good time to harvest some gains." This still leaves Evenlode Income and JO Hambro UK Equity Income as the portfolio's largest holdings.
The bulk of the £26,000 raised from these sales has been used by Yarrow to buy holdings in GCP Infrastructure Investments, War Loan 3.5% and Royal London Sterling Extra Yield. GCP Infrastructure is an investment company listed on the London stock exchange. It holds a portfolio of public finance initiative loans that have been used to build hospitals and schools and are therefore government-backed. The yield on the fund is more than 9%. Although these loans are controversial, Yarrow believes the government's interest in encouraging infrastructure investment to stimulate the economy will ensure the terms of the existing loans will be honoured. Gravis Capital Partners, manager of the fund, specialises in investing in UK infrastructure and student accommodation projects.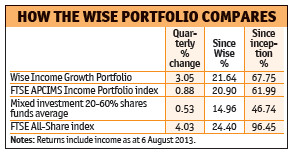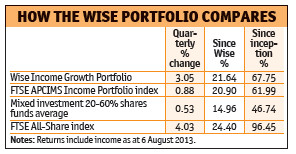 Besides the new fixed-income holdings, Yarrow has surprisingly added to three existing bond funds: M&G UK Inflation Linked Corporate Bond, Smith & Williamson Short Dated Corporate Bond and Standard Life Global Index Linked Bond. The latter two were among the worst performers over the past quarter, but Yarrow, who says he is a contrarian investor, believes there is now less potential downside with these holdings than elsewhere.
Of his decision to increase his holding in Newton Asian Income, he says: "The manager, Jason Pidcock, hasn't put a foot wrong. The fact that Asian markets have sold off has made them more interesting and means yields have gone up, which has made the fund more attractive."
Yarrow is optimistic about property. He thinks the sector is at the beginning of an up-cycle. Indeed, the Portfolio's top-performing holding this quarter was Picton Property, which rose by nearly 13%.
Yarrow feels other areas, such as developed market equities, are overvalued, hence his more defensive Stance. Summing up his position, he says: "I am more interested in trying not to lose money than in making it at present."