Here's what could wake rangebound bitcoin from its slumber
Stuck in a tight 700-point range for over a month now, award-winning cryptocurrency writer Gary McFarlane explains potential movements for the sleeping giant.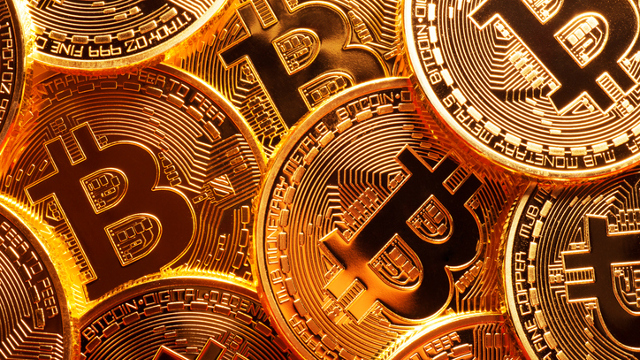 Bitcoin fell $300 on Thursday as the stockmarket rout spilled into crypto, but things have stabilised Friday.
Indeed, the bitcoin market had been fairly quiet when the US sell-off began, but fell hard yesterday when Asian trading opened.
With Bitcoin battling at the key support level at $6,600, the 50-day moving average, for the past two weeks and volatility falling to a 14-month low, it meant market participants were ready for a change in trading pattern, although most were expecting a breakout to the upside.
The leading crypto has been trading below the 200-day moving average since March, when bitcoin traded above $9,000.
Hopes that the crypto asset class might prove itself a handy risk diversifier because of claims it is uncorrelated to equities have again failed to materialise.
Nevertheless, investors will be encouraged by the relative calm in crypto, even if the new buyers are not coming just yet.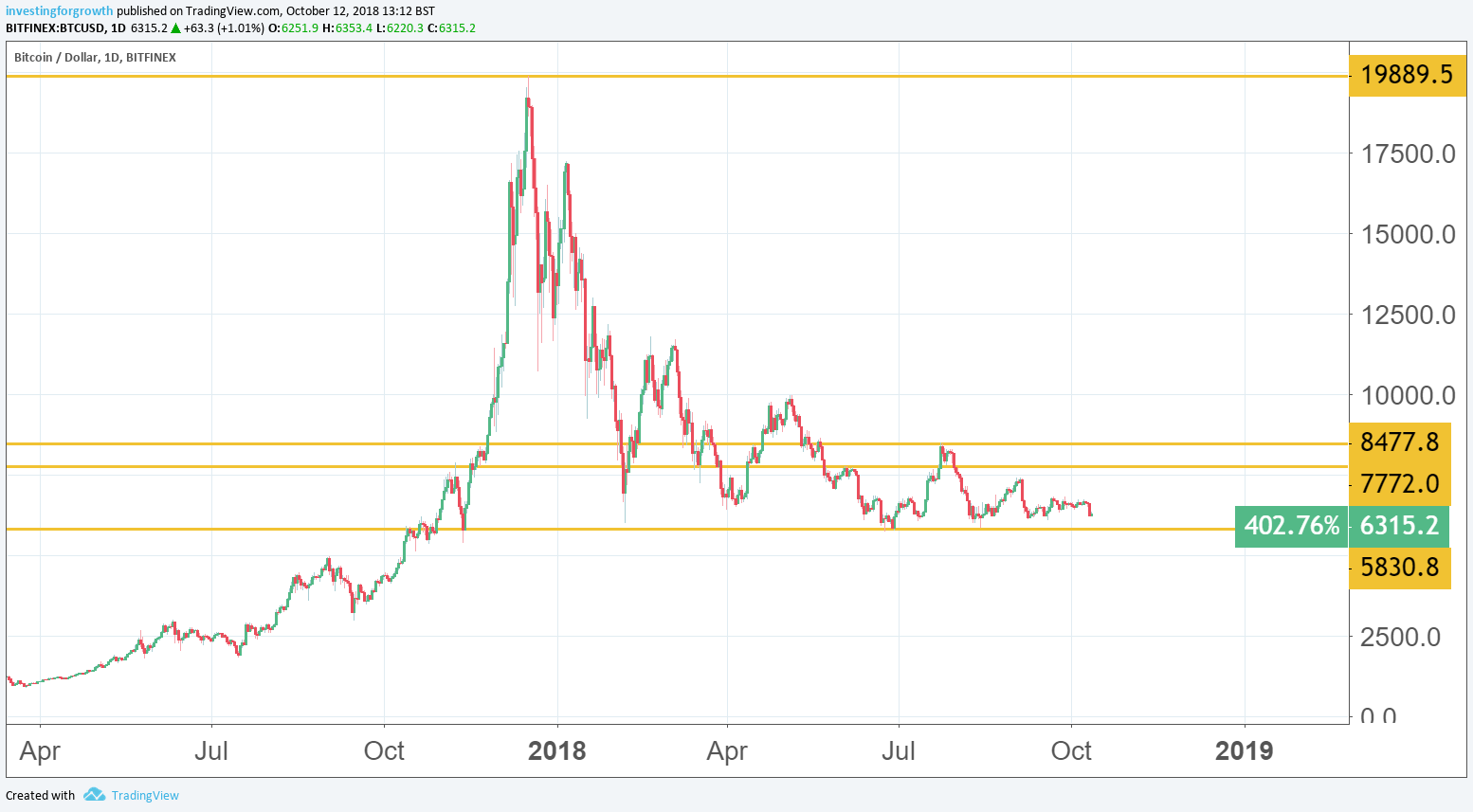 Source: TradingView (*) Past performance is not a guide to future performance
Altcoin rout
Although bitcoin has sold off around 5% this week, it is the altcoins (all coins and tokens other than bitcoin) that are bearing the brunt of selling, down at least 10% for most top assets.
Ethereum is off 11% at $196, with Ripple's XRP falling even harder, down 18% to $0.419 after traders bought the rumour and sold the news in the run and following the Ripple Swell event last week, plus the announcement of the company's first three partners to use its XRP token on its xRapid service for cross-border transactions.
Sentiment hasn't been helped by the IMF's annual report which took a swipe at crypto, warning that "continued rapid growth of crypto assets could create new vulnerabilities in the international financial system".
Bitfinex insolvent?
Also, the Bifinex exchange, in a tweet around the time of the dip in the bitcoin price, said that it has stopped taking deposits of fiat currency.
It was revealed last weekend that Bitfinex had access to banking facilities at HSBC via a private account in the name of Global Trading Solutions. That arrangement may be under threat with claims HSBC was not aware it indirectly provides banking services to the US exchange.
Bitfinex has been batting away recent accusations that it is insolvent, which it denied in a blog post. Bitfinex has been criticised in the past for its opaque relationship with Tether (USDT), the crypto token that is meant to be pegged 1:1 to the US dollar, but there have been persistent doubts that this is the case.
The main cause of the crypto sell-off though is the equity market pullback.
Bitcoin trading volumes have spiked yesterday to $4.6 billion after languishing in the $3,000s for much of the past week, and is today holding above $4 billion.
Bitcoin is likely to return to rangebound trading as it again tries to summon the strength for an attack on resistance at $6,600.
While the S&P 500 struggles to maintain its key technical support level at the 200-day moving average, bitcoin on the contrary struggles to get above resistance represented by the 200-day and below it the 50-day MA (at $6,600), yesterday again falling below the latter. The relatively tight trading range is seen by most market participants as confirmation of the bottoming of the bear market.
Yale endowment invests in crypto
The retreat for crypto was unexpected as it follows a flow of heartening news for the nascent asset class.
The Yale endowment, the second-richest college endowment ($24 billion) after Harvard, is investing in a crypto hedge fund called Paradigm.
Other US elite universities known to have crypto investments include Harvard, Stanford University, Dartmouth College and Massachusetts Institute of Technology. Yale chief investment officer David Swensen has been managing the Yale fund since 1985.
In the year to 30 June 2018, the endowment returned 12.3% and 7.4% annualised over the 10 years to 30 June. Interest from US Ivy League endowments is another indication of the crypto sector attracting institutional investors.
Ready for the upturn: Coinbase expands offering, TD Ameritrade stake in crypto
As the bear market persists, exchanges have been suffering, some more than others.
UK market leader Coinfloor, established in 2013 announced this week that it was reducing staff by 40 in response to changed market conditions.
Chief executive Obi Nwosu told the Financial News the move came after "significant change in trade volume".
Nwosu continued: "Coinfloor is currently undergoing a business restructure to focus on our competitive advantages in the marketplace and to best serve our clients. As part of this restructure, we are making some staff changes and redundancies."
Many larger exchanges invested heavily in infrastructure during the boom but as trading has tapered off, the profits have been much harder to come by and the server and back office investment surplus to requirements.
Daily bitcoin trading volumes have collapsed from $23 billion in early January this year to $4 billion today. Other exchanges are determined that they will still be around to benefit from an upturn. With that in mind Coinbase has been revamping its offering.
Key to that is the new Coinbase Bundles which aim to make it easy for investors to buy a basket of market-weighted cryptocurrencies listed in its site, of which there are five: Bitcoin, Bitcoin Cash, Ethereum, Ethereum Classic and Litecoin.
Additionally, Coinbase added 0x to its Coinbase Pro platform (formerly GDAX) yesterday and is planning to add more at a steady clip. 0x (ZRX) is the first Eterheum-compliant (ERC-20) token to be listed by the exchange.
However, it has competition from US trading app, expanding globally, Abra, which has taken a similar initiative, but unlike Coinbase it will not charge a fee for its funds.
Abra's Bit10 Crypto Index fund is based on the Bitwise 10 Large Cap Crypto index and to invest customers simply buy the token.
In other new, Square chief financial officer Sarah Friar has resigned. The payment start-up and purveyor of the Cash app, popular in the US, and headed by Twitter chief executive Jack Dorsey, has been particularly receptive to the crypto space. The company's shares fell on the news.
Even more significant was the crypto news from mainstream stockbrokers GrupoX of Brazil and TD Ameritrade in the US. TD is investing in crypto exchange ErisX and the Brazilian broker announced in September that it was launching a crypto exchange following client demand. TD did not disclose the size of its investment in ErisX.
Brexit spurring UK blockchain adoption?
In the UK, the telecoms regulator Ofcom has received a grant of £700,000 to explore the use of distributed ledger technology to improve the management of landline telephone numbers.
The regulator's website in part reads: "Between now and April 2020, we'll be inviting industry participants to trial the porting and management of millions of telephone numbers using blockchain and ledger technology. We'll be co-ordinating this work across industry, universities and other third-party providers."
Staying with the UK, Britain's port operator, Associated British Ports (ABP), is developing a blockchain-based solution for port logistics, according to Trade title Dry Bulk.
Sadly, the solution is unlikely to be in place before Brexit and the possible disruption to supply chains that is expected to entail if there is not agreement before the UK leaves in March next year.
Stablecoins to ease the way
Elsewhere, on the adoption front, the profusion of stablecoins – crypto pegged to fiat or some other asset – launching may be another important aspect of the upgraded ecosystem tools that are being developed to make it easier for institutions to get involved.
One of the big four auditors, PriceWaterhouseCoopers, is joining the party. It has entered a partnership with lending start-up Cred to build a stablecoin pegged to the dollar.
Similarly, to the USDCoin stablecoin from the Goldman Sachs-based Circle, the token will be insured.
Japanese internet giant GMO Internet is also getting in on the action. It is planning to launch GMO Japanese Yen (GJY), which as the name suggests, will be pegged to the yen.
Stablecoins are seen as a way of mitigating the effects of volatility for merchant and financial institution operations, that would otherwise be exposed to substantial exchange rate risks.
The dominant stablecoin however is Tether (USDT) but its claim to be backed 1:1 by the US dollar are doubted due to the lack of an audit. As you might expect, the PwC coin will be audited to show it holds the necessary collateral.
Tether is used by crypto traders as a proxy for the dollar, allowing them to move quickly in and out of positions, especially on exchanges where there are no fiat trading pairs.
And as if that wasn't enough, US venture capital firm Andreessen Horowitz last week also invested in a stablecoin, this time the Maker stablecoin. Instead pegging to an external asset, Maker uses an algorithm to control the supply of the currency in real-time in response to price movements.
Elsewhere, in perhaps another indication of how the industry is growing up, a couple of days ago San Francisco-based fintech Blockstream launched its settlement liquidity solution for crypto called Liquid Network. The company already has the likes of Bitfinex and Bitmex onboard.
Speaking to Bloomberg, chief strategy officer Samson Mow, said: "Liquidity across exchanges is definitively not there yet. With the advent of Liquid – with faster settlement times – we should be able to improve it by making it faster and easier to transfer."
Weeding out the dead coins
The bear market is seeing a weeding out of "dead" coins by exchanges. Binance delisted four coins just two days ago: Bytecoin (BCN), Chatcoin (CHAT), Iconomi (ICN) and Triggers (TRIG).
And while we are down with the tiddlers, adult entertainment token Spankcoin was hacked this week, losing $38,000. You might say they got spanked.
By way of highlighting the vulnerability to 51% attacks (where malicious miners takeover the network) of coins with little network activity in terms of users and miners, hackers will this weekend stage an attack on Einsteineum, and it will be streamed lived.
The attacker wants to prove that many networks can be attacked at very low costs. The attackers have their eyes on an even bigger prize than Einsteineum – Vertcoin: "If we get $300-500 in donations we'll have the money to buy the required hashing power [computing power] to attack Vertcoin. If you want to chip in, Bitcoin:18YvVAxEMYxowSYEmWVtY75ZUdKXXk2vQc, if we go under our goal we'll do a larger coin but not Vertcoin, if we go over, the remaining money will go to the EFF".
*Horizontal lines on charts represent previous technical support and resistance.
Disclosure: the author has holdings in crypto assets and cannabis stock.
These articles are provided for information purposes only. Occasionally, an opinion about whether to buy or sell a specific investment may be provided by third parties. The content is not intended to be a personal recommendation to buy or sell any financial instrument or product, or to adopt any investment strategy as it is not provided based on an assessment of your investing knowledge and experience, your financial situation or your investment objectives. The value of your investments, and the income derived from them, may go down as well as up. You may not get back all the money that you invest. The investments referred to in this article may not be suitable for all investors, and if in doubt, an investor should seek advice from a qualified investment adviser.
Full performance can be found on the company or index summary page on the interactive investor website. Simply click on the company's or index name highlighted in the article.