High-flying cryptos: Digital currencies and the bubble question
The record highs are coming thick and fast in crypto, and it's happening at the top of the food chain. Bitcoin we know about, as it consolidates, around its record levels at $8,200, but look at Ethereum and Bitcoin Cash (BCH) fly.
Ethereum has been on a steady climb over the past week or so. On 7 November, it was trading water at $295, but has now obliterated its previous all-time high achieved in June of $389, to break through the psychologically important $400 level.
The current number-three cryptocurrency, Bitcoin Cash - a variant of bitcoin but with larger block sizes - was boosted by the news that the venerable Bitstamp exchange, which up until now only listed bitcoin, Ethereum, Litecoin and Ripple will, from "the first week of December", offer trading in BCH, according to an announcement on its website Tuesday.
The bitcoin clone has risen 16% over the past 24 hours to $1,487, at the time of writing. Additional supportive news came from the Bitwala wallet, with 57,000 users, when it let it be known earlier this week that it will be supporting BCH.
New cash for Zimbabwe
Bobbling along in $420-$430 range for most of November, Dash, which boasts instant, private and secure transactions, and with a network running on 4,500 servers worldwide, has risen to $560 in the past two days, a 30% gain. It has more than doubled in price since the beginning of November.
Dash is teaming up with KuvaCash to launch a digital currency for Zimbabwe that will be convertible into US dollars, and it is this which is thought to have put a rocket under the price.
Dash chief executive Ryan Taylor said of the deal, "I have been advocating for quite some time the potential benefits Dash can provide to economies with less stable currencies, and Zimbabwe seems a prime location for these benefits."
KuvaCash is scheduled to launch in Zimbabwe in the second quarter of 2018. In an indication of the dire state of the economy and the perceived attractions of cryptocurrencies, bitcoin trades at a 100% premium in Zimbabwe.
It is currently priced at $13,000 on the Zimbabwe-based Golix exchange. If successful, Ryan says there are plans to roll out more localized cryptocurrencies to other countries experiencing hyperinflation and generally distressed economic circumstances.
KuvaCash's finance and technology director Andreiko Kerdemelidis says the Dash-based currency expects to be approved by the Zimbabwe government and central bank, and is applying for a money exchange licence.
"KuvaCash will give locals an ideal alternative to improve their ability to do business and buy everyday goods and services without hassle, overpaying on fees, and using secondary markets," Kerdemelidis explained.
Masternodes on the Dash network - you need to hold 1,000 Dash to acquire a masternode wallet - vote on proposals seeking support for development. KuvaCash was approved, with 871 votes in favour of its proposal and 357 against.
Bitcoin at $11,500?
Litecoin has also been making waves, advancing nearly 7% to touch $75, near its September all-time high of $78. And, not to be left out, super-private Monero has been bided up 6% to $163.
Analyst Tom Lee of New York-based research firm Fundstrat Global Advisors, raised his target price for bitcoin to $11,500, which he predicts will be achieved by mid 2018.
Lee thinks the recent recovery from the low of $5,600 has killed off a lot of bears. "This move to $5,600 cleaned up weak hands and we no longer feel caution is warranted."
US investment bank JPMorgan Chase, despite the strong misgivings of its chief executive Jamie Dimon, is looking into providing its clients with the ability to gain exposure to bitcoin through purchases of the forthcoming bitcoin futures to be traded on the Chicago Mercantile Exchange, the world's largest derivatives marketplace.
The report in the Wall Street Journal said the bank had a process in place to first determine whether there is sufficient demand from its customers, before its futures broking unit gears up to sell the prospective instrument, according to a person familiar with the situation.
Dimon has previously referred to bitcoin as a "fraud" and derided anyone investing in the cryptocurrency as "stupid", declaring he would "fire in a second" any of his traders buying or selling the cryptocurrency.
French regulator says 'oui'
More news of product initiatives to cater to institutional interest came from French boutique asset management firm Tobam, and its Tobam Bitcoin Fund, launched on 22 November.
Although the fund does not come under the European Union's Ucits (Undertakings for Collective Investment in Transferable Securities) regime for funds, it is approved by the French financial regulator. The fund will make it easier for institutional buyers to access the asset class.
Christophe Roehri, head of business development at Tobam, said: "Direct investment in Bitcoin can be operationally challenging, from dealing with the choice of the platform, to maintaining the proper security measures in terms of custody and to managing the changes made to the protocol - hard forks.
"Our goal is to take control of these operational challenges in order to facilitate access for qualified investors willing to gain exposure to Bitcoin. All of that under the format of a fund."
The fund cannot be bought on exchanges and is only available to eligible investors on a private placement basis.
Lack of understanding
Meanwhile, a survey about bitcoin conducted by financial news outlet CNBC of 97 chief financial officers, of which 43 responded, found that 27.9% considered it to be "real but in a bubble", while a further 30% said they were not able to give an opinion because they did not know enough about it.
Skepticism was highest among CFOs in the Europe, the Middle East and Africa region, with 30% describing bitcoin as a fraud.
Karim Hajjar, chief financial officer of Solvay, a Belgian chemicals company, and one of the respondents, told CNBC "the jury is out on bitcoin".
"It's not a currency we are using for a multibillion dollar business… it's something we are curious about, we are very very open to, but we haven't found a way to really integrate it into our business."
An unknowable bubble
The curiosity and openness is tempered by what Constantin Gurdgiev, an academic and economic researcher and advisor writing for financial analysis website Seeking Alpha, describes as "an unknowable bubble".
He references the chart below (Rise and fall of some famous asset bubbles), which has been doing the rounds in crypto circles recently. The red line for bitcoin overlays the blue line plotting the ascent, and then decline, of the three years of tulip mania in 17th century Holland.
He argues cogently that, although it is difficult to judge whether the chart shows bitcoin to be in a bubble, "Absence of evidence is not the same as evidence of absence. But, taken together with the general lack of credible fundamentals-linked modelling of the crypto-currency, this means that, at this point in time, Bitcoin price can be potentially driven solely by… err… expectations held by its enthusiasts, plus the incentives by the predominantly China-based investors to avoid extreme risks of capital controls and expropriations."
He admits blockchain is a great technology, but not bitcoin's blockchain. The ones that will be useful, he argues, are unlikely to be open source but instead private or "permissioned" systems run by corporations, in the first instance probably banks.
And, Gurdgiev expounds, there's one thing we do know about bubbles and it is that they are fueled by exuberance, which he claims is a feature bitcoin has in great abundance.
And to compound matters, he doesn't see bitcoin as the great diversifier either because in the event of a financial calamity investment banks "will sell Bitcoin to plug holes in other instruments".
His final problem with bitcoin is that as it grows it digs its own grave because governments will move in and kill it as they will not allow it to be a "government-regulation-free asset".
Our next exhibit in the bubble conversation is the chart below (Major bubbles since 1990 vs bitcoin: percentage change).
It looks at the percentage change since the start of four major bubbles. Bitcoin's grey line is markedly out of kilter with those of the other bubble assets.
That could either be taken as an indication that bitcoin represents the mother of all bubbles or it is an asset altogether unworthy of comparison with tech, biotech or housebuilders because it is an asset more fundamental, namely a new type of money. You decide.
Those who want to pursue the search for valuation fundamentals - and as due diligence is the foundation of investing, Interactive Investor readers will of course want to do so - might consider reading a paper by Chris Burniske, formerly of ArkInvest, in which he applies the quantity theory of money to cryptoassets. For your consideration, I reproduce below the essence of his approach:
…the equation of exchange is used to understand the flow of money needed to support an economy, it becomes a cornerstone to cryptoasset valuations.
The equation of exchange is MV = PQ, and when applied to crypto my interpretation is:• M = size of the asset base• V = velocity of the asset• P = price of the digital resource being provisioned• Q = quantity of the digital resource being provisioned A cryptoasset valuation is largely comprised of solving for M, where M = PQ / V. M is the size of the monetary base necessary to support a cryptoeconomy of size PQ, at velocity V.
Interestingly, he starts his analysis with reference to the chart below produced in August 2015, which values bitcoin at $20,000 on the assumption that it takes 100% of the remittance market.
With an average transaction cost of $10, bitcoin - with its current block size - is no longer seen as a cheap vehicle for remittances. Maybe we could update the bar chart and replace that hypothetical one bitcoin with one Bitcoin Cash.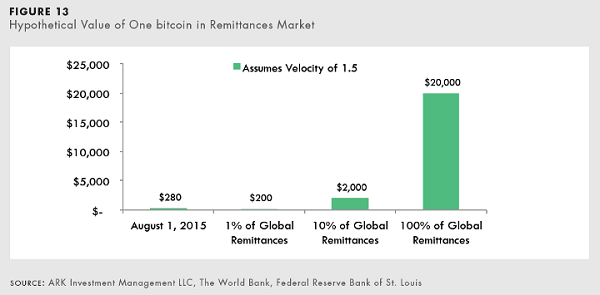 This article is for information and discussion purposes only and does not form a recommendation to invest or otherwise. The value of an investment may fall. The investments referred to in this article may not be suitable for all investors, and if in doubt, an investor should seek advice from a qualified investment adviser.