How to choose a winning fund
ii Fiight Club: On 23rd January 2020, interactive investor and Merian Global Investors hosted a joint event at Shakespeare's Globe and ii's head of funds research covered the key areas you might consider when picking a fund for your portfolio.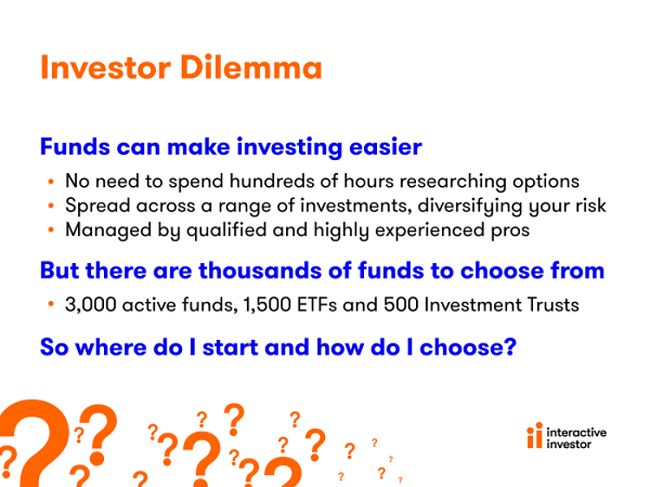 When you invest in a fund, your money is spread across a wide range of underlying investments and overseen by a fund manager. It's their job to run the fund in line with the stated investment objectives, meeting declared targets to deliver returns for investors. While the benefits of investing in funds are mostly known to investors, the real challenge is where to start and how to choose a good fund, as there are thousands to choose from.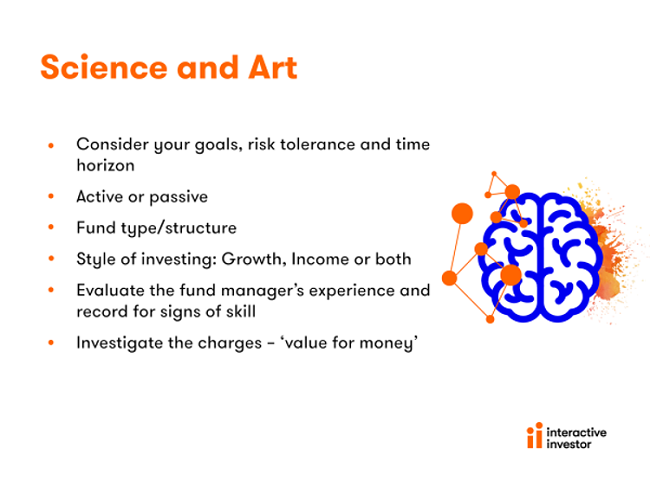 Some of the things to consider when selecting a fund include your goals and risk tolerance, the fund manager's track record and the charges.
Probably the most important thing is that behind all the criteria and analysis, there are fund managers who are ultimately responsible for the delivery of returns for investors and there are never any guarantees of a positive return. This means you have to make your own judgment when you select a fund. So, it is both science and art.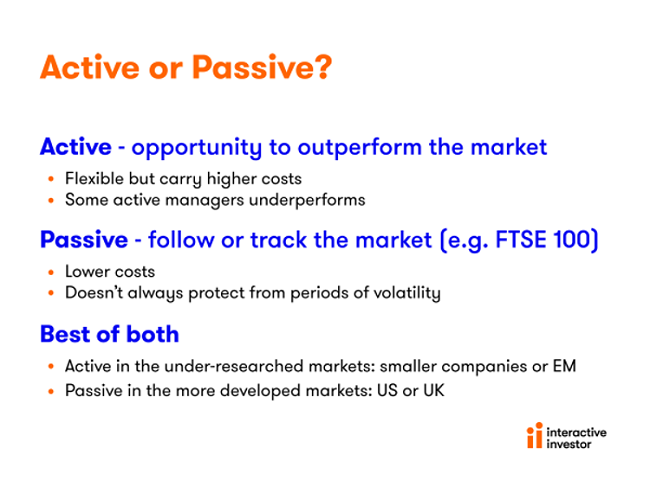 Deciding if you would prefer your fund to be 'actively' or 'passively' managed is a key consideration and a useful step towards narrowing your choice of funds. Investors have been debating the merits of active versus passive investing for a while now.
In general, actively managed funds aim to outperform the market as measured by a specific benchmark, such as the FTSE 100 index. Passive funds, such as ETFs and trackers, track or follow the performance of an index.
Investors will typically pay a higher annual fee for the expertise of an active fund manager. For example, the typical cost of active UK equity fund is around 0.85%. A tracker fund investing in the FTSE 100 would usually cost less than 0.1%.
Some investors claim that passive funds cannot protect investors from periods of volatility, unlike active managers who are flexible to adjust portfolio to minimise losses in a falling market. But it's also been argued that some active fund managers fail to consistently beat the market over the longer term.
Investors can use both types of fund as a way of diversifying portfolios. Pick an active fund to gain exposure to more under-researched areas such as Emerging Markets, then use passive funds for more developed and efficient markets such as the US.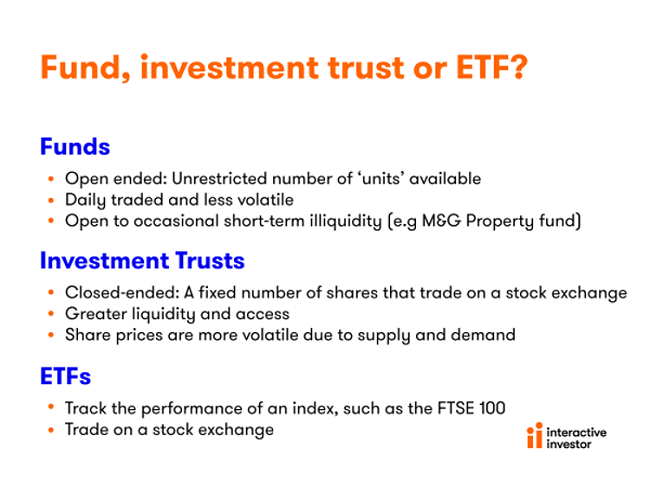 Investors should be aware of the different fund structures available to them.
You may be concerned about some of your investments on the back of recent media coverage of property fund suspensions, and the questions raised about how appropriate open-ended funds are to gain exposure to illiquid asset such as property.
While most funds provide daily dealing, some underlying holdings often take much longer to sell and therefore need to hold cash positions for liquidity reasons, to meet redemptions or to manage large inflows. There is no doubt this liquidity mismatch in such funds should be addressed by the regulator.
While this is a short-term illiquidity issue for open-ended funds, long-term investors who have a well-diversified portfolio, and do not need short-term capital or regular withdrawals, should not panic. Few property funds were suspended in the past during the financial crisis in 2008 and, after the Brexit referendum in 2016, they have since reopened.
For those short-term investors who need immediate access to money or for regular investing, closed-ended property funds are the better choice as they offer greater liquidity via daily trading. Due to their closed-end structure, investment trusts can be fully invested without any concerns over liquidity, and tend to have less cash drag on performance.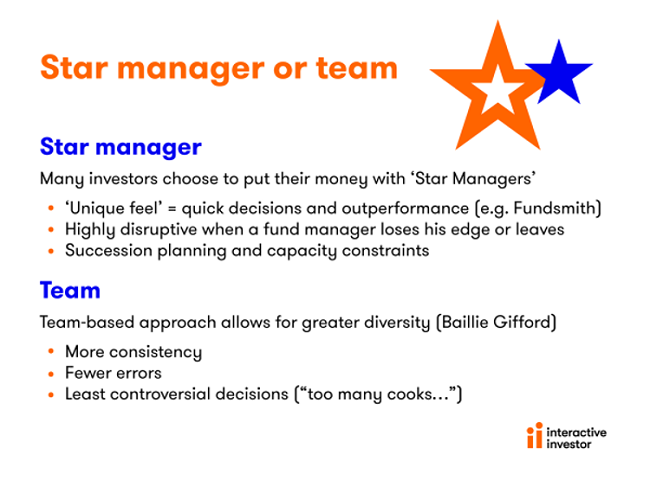 The ongoing coverage of the Woodford story has seen frequent question of whether to favour star managers or a team-based approach. In short, there is no simple answer.
Many investors choose to put their money with star managers due to their unique feel for the markets, and with those who have a successful track record of delivering returns for investors. This means it can be highly disruptive when this fund manager leaves or retires. This should be a major consideration for such investors, and they should look to ensure there is a clear succession plan in place.
Another concern when investing with star managers is that if they continue to outperform the market, more investors will flock to their fund. Assets under management grow and soon the manager is charged with attempting to maintain outperformance with an enormous amount of capital.
A team-based structure offers more stability and diversity of ideas, but there is a view that the more people involved in making investment decisions, the more likely you are to lose conviction or even find it difficult to reach an agreement.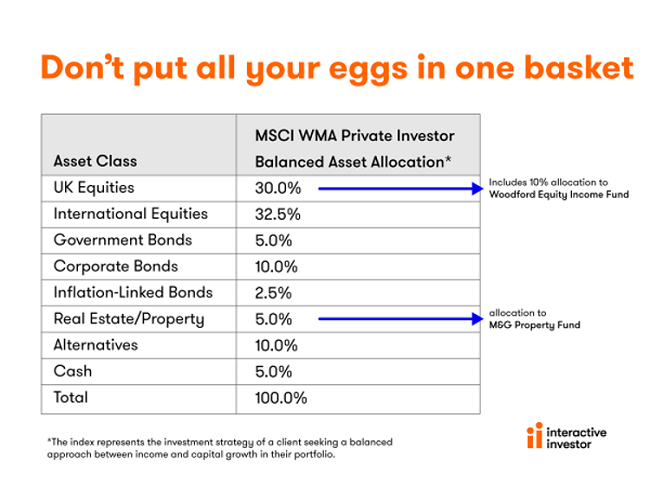 On this slide I wanted to highlight the importance of diversification. Taking too much risk and investing in just one asset or fund could mean losing money if you get it wrong.
Let's assume that you did choose the Woodford Equity Fund for your portfolio. Given the strategy employed by Woodford in his fund, for example, taking large high-conviction bets on stocks and sectors, as well as having exposure to small unquoted companies, your exposure to the fund should have been relatively small.
If we take, for example, the MSCI Private Investor Balanced Index as a proxy for the average balanced portfolio, where overall allocation to UK is 30%, the satellite allocation could be no more than 10% of an investor's portfolio.
The same goes for property allocation which is around 5%, perhaps via the M&G Property fund.
So theoretically, in the context of a global, well-diversified portfolio, any losses for each individual fund should not be as dramatic.
With fund investing there are no guarantees, and even the fund managers get it wrong, so spreading your investments over a range of different asset classes, regions and sectors is the best way to be diversified. You cannot control the risk the fund manager takes but you can control risk and limit losses within your portfolio by being diversified.
*This article formed part of a presentation made on 23rd January 2020, when interactive investor and Merian Global Investors hosted a joint event at Shakespeare's Globe theatre.
These articles are provided for information purposes only. Occasionally, an opinion about whether to buy or sell a specific investment may be provided by third parties. The content is not intended to be a personal recommendation to buy or sell any financial instrument or product, or to adopt any investment strategy as it is not provided based on an assessment of your investing knowledge and experience, your financial situation or your investment objectives. The value of your investments, and the income derived from them, may go down as well as up. You may not get back all the money that you invest. The investments referred to in this article may not be suitable for all investors, and if in doubt, an investor should seek advice from a qualified investment adviser.
Full performance can be found on the company or index summary page on the interactive investor website. Simply click on the company's or index name highlighted in the article.