Most popular cryptocurrencies and what Warren Buffett thinks of bitcoin
by

interactive investor

|

from
If your trading algorithm took its cue from our reports and was set to buy bitcoin near $13,000 and sell above $16,500, you will be in the money over the past couple of weeks or so, because those are the inflection points of recent price action.
News from South Korea that the authorities were moving to shut down exchanges - or maybe not - added some urgency to the downward trend, with bitcoin currently trading at $14,000 after touching a low of $12,980 on the Coinbase exchange. So, too, did initial news from Microsoft that it would not be accepting bitcoin as payment, although the tech behemoth has since reinstated the cryptocurrency.
Also worthy of note was that the decisive turn lower on Monday coincided with coinmarketcap.com's removal of three leading Korean exchanges from its price average, at a stroke turning screens into a sea of red. Whether that is causal evidence is anyone's guess, but with markets - and especially cryptocurrency markets - driven by sentiment, it may well have soured investor appetite for buying right now.
And Ripple's troubles continued, as commentators queried the extent to which banks were actually using its XRP token, as opposed to just working with one of Ripple's non-XRP services, such as xCurrent, to move their funds on the RippleNet network.
Those worries sent the XRP token into a tailspin that was only halted by an announcement from the US-based MoneyGram money transfer service that it was teaming up with Ripple to test its blockchain technology, explicitly stating that it would be using XRP.
However, Ripple's XRP token is up 13% today at $2.11, as it continues to make up lost ground from its low yesterday at $1.62.
Warren Buffett talks crypto

There hasn't been much to cheer about in the space with legendary American investor Warren Buffett adding to the FUD (fear, uncertainty and doubt).
Speaking at the annual meeting of his Berkshire Hathaway fund, he remarked: "I can say almost with certainty that cryptocurrencies will come to a bad end", which was why his fund would not be taking any positions in the nascent asset class, short or long.
There was further negativity when five firms that had applied to the US Securities and Exchange Commission (SEC) to launch exchange traded funds (ETFs), withdrew their listing requests. The firms concerned are VanEck, ProShares, First Trust, Direxion and Exchange Listed Funds Trust.
The applications were reportedly withdrawn after the SEC said it was concerned about the lack of liquidity and the valuation of the bitcoin futures instruments that the ETFs would have been based on. Trading volumes in CBOE and CME bitcoin futures are low.
Which cryptocurrency will be the next bitcoin?
In related news, the largest holdings of open contracts by financial institution is thought to be the 20% held by UK-based spreadbetting and contracts for difference broker IG Group. It has taken hedging positions to offset risk in the volatile bitcoin trading environment, where, by some measures, bitcoin price volatility is 10 times greater than that in equity markets.
Altcoins have fallen along with bitcoin over the past few days, although the bleeding has stopped currently. Total cryptocurrency market capitalisation had fallen as much as $200 billion, from $833 billion less than a week ago, to $628 billion yesterday, although has climbed back above $700 billion today.
Ethereum has consolidated its second-place position, trading at $1,296 on CoinDesk.
Best performers

Standout performers among the top alts include blockchain platforms Stellar, up 33% and EOS, 37% higher. Recent turbo-charged performance from Tron feels like a long time ago now, with the coin taking a beating earlier this week after being accused of plagiarising Filecoin when it put together its whitepaper.
Qtum announced a partnership with Chinese leader in cyber security Qihoo 360, in which it will be collaborating to build out a new blockchain lab focused on the commercialisation of the technology.
Qihoo 360 also announced that it had built the world's first cloud system based on blockchain. Qihoo 360's anti-virus software has 500 million customers in China and the company owns an array of other products, including in search and VoIP.
Read all of Gary McFarlane's analysis and expert commentary on cryptocurrencies here
Binance Coin (BNB) has had a good run of late, up 13% today and now the 25th largest coin by market cap, according to coinmarketcap.com.
BNB is the token of the Binance crypto exchange, registered in Hong Kong, but with operations now based in Japan, following the shuttering of exchanges in China. The trading platform has been growing quickly and has attracted a following because of its low fees and good uptime compared to the infrastructure problems seen on other older exchanges, such as Coinbase, Kraken and Bitfinex.
Chief executive of Binance, Zhao Changpeng, in an interview with Bloomberg TV this week, spoke about his business and the recent comments by Warren Buffett on crypto. On Buffett he said he respected his equity investment expertise, but said: "I think he knows stock investment and equity investment very well, but I do not think he understands cryptocurrency at all."
The Binance exchange, which has been adding "a couple of million" new accounts every week, now claims to be the world's largest and has instituted a limit on account registrations to manage the load.
Zhao said the average age of the exchange's customers is 25 to 35 years-old, observing that "there's a lot of guys with a lot of money", saying he sees "trades of $10,000 to $100,000 each day, some even bigger".
A record ICO

Other major happenings in crypto came from Telegram, the messaging app that is increasing in popularity around the globe because of its emphasis on security and privacy, when news leaked this week that it will be conducting an initial coin offering (ICO).
According to technology business site TechCrunch, which has seen the whitepaper outlining Telegram's plans, the ICO will be targeting a raising funds of $3 to $5 billion with a presale looking to bring in $500 million. That would make it the largest ICO to date by some margin.
20 questions to ask before taking part in an ICO
Pavel Durov, the Russian co-founder of the app (along with his brother Nikolai) and its chief executive, was forced to sell his previous venture, VK, sometimes called Russia's Facebook, and sees a decentralised network - to be called Telegram Open Network (TON) - as one way of making Telegram resistant to government censorship or seizure. The network token will be called "Gram".
The 132-page whitepaper includes plans for "TON DNS" to make it easy to search for decentralised apps and smart contracts, in a similar way to how we search for websites today; "TON Services", which would be a kind of marketplace for third-party services; "TON Payments" to monetize the ecosystem and enable micropayments and to include a wallet for both the native token and fiat, and lastly "TON Blockchain", with sharding to facilitate scalability.
Sharding is a method being adopted elsewhere to divide up tasks on the "masterchain" so that activities are automatically split up on the chain to run concurrently, thereby achieving much greater scale as required. Telegram intends to have 2-to-the-power-of-92 blockchains in its "infinite sharding paradigm".
Crypto revives Kodak!

Eastman Kodak, the once all-powerful company straddling the photography industry, but forced into bankruptcy in 2012 by its failure to adapt to digital, has decided to make a turn to blockchain and bitcoin mining.
The share price jumped 119% on the news, but was met with scepticism in some quarters, with the cost of renting its mining equipment considered exorbitant by experts, the rig capacity at its Rochester, New York, HQ is already sold out. Kodak is able to produce electricity cheaply on site because it has its own generating capacity.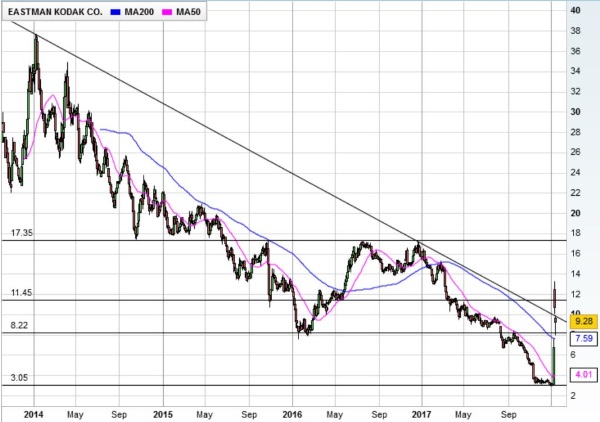 The company, which these days makes most of its money from licensing its name and exercising its intellectual property rights, also wants to use blockchain technology to track and authenticate picture usage worldwide with its KodakCoin, making it easier for photographers to manage their picture rights.
Kodak has contracted London-based Wenn Media Group to conduct the ICO on it behalf, for which no date has yet been set.
This article is for information and discussion purposes only and does not form a recommendation to invest or otherwise. The value of an investment may fall. The investments referred to in this article may not be suitable for all investors, and if in doubt, an investor should seek advice from a qualified investment adviser.