Unlocking Africa's investment potential
Forget the BRICs, the CIVETS or even the recovering economies of the developed world: this year's top-performing stockmarkets, so far at least, will be much less familiar to most investors.
Mark Mobius, the emerging markets veteran who runs the Templeton Emerging Markets portfolio, proclaimed last year that "Africa could be the emerging market story of the next decade", but even he must be surprised by how quickly that forecast is coming true.
Leaving aside the stockmarkets of north Africa, which are still getting over the tumult of the Arab Spring, and South Africa, which is more developed than most of its neighbours, the returns delivered by sub-Saharan African equities this year have been phenomenal.
There are a number of funds, trusts and ETFs that invest in Africa. To find out why you should be wary of those that are too heavily weighted towards South Africa, read: How to invest in the Africa growth story.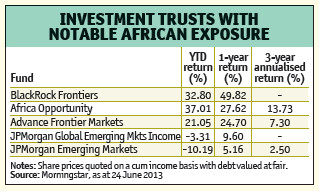 At an institutional level, African investment is hot. When Rwanda announced a $400 million government debt issue in April, investors offered it $3.2 billion of funding. As the country's president, Paul Kagame, subsequently pointed out in a Wall Street Journal article, that shouldn't have been a surprise - foreign direct investment in Africa topped $80 billion last year, 10 times as much as a decade ago.
Now interest is growing among retail investors and their advisers too. "I am excited about the growth opportunities of African economies," says Gordon Bowden, a director of Quainton Hills Financial Planning. "The case for traditional emerging market shares has been well documented, but Africa is often overlooked; as such, it has yet to receive large inflows of investment."
"Africa is still largely untapped from an investment point of view," adds Darius McDermott, managing director of Chelsea Financial Services. "But it is increasingly being viewed as a potential investment destination - that's why, for example, last October, ratings agency Moody's assigned first-time public ratings to Kenya, Nigeria and Zambia."
The economies of sub-Saharan Africa are frontier markets: a stage of development back from the emerging markets investors are more familiar with. That carries risks - but also opportunities. In any case, many of the emerging markets that investors once looked to for fast growth have now matured. Above all, China is now the world's second biggest economy. Fast-growing replacements are needed.
Africa, suggests Mark Mobius, is one place to find them - it exhibits many of the characteristics that emerging market investors look for.
"The continent is well known for its wealth of natural resources, much of it barely developed, including oil and gas and a variety of metals and minerals, as well as huge tracts of agricultural land," Mobius says. "Growth is creating burgeoning middle-class populations and dynamic domestic economies that provide opportunities for consumer companies, as well as a degree of insulation from the problems of developed markets."
The demographics driver
The statistics are compelling. GDP growth in sub-Saharan Africa has averaged more than 5% in each of the past three years and the continent has supplied six of the world's 10 fastest-growing economies over the past decade. The International Monetary Fund (IMF) predicts that 10 of the world's 20 fastest-growing economies during the next five years will be found in sub-Saharan Africa, with another two in north Africa.
The continent's stunning demographics are one reason for that growth. More than half of Africa's population is aged below 20 and the continent will have a working-age population larger than that of China within three decades. Even better, that population is increasingly well-educated - World Bank figures show a dramatic increase in enrolment levels in tertiary education in Africa over the past decade.
Moreover, the economic gains of the recent past have begun to raise household wealth. Consultant McKinsey forecasts that by 2020, more than half of African households will have sufficient income to make discretionary purchases as well as essential spending.
Other potential catalysts for growth include the trend towards urbanisation, which is boosting labour markets, creating demand for housing, reducing transport costs and catching the attention of overseas investors. In Nairobi, for example, planners expect population growth of more than 70% between now and 2025.
Alongside urbanisation will come much-needed improvements in infrastructure - both in physical assets such as transport facilities and in digital technology. And with much of Africa starting from such a low base, these improvements have the ability to deliver a rapid step-change in economic performance.
The new China?
For these reasons and others, the IMF predicts even faster progress in years to come, with GDP growth in sub-Saharan Africa forecast to top 6% a year. "Africa could be on the brink of an economic take-off, much like China was 30 years ago," predicted the World Bank two years ago.
Still, there is no room for complacency. The improving overall figures mask wealth inequalities seen nowhere else on the planet. Progress towards the United Nations' Millennium Development Goals on poverty reduction remains frustratingly slow and for tens of millions of Africans, disease and hunger are constant threats.
Nevertheless, the ranks of the African middle class are swelling. Standard Bank says 60 million Africans currently have annual incomes of more than $3,000 but that by 2015 this will rise to 100 million, roughly the same number as in India.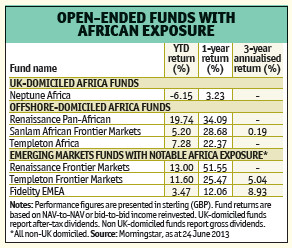 Sven Richter, head of Africa and frontier markets at Renaissance Asset Managers, says the economic upturn in the continent is based on three pillars, with manufacturing and consumption now providing important support to natural resources.
"GDP growth is not only higher than in developed countries, but also more defensive than in regions without the mix of internal and external growth generators," Richter argues. In fact, natural resources have contributed less than a third of total African growth since 2000, he points out.
Anyway, adds Mobius, even the natural resources pillar is more broadly based these days. "[Africa's] riches have attracted global investors, most notably from emerging market countries such as China, India and Brazil, who are seeking raw materials for their own economic development and markets for their industries," he observes.
This broader investor interest has been an important plank in economic development. "African countries have been receiving vitally needed infrastructure such as transport links, power stations, schools and hospitals," explains Mobius.
For all the good news, however, he believes it would be a mistake to underestimate the risks in Africa. "While the investment opportunity is large, problems of access persist," he says.
"Outside South Africa, equity markets are relatively small and illiquid. Key assets remain in state and private hands and are usually unquoted. Regulation of shareholder rights is often incomplete. In a number of countries, political instability also represents a threat."
Liquidity outside South Africa is certainly an issue, especially for funds of any significant size. Three years ago, fund management group New Star was forced to close its Africa fund because, it said, it was too difficult to invest in many of the markets it had hoped to target.
However, liquidity will improve as investor interest grows. Nigeria, the second-biggest market after South Africa, may only have 5% of the latter's trading volumes today, but banking reforms and monetary policy initiatives are attracting more investors.
In agriculturally oriented Kenya, which is the next biggest market, a return to political stability following the unrest of 2007 is encouraging investors, particularly as the access it provides to countries such as Tanzania and Ethiopia is so valuable.
Other interesting markets in the sub-Saharan region include Mauritius, Botswana and Zimbabwe. In the latter case, the country's agricultural prowess, combined with reforms such as a new constitution that curbs some of the powers of President Robert Mugabe, excites investors. Trading volumes on the Zimbabwe Stock Exchange this year are double those of 2012.
Nevertheless, many funds ostensibly offering exposure to the whole sub-Saharan African story have large allocations to South African equities. That may disappoint those seeking exposure to sub-Saharan returns - indeed, South African equities are in the red for 2013 as a whole.
The counter-argument is that certain South African companies are an excellent route into the rest of the continent for investors. "Think of South Africa as a window into sub-Saharan Africa," says Emily Whiting, a client portfolio manager in the emerging markets team at JPMorgan Asset Management.
South African conduit
She points, for example, to MTN, the South African telecoms business, which has made substantial investments in capacity in other African countries. Its activities in Nigeria, for instance, now account for 37% of earnings before interest, tax, depreciation and amortisation.
Similarly, South African supermarket chain Shoprite is steadily building its international presence throughout the sub- Saharan area .
It is also worth pointing out that many of the companies listed in the region will be known to Western investors. International businesses such as Unilever and Nestlé, which have substantial activities in Africa, maintain local listings in Nigeria . Kenya's East African Breweries is half-owned by Diageo.
What investors really want to find are the local companies set to turn into the giants of tomorrow - within Africa and then on a multinational level. It will take time, but Africa now has a shot at building such businesses.