What Shakespeare can tell us about money in 2020
ii Fiight Club: On 23rd January 2020, interactive investor and Merian Global Investors hosted a joint event at Shakespeare's Globe. interactive investor's head of personal finance explains why 400-year-old text resonates even today.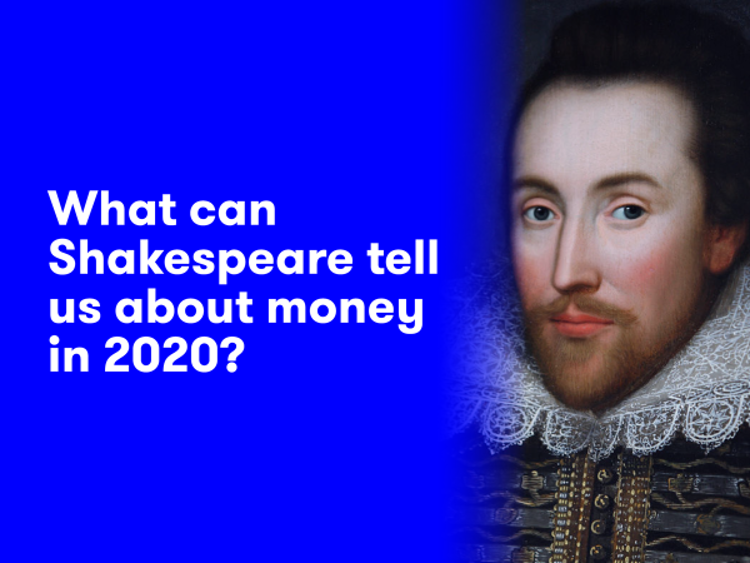 Few writers have ever caught our imagination like the Bard of Avon.
Many of you will have studied his plays at school, examining their universal themes of love, revenge, sorrow and comedy.
But not really from the point of view of what we do with the money in our pockets, yet personal finance is on the National Curriculum (it forms part of citizenship for 11-16-year-olds).
I'd like to think that works such as Romeo and Juliet, Twelfth Night and The Merchant of Venice could also be used to educate children about managing their money.
And I also think that adults aiming to save for the future can learn from Shakespeare's musings on money.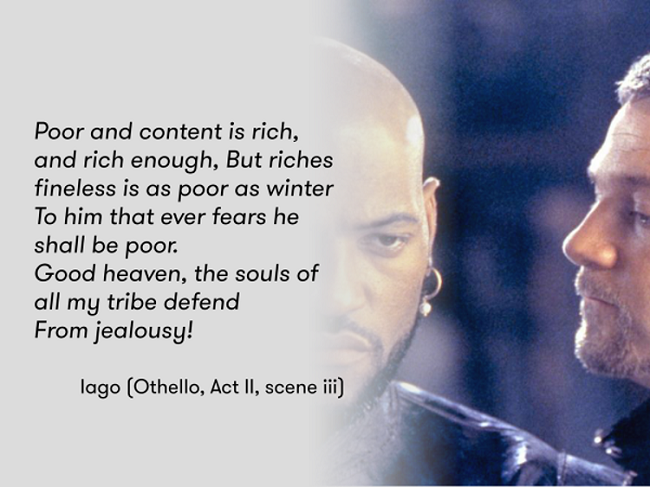 One of my favourite Shakespeare money quotes is from Iago, played here by Kenneth Brannagh, in a very creepy way, for those who have seen the film.
But to a head of personal finance, this quote is not creepy, but cheery.
'Poor and content is rich, and rich enough,
But riches fineless is as poor as winter
To him that ever fears he shall be poor.
Good heaven, the souls of all my tribe defend
From jealousy!'
Poor and content is rich enough: conveys the importance of frugality, which for many is the only way to make sure we can save enough for our retirements.
I'm sure Shakespeare would be pleased to see the FIRE lifestyle movement gather pace 400 years after his death. FIRE stands for Financial Independence Retire Early.
The model became particularly popular among millennials in the 2010s, gaining traction through online communities. They shared information in blogs, podcasts, and online discussion forums.
I also like the final line's message about not trying to keep up with the Joneses.
The souls of all my tribe defend from jealousy!
It also implies that we need our family and friends' help to keep focussed on our goals.
interactive investor's research of 10,000 people approaching or in retirement, found that there are still too few money conversations at home – both between adults and between generations.
Here's a quote from 'As You Like It' that even children could understand and discuss.
He that wants money, means, and content is without three good friends.
It neatly sums up our financial life goals in 12 words, something that the financial services industry could perhaps learn from.

Shakespeare largely didn't choose money as a key plot theme. The Merchant of Venice is perhaps the only 'money' play with the plot hinging on a large loan.
The play is a morality tale about money and greed and features infamous money lender Shylock. The pound of flesh is the price Shylock asks Antonio to pay for guaranteeing Bassanio's loan.
But the quote that first springs to mind when we think of Shakespeare musing on money issues, 'Neither a borrower nor a lender be', is from Hamlet, Act 1, Scene iii.
And, in the context of today's growing popularity of peer-to-peer lending, it is perhaps the one that doesn't endure so well.
This is the practice of lending money to individuals or businesses through online services that match lenders directly with borrowers. Starved by rock bottom interest rates many savers are turning to peer-to-peer lenders for better rates on their money.
What would the Bard have made of peer-to-peer lending?
Before Shakespeare's time, borrowing or lending money was seen as sinful and banned by the Christian Church. But Queen Elizabeth 1's Parliament decided to legalise money-lending – as long as interest rates weren't over 10%.
As someone who has worked himself into the ground, Shakespeare found easy access to credit abhorrent and had little sympathy for people who got into debt.
Here's a quote from Henry IV Part 2:
'I can get no remedy against this consumption of the purse. Borrowing only lingers and lingers it out, but the disease is incurable.'
Many of us today won't necessarily agree with this view.
It's accepted that if people work hard and, if they are on top of their finances and can afford to pay it, then it's ok to take out a loan – to finance a much-needed new car, for instance. And the yoke of long-term mortgage debt is the only way to eventual home ownership.
Put in terms of peer-to-peer lending, you may prefer a long term investment in the stock market.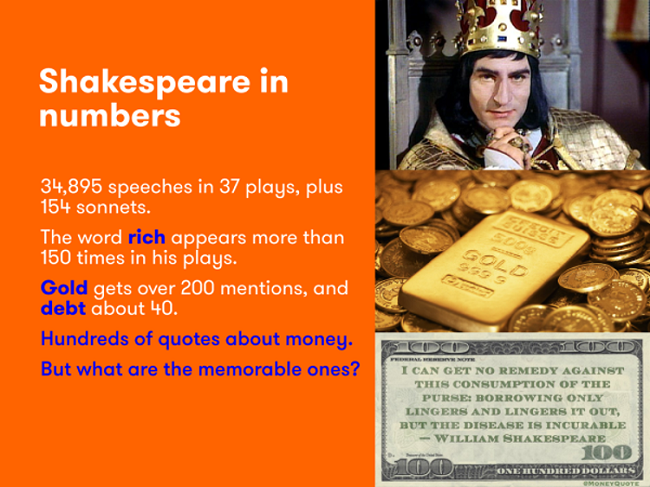 There are hundreds of quotes about money in Shakespeare's enormous body of work.
Consider that the word "rich" appears more than 150 times in his plays. "Gold" gets over 200 mentions, and "debt" about 40.
And it doesn't stop at the plays.
Modern times have thrown up college courses on "Bardonomics" and books on Shakespeare and economic theory.
Perhaps there are not as many memorable money quotes as you would expect from 34,895 speeches in 37 plays, plus 154 sonnets, but I'm sure you'll know this one:
Shakespeare had a particularly strong stance on gambling being off limits.
King Lear famously said:
'O, that way madness lies; let me shun that.'
I'm not sure what this means to those of you who hold Premium Bonds, the UK's most popular financial product with the chance to win a £1 million jackpot, but some of the Bard's money musings have weathered the centuries much better.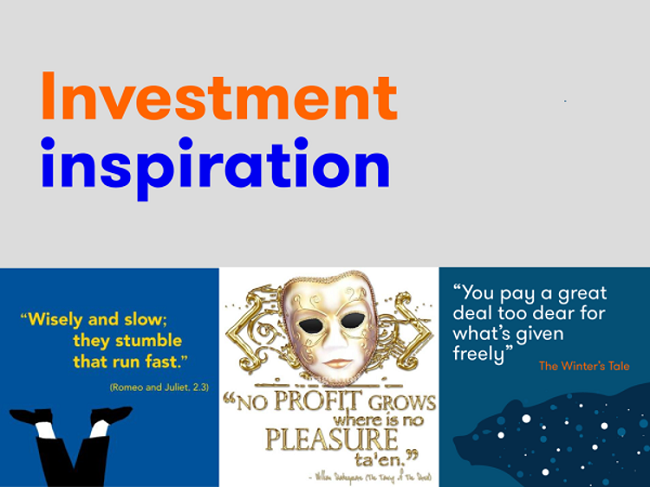 Most people don't pick up Shakespeare's plays when they're looking for investing advice. But for what it's worth, here's my pick of the best.
"Wisely and slow; they stumble that run fast." (Romeo and Juliet)
All throughout history we have heard of the triumph of the tortoise over the hare and the mantra that slow and steady wins the race.
Shakespeare reminds us of this wisdom, and I think this mantra is one of the most critical elements of successful investing. Executing a consistent investment plan and process over time is the key to wealth preservation and growth.
There is also a body of evidence that lower volatility strategies (avoiding the stumbles) can generate the highest long-term returns. Higher volatility investments (those that run fast) will have short bursts of outstanding performance but tend to experience higher frequency and severity of downturns.
The mathematics of loss is not kind to the hares.
If you lose 10%, you have to make 11% to get even;
lose 20%, you have to make 25%;
lose 50% and you have to make 100% just to get your capital back.
Investing in a low volatility strategy requires patience.
"No profit grows where is no pleasure ta'en." (Taming of the Shrew)
Shakespeare is imploring us to always love what we do. There is little to be gained in partaking in things we have no interest in.
What I love most about the investment business is that it is constantly changing, evolving and is something that you can engage in for an entire lifetime.
That said, the very best part is that you actually get better as you get older and wiser. This doesn't apply to other endeavours in life.
Wisdom in investing is defined as learning from mistakes as we go along.
"You pay a great deal too dear for what's given freely." (Winter's Tale)
Here it is not too difficult to think of high charges on actively managed investment funds that are actually closet index trackers, or paying for investment advice, to be put into an index tracker fund that you could quite easily have selected yourself, with a bit of research.
Or perhaps paying a percentage fee for your platform when you could save £50,000 over a 30-year period with a flat fee!
This quote is as relevant today as it was 400 years ago.
These articles are provided for information purposes only. Occasionally, an opinion about whether to buy or sell a specific investment may be provided by third parties. The content is not intended to be a personal recommendation to buy or sell any financial instrument or product, or to adopt any investment strategy as it is not provided based on an assessment of your investing knowledge and experience, your financial situation or your investment objectives. The value of your investments, and the income derived from them, may go down as well as up. You may not get back all the money that you invest. The investments referred to in this article may not be suitable for all investors, and if in doubt, an investor should seek advice from a qualified investment adviser.
Full performance can be found on the company or index summary page on the interactive investor website. Simply click on the company's or index name highlighted in the article.