Why this Italian bank could be the next Brexit
Banca Monte dei Pascha di Siena
We've noticed the usual culprits who preach doom & gloom have moved on from Brexit as their preferred armageddon vehicle and are now tending to circle in the air above Italy, specifically an Italian bank which claims to be the oldest in the known universe. We take issue with this, as we've seen the interior decor of some local banks in Argyll.
Unusually, this time they've a point, as BMPS's share price is already trading in a zone where its logical "big picture" bottom has a value prefaced with a minus sign. We've had a flurry of emails asking about BMPS and would guess a few folk are wanting to risk a punt at a potential near-term bottom - on the basis that it must enact some sort of emergency bounce.
Currently trading around €0.23, anything now below just €0.225 looks capable of propelling the price down to €0.177 initially, perhaps even a less likely €0.15. The share price needs a bounce to better €0.25, just to escape the immediate downtrend and enter a path toward €0.42, capable of challenging the "big picture" downtrend from 2014.
Secondary - on the basis the price somehow manages to close above €0.42 - calculates at €0.505. Beyond such a point, we shall need to re-run the numbers.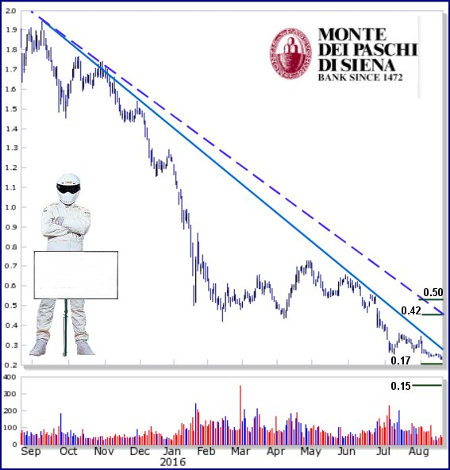 Unfortunately, for now, it needs a bit of a miracle but for those attempting to pick a bottom of some sort; movements this year tend to signal €0.177 should be in the ballpark.
And, to reiterate, until the price moves above the dashing blue line, it is trading in a zone with ultimate price calculating less than zero (actually €-4, if anyone is interested).
Just Eat
Just Eat is a different can of beans. Recently, the meteoric rise of the share appears to have arrested. However, we're not convinced and would suggest any movements now above 602p allow for an initial 629p with secondary 670p.
We cannot calculate anything higher than 670p and, generally, this results in the situation where some stutters at such a level can be expected. If the market were to intend higher, watch for the price being gapped up at the open any time now.
If things are to go bad, the share price needs to fall below 500p just to suggest the immediate uptrend has failed.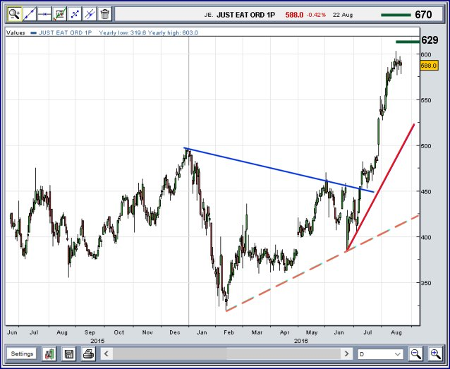 This article is for information and discussion purposes only and does not form a recommendation to invest or otherwise. The value of an investment may fall. The investments referred to in this article may not be suitable for all investors, and if in doubt, an investor should seek advice from a qualified investment adviser.
Alistair Strang has led high-profile and "top secret" software projects since the late 1970s and won the original John Logie Baird Award for inventors and innovators. After the financial crash, he wanted to know "how it worked" with a view to mimicking existing trading formulas and predicting what was coming next. His results speak for themselves as he continually refines the methodology.