Bitcoin within reach of $10,000
Already full of steam, bitcoin has received a fresh boost to its latest bull run.
Bitcoin is racing to $10,000, jumping more than 6% since Facebook's confirmation of its move into payments with the Libra cryptocurrency.
Currently priced at $9,818 on the US-based Coinbase exchange, our insistence over the past couple of weeks that bitcoin's bull run was continuing to firm despite some wobbles along the way (as always), is being borne out.
Although Facebook's (NASDAQ:FB) Libra is very different to bitcoin, in that it is a private "permissioned" blockchain with a token backed by a basket of currencies and unspecified government securities, it is nevertheless already having an impact, despite it not even launching until next year.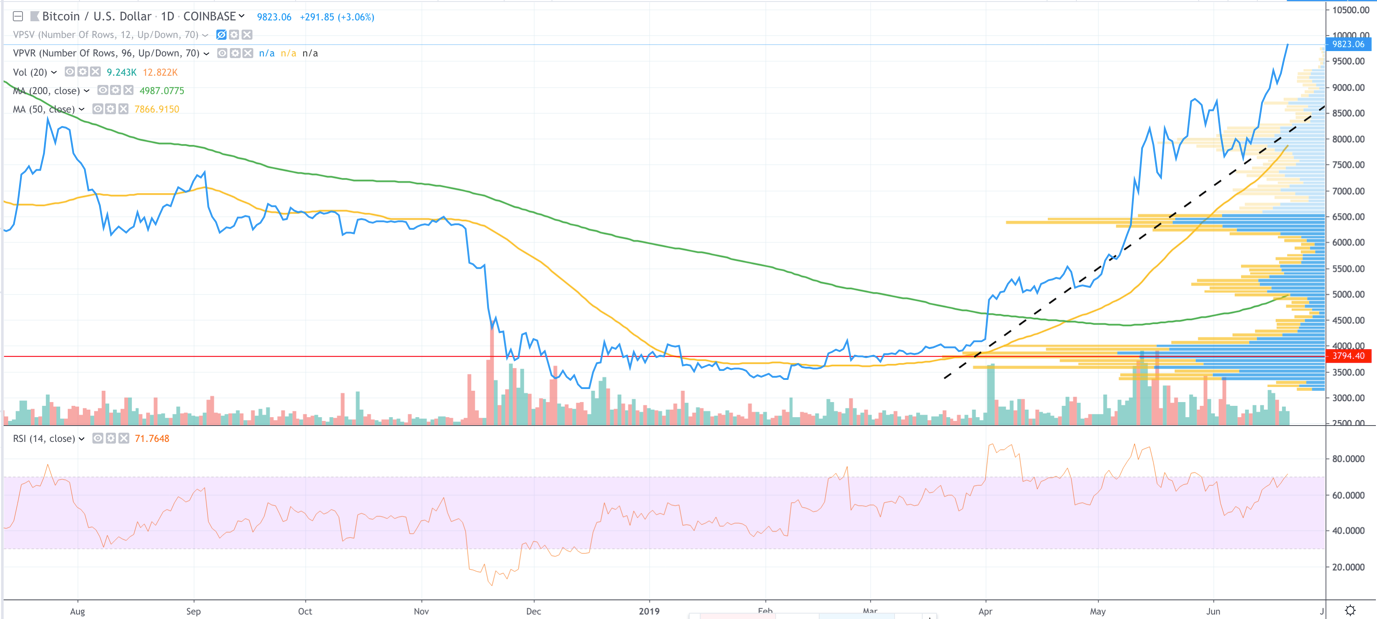 (BTC/USD price, chart courtesy TradingView)
Bank of England's Mark Carney welcomes Facebook's Libra
Bank of England governor Mark Carney may have surprised some commentators by his welcoming of Facebook's Libra crypto.
However, he has balanced his remarks with an insistence on the need for strong oversight.
Carney says he is "open minded" on Libra and sees the utility benefits of "free and instant" payments, but underlines the need for regulators and supervisory bodies to look at it "very closely".
He adds that, as with other financial institutions, it would be "subject to the highest standards of regulation".
There would be no "open door" for Facebook's Libra, although Carney is facing criticism for reportedly secretly meeting with Mark Zuckerberg earlier this year.
This morning on BBC's Radio 4 today programme, Carney reiterated that the authorities will be providing stringent oversight and were cognisant of worries about privacy and monopoly practices: "It has to be the choice of the individual a true choice. You can't let a system develop that you have to use it because it becomes so integral to everyday life."
"We, the Fed and all the major central banks and supervisors would have direct regulatory oversight… Also, regulators like the FCA here in the UK would have oversight. We want to make sure data and privacy rights are protected," he said.
The Bank of England has just published a report entitled The Future of Money.
In it, cryptocurrencies are explicitly rejected as part of the solutions to address issues such as the financial services being more expensive for the less well-off; the high cost of cross-border transactions and the shrinking proportion of cash transactions in the advanced economies.
The report also rejects central bank digital currency (CBDC) as for too risky. "At present the Bank of England states that it does not plan to issue a CBDC," says the report's author Huw van Steenis.
The report says bitcoin and similar cryptocurrencies do not pass the "classic 'tests of money'" , as oppose to digital versions of current fiat money or stablecoins such as Libra, the latter of which the bank may consider holding on its balance sheet.
Politicians and regulators highlight privacy and monopoly fears
Facebook's crypto plans are facing rising criticism in the US, where both the Senate and House of Representatives are to hold hearings. Chair of the House Financial Services Committee, Maxine Waters, has demanded that Facebook stop all development on the project.
The US Senate's Banking Committee is starting hearings as soon as 16 July.
France's finance minister, Bruno Le Maire, says Libra cannot be allowed to become "sovereign currency", calling for central banks to investigate.
German European Parliament member Markus Ferber, a member of the body's finance and monetary committee, says Facebook's Libra cannot be allowed to become a "shadow bank".
India to ban Facebook's Libra?
And in the country that perhaps matters most to Facebook – India – there is already considerable pushback. Facebook's WhatsApp is the top platform in India.
Although Facebook has not applied to set up Libra in the country as yet, Indian financial publication The Economic Times reported that it was likely to be banned.
"Libra, the cryptocurrency to be unveiled by Facebook next year, will not be available in India, according to a person directly in the know, as current regulations do not permit use of the banking network for blockchain currency transactions," the report read.
Bloomberg has previously reported that India is a key market for Libra because of its fast-growing economy and high number of "unbanked" individuals.
However, Libra could pose a devaluation risk to local currencies in developing nations.
New credibility for bitcoin and crypto
Facebook's entry into crypto brings credibility to the technology and the very fact that it lacks many of bitcoin's features, enhances the value proposition of the original cryptocurrency, despite the fact that bitcoin is not backed by anything in the traditional sense and pays no income.
Indeed, it turns out that it is the digital gold view rather than bitcoin as means of payment, that is gaining traction.
Part of the story of bitcoin's resurgence this year has been tied to rising geopolitical uncertainty. The China-US trade war that is seeing Chinese Yuan holders sending capital out of the country via bitcoin, and the continuation, despite previous statements to the contrary, of loose money policies by central bankers of the past 10 years.
Those are pretty much the same factors that are pushing gold bugs to buy the yellow metal, which has just hit a five-year high.
Expect these fundamentals to continue to push bitcoin higher, pulling up the wider crypto market behind it.
Ethereum playing catch up with bitcoin
Ethereum (ETH) looks set to be the big near-term winner among altcoins as it looks to accelerate higher, closing the gap on the rate of recovery compared with bitcoin.
The original smart contract platform, Ethereum is 8% higher in the past 24 hours, trading at $289. ETH hit its all-time high of $1,389 on the 15 January.
Ethereum inventor Vitalik Buterin, appeared at this year's Microsoft developer event, as the tech giant announced the release of its Ethereum software development kit for its Azure cloud platform.
Facebook stoking its competitors, banks should be worried
Facebook's foray into crypto, and the distributed ledger technology behind it, is sure to prompt other Big Tech players to redouble their efforts and Microsoft is certainly one to watch.
But beyond tech, it is notable that among the 28 members of the Libra Association, which is independent of Facebook, there are no banks or remittance companies.
Ivan Gowan, chief executive of Currency.com, a tokenised securities exchange, says the Facebook move is a threat to traditional banking.
"The hype surrounding the word 'Crypto' aside, Facebook is taking on the banks. They have teamed up with PayPal, Visa and Mastercard, creating a genuine alternative payment infrastructure outside of traditional banking."
Also expect the banking incumbents, all of whom have been testing and building pilots of permissioned blockchains, to start delivering products in the space as they shore up their defences.
But, of course, blockchain is not just about payments and finance, as the tech can be used to "tokenise" any number of economic activities.
Although it might seem a long way off, the notion of overthrowing "Web 2.0" centralised platforms such as Facebook, Amazon and Uber is the ultimate goal of the crypto evangelists, and they will see banks' and Big Tech's moves as backhanded vindication.
But Facebook shows that there's a way for the currently dominant companies to prevent their industries' disruption by co-opting the blockchain technology themselves, to the extent that it is usefully applicable.
Likely, it won't be a winner takes all zero-sum game, so there is still all to play for.
HAYVN platform in-principal approval and Props compliant token distribution first
Briefly, in other news this week, the HAYVN platform – the subject of a recent interview by interactive investor – have received in-principal approval from the the financial regulator of the Abu Dhabi Global Market.
Geared towards institutions and high net worth individuals and family offices, the Middle East-based platform provides over-the-counter, custody and research services for crypto investors.
Christopher Flinos, HAYVN co-founder along with Ahmed Ismail, commenting on the announcement, said: "Institutional investors are looking for partners that can offer safeguards and critically the confidence that the traditional financial eco-system provides. With today's announcement we intend to fill this gap, to ultimately provide investors with an effectively regulated and fully compliant platform to buy and sell digital currencies safely, securely and efficiently."
The tokenisation of assets continues apace.
News comes from the US that Props – an open source project to reward app users and content creators – has filed what is known as a RegA+ offering with the US Securities and Exchange Commission.
This allows the project, which is owned by fast-growing live-streaming video app YouNow, to raise up to $50 million from the general public.
It would be the first time, pending approval, that a cryptocurrency would be able to compliantly distribute tokens to non-accredited investors.
The token will be distributed to the 47 million registered users of YouNow.
These articles are provided for information purposes only. Occasionally, an opinion about whether to buy or sell a specific investment may be provided by third parties. The content is not intended to be a personal recommendation to buy or sell any financial instrument or product, or to adopt any investment strategy as it is not provided based on an assessment of your investing knowledge and experience, your financial situation or your investment objectives. The value of your investments, and the income derived from them, may go down as well as up. You may not get back all the money that you invest. The investments referred to in this article may not be suitable for all investors, and if in doubt, an investor should seek advice from a qualified investment adviser.
Full performance can be found on the company or index summary page on the interactive investor website. Simply click on the company's or index name highlighted in the article.