Forecasts: Lloyds Bank shares, FX, FTSE 100, oil and gold
Trading software whizz and technical analyst Alistair Strang shares predictions for the big asset classes.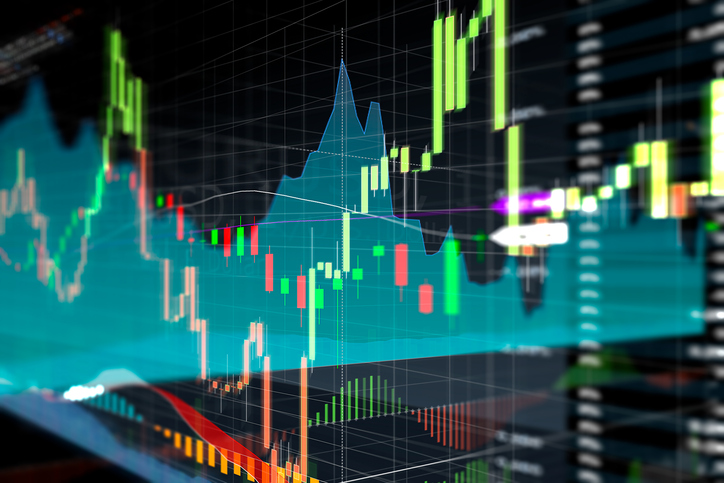 Folk who've attended seminars will know the 'good stuff' is attained after the event. We join other delegates for drinks, discretely shuffling into position, stalking whatever speaker interested us, for a private word.
Having never been "that guy, the speaker", I was unprepared for the experience. It transpires all these stories of 'you can feel you're being watched' are true, each conversation visually monitored by people waiting to ask a question.
This celeb status was achieved once I gave my very first, absolutely free to attend, talk on stock market future potentials in a post-Brexit world. Thankfully, the polite interrogations ceased with what was undoubtedly the best question of the day.
I was talking to a bloke who'd recently moved to Argyll from Leeds, a stock market dabbler and ambitious owner of a hotel he planned to renovate. His wife joined us, listened a while, then asked sweetly;
"Can you say 'Donkey' or 'Princess Fiona'?"
Her husband looked utterly horrified.
I've experienced this before when folk from south of the border hear my accent, immediately convinced they've just heard the voice of Shrek.
To judge by feedback, the talk was well received, immediately asked to do it again in a few months confirmed I was not receiving polite BS. It was something I'd been very nervous about; despite the fact I was discussing a specialist subject. I also know more than is healthy about BMW K1 motorcycles, probably able to discourse for hours on them, but I'm perfectly aware no sane person would wish to hear about tuning the ugliest motorcycle ever produced.
Subjects covered during the briefing included Lloyds Banking Group (LSE:LLOY), GBP:USD, Brent crude, the FTSE 100, heating oil (no gas in most of Argyll), GBP:EUR, and finally gold.
Lloyds Banking Group is a share which is visually irresistible, where price movements are currently implying rather a lot of market manipulation. Worse, at Trends and Targets, we suspect it's about to prove a nasty honeytrap, one of these "gotcha sucker" plays where traders' money goes on a protracted holiday.
The trend is a funny thing, often more than simply a line on a chart. Lloyds is a fantastic case in point, a share where the last year has provided a trading pattern which may prove useful. If drawing an analogy, one thing we've all done is engage cruise control on our car, curious at how long we can go before a panic jab at the brake pedal turns it off.
Here in Argyll, there's a fast section of road where you leave a village and the speed limit turns to 60mph. There's an immediate downhill section, perfectly straight, and it's followed by a few curves which don't require the brake pressed. In fact, the road swoops left and right, some rises, some dips, and you begin to feel you will complete the 12-mile jaunt to the next village without interference.
Suddenly, it goes wrong.
There's a blind left hander which climbs slightly, a narrow bridge, then the road drops down to the right. Smack, your foot hits the brake pedal and the car is out of cruise control. The best I've ever managed was half way across the bridge, then panic brake.
The blue line on the Lloyds chart below is Cruise Control, what's happening now (circled) is the markets foot hitting the brake. It's a perfect example of software-managed price movement being over-ridden by human intervention.
Folk who'd been following our Lloyds updates will be aware that the "bottom" was virtually exactly as predicted! But the bounce has been less than confident. Worse, when we view the chart, something slightly alarming has happened.
All joking aside, when giving my presentation, I dreaded discussing this in public, suspecting I was about to define the term "Anal Retentive".
The two inset areas, underneath the main chart further down this page, show price movements since the market jabbed hard down on the Lloyds brake pedal. Quite a few things are noteworthy, if taking a forensic approach.
First, the Candle inset illustrates how closely the market opted to follow the prior downtrend. We expect this sort of thing with AIM shares when market makers find themselves clueless as to what to do next.
Second, the right-hand Closing Price inset confirms the prior downtrend was indeed viable and real, as exquisite care was taken to ensure Lloyds did not close below the blue line again.
Thirdly, our concern comes from a couple of days trading since the blue downtrend was exceeded. On three occasions, Lloyds' share price has closed below the point of trend break. To us, this is a bad thing, ticking a box which demands we employ extreme distrust.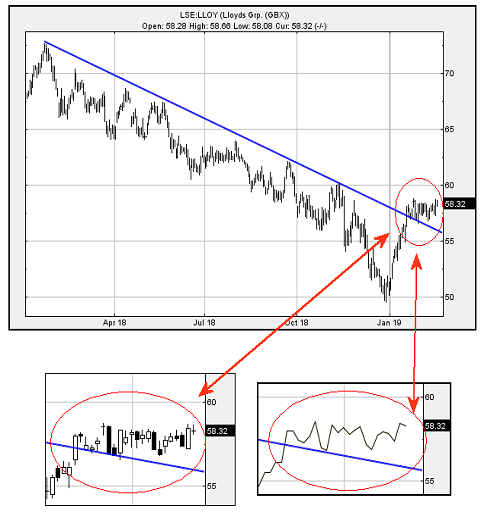 Source: Trends and Targets Past performance is not a guide to future performance
To be logical, if the downtrend was indeed sacrosanct and viable, why has the price been permitted to close below the point of trend break?
Has the market had second thoughts about this historical trend?
As a result, dare we treat the trend break seriously, or should we apply prior drop targets?
Our attitude is fairly blunt in the case of Lloyds.
We suggest not trusting any rise unless the share price now exceeds 62p. Otherwise, any movement now below 'blue' risks being truly messy, allowing reversal to an immediate 41p. In fact, perhaps even 31p. Or worst case, 21p.
But it will probably bounce from these bottom levels, initially challenging wherever the blue line is, hopefully eventually bettering it.
We've absolutely no idea why our calculations result in drops with 10p increments so don't ask…
Other forecasts
As for the other items covered, some of our conclusions can be summarised easily;
GBP:USD - Below 1.248 and don't plan a visit to Disney in Florida unless you are prepped for parity at very best.
GBP:EUR - Above 1.20 and the pound should strengthen quite considerably against the euro. Whereas below 1.10 and we expect parity. Our suspicion is it shall strengthen.
Heating Oil - Suspect it shall bottom at 39p / litre.
Brent - Suspect the rise will stall at $73
FTSE 100 - really not sure. A heck of an argument remains for 5,840 but… it's complicated.
Gold - Nervous with long positions once it gets above $1,372.
And that's it. A summary of our very first presentation for market movements this year. We intend doing it again, apparently next time in an amphitheatre venue which can handle up to 300 attendees.
Requests were also received for future "specialist" seminars, covering Sterling, the Miners, Pharma, and the Financials. Who knows, we may consider this.
It would be just like Davos without frostbite.
Alistair Strang has led high-profile and "top secret" software projects since the late 1970s and won the original John Logie Baird Award for inventors and innovators. After the financial crash, he wanted to know "how it worked" with a view to mimicking existing trading formulas and predicting what was coming next. His results speak for themselves as he continually refines the methodology.
Alistair Strang is a freelance contributor and not a direct employee of Interactive Investor. All correspondence is with Alistair Strang, who for these purposes is deemed a third-party supplier. Buying, selling and investing in shares is not without risk. Market and company movement will affect your performance and you may get back less than you invest. Neither Alistair Strang, Shareprice, or Interactive Investor will be responsible for any losses that may be incurred as a result of following a trading idea.
These articles are provided for information purposes only. Occasionally, an opinion about whether to buy or sell a specific investment may be provided by third parties. The content is not intended to be a personal recommendation, and is not provided based on an assessment of your investing knowledge and experience, your financial situation or your investment objectives. The value of your investments, and the income derived from them, may go down as well as up. You may not get back all the money that you invest. The investments referred to in this article may not be suitable for all investors, and if in doubt, an investor should seek advice from a qualified investment adviser.
Full performance can be found on the company or index summary page on the interactive investor website. Simply click on the company's or index name highlighted in the article.