Here's what the charts are saying about WPP and Provident
A pair of shares, in discovering gravity this week, provoked a large quantity of emails from folk. Invariably, when a share price is forced down by more than 10% at the open, expecting a reasonable bounce will often prove wasted exercise.
Sometimes a price is genuinely forced down to a new trading level, most times not as the market will tend flatten movements before trapping yet another bunch of private investors.
WPP (LSE:WPP)
In the case of WPP, we're justifiably curious as the drop actually did come pretty close to an initial target of 1,361p, with the day low being 1,382p. We've "issues" if this lot were to trade below 1,361p as we'd be forced to cough politely and mention 1,032p!
However, the initial drop did come pretty blooming close to our target for a share of this price and, therefore, we'll be curious if the price manages to creep above 1,450p anytime soon as it should prove capable of generating a useless 1,472p.
The important thing is, should 1,472p be bettered, it implies bottom is actually "in" and further movement toward 1,563p can be hoped for.
This would imply a challenge coming against the blue line on the chart below and, with closure above 1,563p, we'll be inclined to assume the drop was over-cooked and anticipate some future growth.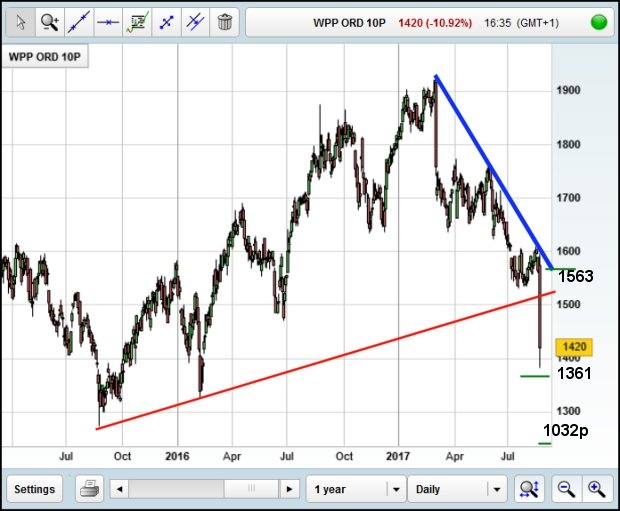 Provident Financial (LSE:PFG)
Unfortunately, Provident Financial presents a rather less impressive case for the future. We'd been calculating a "worst-case" drop target of 646p, an ambition the price managed crash below on both Tuesday and Wednesday.
Despite the price closing the Wednesday marginally above at 661p. we're extremely cautious at the idea of calling a "bottom" due to the longer-term secondary below 646p languishing at 289p.
While this represents a price level unseen since 1994, it's worth remembering the share is already trading below the worst levels of the financial crash of 2009. It's officially dangerous.
To toss a carrot in the direction of hope, apparently anything above 685p should bring 784p.
And apparently, if 784p is bettered, there's a chance it actually has bottomed and some progress toward the immediate downtrend at 1,390p currently should commence. Let's just say the jury is out against such a prospect.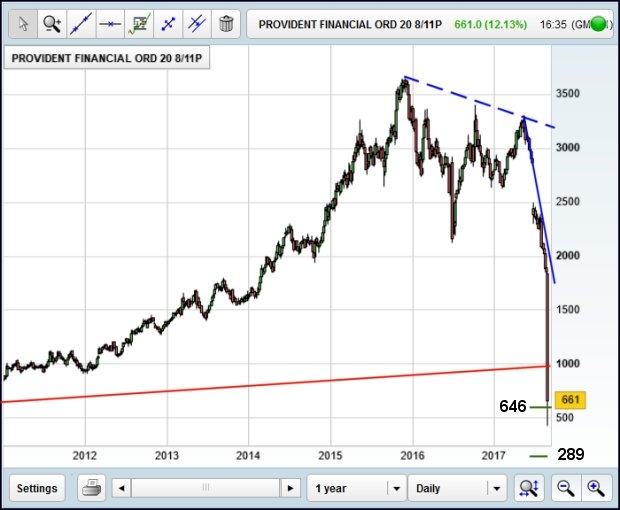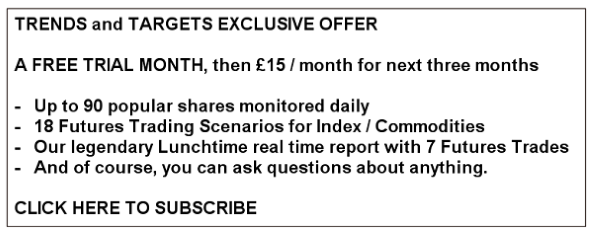 Alistair Strang has led high-profile and "top secret" software projects since the late 1970s and won the original John Logie Baird Award for inventors and innovators. After the financial crash, he wanted to know "how it worked" with a view to mimicking existing trading formulas and predicting what was coming next. His results speak for themselves as he continually refines the methodology.
Alistair Strang is a freelance contributor and not a direct employee of Interactive Investor. All correspondence is with Alistair Strang, who for these purposes is deemed a third-party supplier. Buying, selling and investing in shares is not without risk. Market and company movement will affect your performance and you may get back less than you invest. Neither Alistair Strang, Shareprice, or Interactive Investor will be responsible for any losses that may be incurred as a result of following a trading idea.
This article is for information and discussion purposes only and does not form a recommendation to invest or otherwise. The value of an investment may fall. The investments referred to in this article may not be suitable for all investors, and if in doubt, an investor should seek advice from a qualified investment adviser.