Science: An AIM share's metamorphosis
This AIM company is highly profitable and lives in a boomtown, but does that make the shares a buy?
This AIM company is highly profitable and lives in a boomtown, but does that make the shares a buy?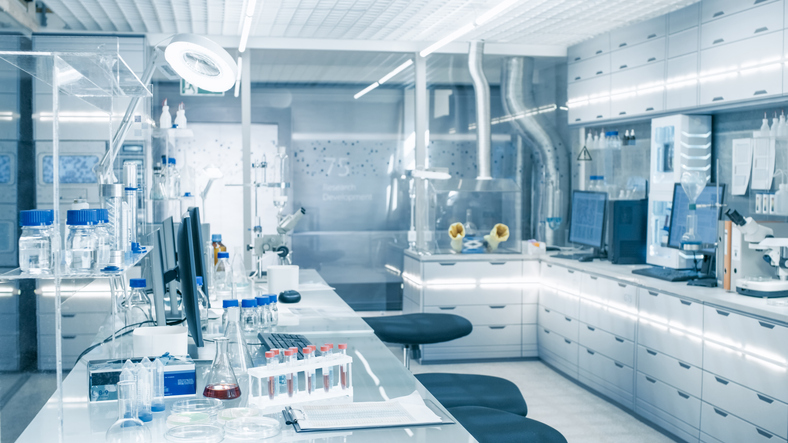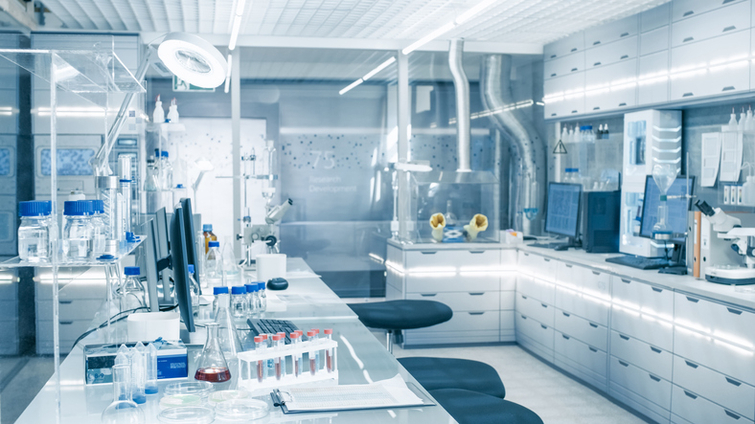 Science (LSE:SAG) does scientific research and product development for a wide range of businesses. It also advises companies on scientific, technological, and regulatory matters.
Although it keeps work confidential, to give shareholders a flavour of what it does for them, Science provides anonymised examples of key projects undertaken in the year to December 2018 in its annual report.
During the year, Science was hired to develop an advanced radiotherapy system, a new medical diagnostics platform, a "spa-like" home-use beauty product and a precision dispensing system to reduce the impact of chemical use in farming. It researched medical markets for a "potentially disruptive imaging technology" and advised a major beverage company on global regulation.
High profitability, but tentative growth
It is difficult to know how Science performed in the recently concluded financial year because the words "like-for-like" and "organic growth" do not grace the annual report and Science acquired TSG, a consultancy that helps companies comply with scientific and technical regulations, in September 2017. While 2017's performance figures included four month's contribution from TSG, 2018's included a full year.
In total, Science lifted revenue 19% compared to the previous year and adjusted profit 7%. Much of the increase in revenue was probably down to the acquisition and revenue rose more than profit because TSG is less profitable than the rest of the business. Science does not give figures for TSG's performance in 2018, but in the year of its acquisition, it made a loss. Profit margins for the rest of the group improved.
Science remains highly profitable. Return on capital was 25%, a shade above the company's average over the last eight years, a period which started with a radical change in its business model. Previously, Science had been a venture consultancy, investing in developing its own intellectual property as well as helping other businesses, but it decided it could profit more consistently working for a fee. So it turned out: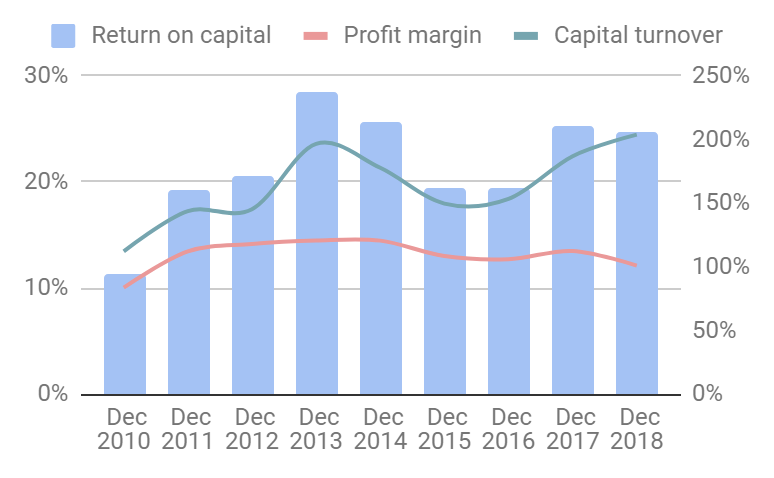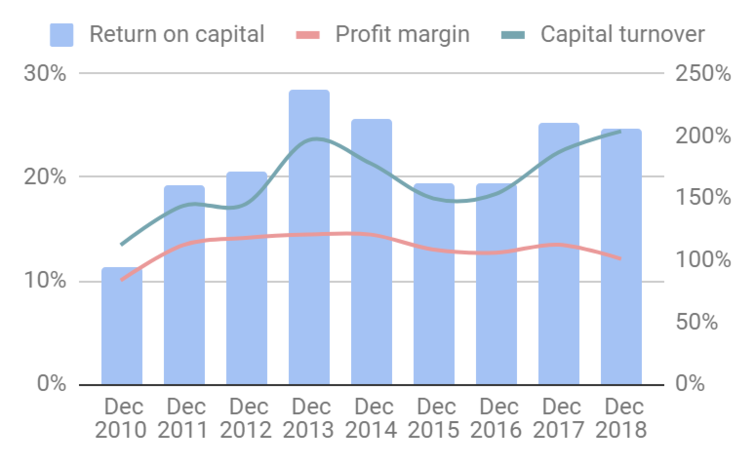 Source: interactive investor
The company has long experience in the medical and commercial sectors, but it has acquired businesses to broaden the markets it serves and the services it offers, bringing it customers in the food and beverage, energy and chemical industries, for example. Diversification insulates it against the vagaries of project work and individual markets, it claims, and enables it to support customers throughout the product development cycle.
While the price paid for some past acquisitions is questionable and the potential of more recent acquisitions remains to be seen, Science's return on total invested capital, a measure that includes the full cost of acquisitions as well as the capital required to operate the business is a healthy 12%: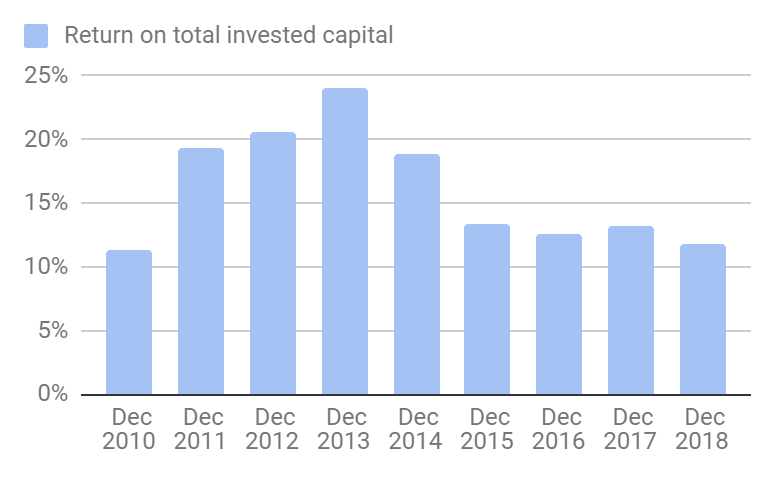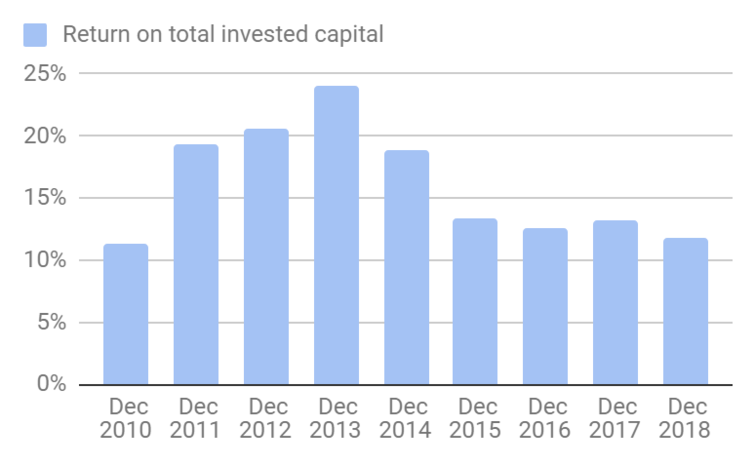 Source: interactive investor
How Science is so profitable is a bit of a mystery. The obvious answer is the scientists. Research and development and advisory services require highly trained scientists. Science may derive some benefit from its Cambridge HQ.
Cambridge is something of a boomtown and home to a number of consultancies, which all benefit from the reputation of its University and the science and technology ecosystem around it. It is a place scientists want to live and work too, and Science's gleaming futuristic offices are in a particularly attractive setting close by.
Rival consultancies have offices in or near Cambridge too but competition may be limited to an oligopoly. UK based scientists are cheaper to employ than North American ones, for example, where Science earns 40% of revenue.
Shackled by shareholders
But Science is shackled by its top five shareholders, who own 70% of the shares. Executive chairman Martyn Ratcliffe owns 34% and the rest is split between four fund managers. The company believes a free-float of less than 30% means other institutional shareholders are uninterested in buying shares, which means they may be undervalued. To raise more capital for acquisitions, the company could issue more shares, but it would be getting less for them than it believes they are worth.
Instead, Science is mortgaging its freehold properties. After the end of the financial year, the company's bank increased the amount it can borrow against them to £17.5 million, through a fixed term loan Science describes as low risk because there are no covenants as long as Science draws less than £10 million of the loan, and if it borrows more, the terms include a six month remedy period before the bank can call in the loan.
More worrying, perhaps, is what Science plans to do with the money it has raised. We do not really know.
Anything goes strategy
A recent strategic review mooted larger acquisitions, which: "May or may not have any synergies with the Group's existing operations... Furthermore, the Board will consider opportunities to acquire a major shareholding rather than make a full acquisition, if appropriate."
While the business will change, it is impossible to know where it is going. It will probably become more difficult to understand. The company has promoted Dan Evans, managing director, to the board to oversee day-to-day operations, while Ratcliffe, who remains executive chairman, will focus on strategy and corporate development. He seems to be turning the company into a listed investment vehicle.
As the company's biggest shareholder and an experienced businessman, it is not in his interest to destroy value by splurging on vanity acquisitions but the company is following his agenda.
The strategic review considered alternative uses for the company's resources including returning money to shareholders, which it concluded did not suit "some shareholders".
Apparently the company has more resources than it can invest in the existing businesses, which raises questions about their growth potential.
Scoring Science
As usual, I have scored Science to determine whether it is profitable, adaptable, resilient, equitable, and cheap. Each criterion can achieve a maximum score of 2, and a minimum score of zero except the last one. The lowest score for companies trading at very high valuations is -2.
Profitable: Does it make good money?
Yes. By focusing on fee-based consultancy and diversifying the services it offers, Science has become a reliable earner. Average return on capital over the last eight years is 23%, and average cash conversion is 85%.
Score: 2
Resilient: What could go wrong?
The safest way to grow is by reinvesting in a profitable business, but the strategic review moots unconnected investments, suggesting Science does not think it will be as profitable reinvesting in the consultancy.
Score: 1
Adaptable: How will it make more money?
As a result of the strategic review, the company will adapt, but we have no way of telling what it will change into.
Score: 0
Equitable: Will we all benefit?
Board pay is not egregious, and Science needs to reward staff well as they provide the service. But the majority shareholder's interests may not be aligned with minority shareholders'.
Score: 1
Cheap: Is the firm's valuation modest?
Yes, at about 200p the enterprise trades on a multiple of about 14 times adjusted profit.
Score: 1.4
I have not got a clue where Science is heading, and the company's own listing seems to be holding it back. A total score of 5.4 means I do not recommend it for long-term investment.
It could do very well, but Science no longer fits my template.
Richard owns shares in Science.