Shell's Arctic adventure proves costly mistake
With its Burger J exploration well coming up dry, Royal Dutch Shell has scrapped its controversial Arctic drilling campaign. And by turning its back on the Chukchi Sea, the oil major will report a huge write-down in Tuesday's third-quarter results. There will, however, be some relief that it's exiting an unpredictable and challenging region as its share price struggles at a six-year low.
Results at Burger J, high costs, and challenging regulatory environment forced Shell to make the decision about a region in which it owns 275 outer continental shelf blocks. Found 150 miles from Barrow, Alaska, in 150 feet of water, Shell drilled its Burger J well 6,800 feet over the summer. It found oil, but not enough to support further exploration.
Now, after spending an estimated $9 billion on the well, according to Deutsche Bank analyst Lucas Herrman, it's now been sealed and abandoned.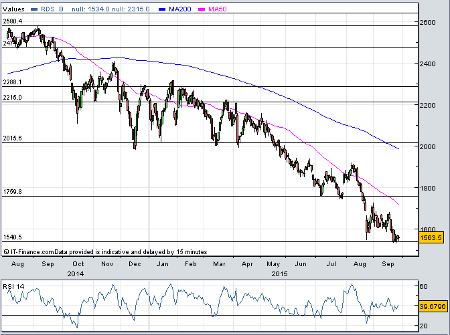 "The Shell Alaska team has operated safely and exceptionally well in every aspect of this year's exploration program," said director of Shell's Upstream Americas division Marvin Odum. "Shell continues to see important exploration potential in the basin, and the area is likely to ultimately be of strategic importance to Alaska and the US. However, this is a clearly disappointing exploration outcome for this part of the basin."
As a result, Shell is expected to log over $4 billion of charges in its third quarter results on Tuesday; writing off the $3 billion carrying value of remaining intangibles, plus forward committed programme costs of $1.1 billion. This is a hit of over $0.65 a share.
"Tax allowances may reduce the final cost but all told the entire episode has been a very costly error for the company both financially and reputationally," says Herrmann.
The Arctic holds around 30% of the world's undiscovered natural gas, according to the US Geological Survey, as well as 13% of its oil and 22% of its natural gas liquids. Shell reckons this reflects 400 billion barrels of oil equivalent, 10 times what has been produced in the North Sea to date. But Hermann thinks Shell is better off out:
"The Shell announcement brings to an end an exploration programme that, whilst offering potential materiality, has proven an important source of controversy and reputational risk. As such, we suspect that many shareholders may actually breath a sign of relief that the exploration well has come up dry and that Shell will now desist from continuing with the programme."
After a troubled year, Shell's second-quarter results impressed back in July, beating expectations. Further cost savings were identified and management remained committed to the dividend - the yield is currently 7%. Shell's £47 billion bid for BG remains the subject of much speculation since.
This article is for information and discussion purposes only and does not form a recommendation to invest or otherwise. The value of an investment may fall. The investments referred to in this article may not be suitable for all investors, and if in doubt, an investor should seek advice from a qualified investment adviser.