These three oil services firms are a buy
Oil and gas prices have dropped to an "unsustainably low" level, but there will only be a "muted" recovery, warns Haitong Securities. It's why the broker advises clients to adopt "prudent positioning" in the oilfield services sector rather than simply buying the biggest underperformers.
"Since the start of the downturn the sector has been very highly correlated to the crude oil price, but with the outlook over the timing of a sustained recovery and to what level remaining uncertain, we would suggest a defensive stance," writes Haitong, the Chinese firm which took over rival broker Espirito Santo over a year ago
In order of preference, it favours exposure to the midstream subsector, companies trading at a decent discount to long run forward earnings multiples, firms exposed to positive exploration and production (E&P) investment themes, and, finally, those with diversified business models.
In an impossibly long 128-page research note, Haitong's team of industry analysts initiate coverage of a number of oil services providers and reassess existing ratings, among them six well-known London-listed plays.
The midstream subsector - largely transportation and storage - is tipped to keep outperforming the rest of the services sector in Europe, largely because earnings here depend on traded volume flows against long term fixed-price contracts, not oil prices. Dutch giant Royal Vopak (VOPKY) is the favourite here.
Haitong also thinks the diversified services subsector - drilling rigs and seismic surveys - will do better than the drilling and engineering, procurement and construction (EPC) boys:
"We prefer diversified services because the subsector's earnings are a little less dependent on the E&P capex cycle and less sensitive to project execution (higher percentage of reimbursable costs vs. completing construction projects on budget and on time) and in general, balance sheets are less stressed."
It's why Haitong is a buyer of diversifieds Wood Group and Amec Foster Wheeler, and has a preference for Petrofac among the EPC players.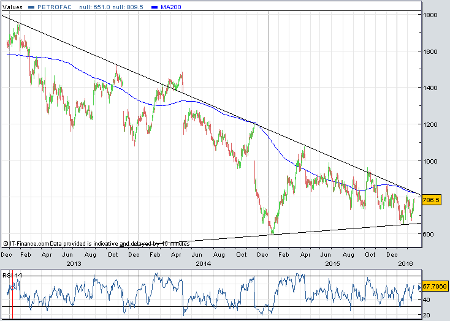 Given the broker believes the market's read on international oil company (IOC) capex might be "overly generous" - recent spending cuts by Chevron and Exxon have been over twice that expected by analysts - it likes those businesses with more exposure to national oil company (NOC) revenue.
That's why it rates Petrofac a 'buy' with fair value of 1,017p. The shares are also cheap versus historic earnings and it was the only stock back in 2015 to be able to offer firm guidance over its 2016e earnings outlook.
Both Wood Group (Buy, 662p price target) and Amec (Buy/466p) are cheap, too, and offer a "more defensive earnings outlook" than most other stocks the broker covers. "Whilst we think Petrofac has more going for it in the short run, we think Wood Group and AMFW could be preferable calls in the longer run because their consultancy-heavy business models may be better placed to navigate the risks associated with the potential of a secular slowdown in E&P capex."
Elsewhere, Hunting, Cape and Gulf Marine are rated only 'neutral' with price targets of 269p, 195p and 86p, respectively.
Hunting's exposure to US shale puts Haitong off the shares. Making parts used to drill wells was great business during the boom years, but times have changed.
"In a lower for longer oil price scenario there could be further downside risk on a relative basis for this subsector," it says. "We would prefer to see the stock at a deeper discount to warrant dipping a speculative toe in."
Growing its maintenance business is a sensible strategy for Cape, increasing its defensive characteristics. Yet, despite a cheaper valuation than Wood or Amec giving scope for a re-rating, Haitong is cautious.
"We feel like chasing the stock at this point would not be prudent," it says. "There is scope for further re-rating, but that is something that may only happen when the market turns."
And, while Gulf Marine has just refinanced and trades on undemanding valuation multiples, Haitong guesses that the shares will only re-rate once the market gets better confidence over its short term earnings outlook.
This article is for information and discussion purposes only and does not form a recommendation to invest or otherwise. The value of an investment may fall. The investments referred to in this article may not be suitable for all investors, and if in doubt, an investor should seek advice from a qualified investment adviser.