What Fitbug Holdings is really worth
Fitbug Holdings has taken the market by storm. A week ago, it was an anonymous loss-making tech company selling wearable devices to help monitor fitness, and its shares changed hands for just 0.375p. Today, at 7.5p, the company is worth an incredible 20 times more and was yesterday forced to issue two statements within hours of each other, protesting that it knows of no reason for the surge. Of course, two big contracts announced last week have generated the interest, but what is Fitbug really worth?
"It's too much of a guesstimate at this stage, but growth could be impressive," Derren Nathan, an analyst at Hybridan, told Interactive Investor.
And that's the big question. What will that growth be? There are no earnings forecasts for Fitbug presently, but the company doubled sales in the first half of 2014 to £914,000. However, investing heavily in its KiQplan digital coaching product, due for launch in November, meant losses swelled to £1.6 million.
Last week, Fitbug said US retail giant Target and supermarket chain Sainsbury's will stock its wearables ranges from next month. Of course, getting the devices on the shelves in time for Christmas is a massive coup for the tiny firm. But the shares have become one of Interactive Investor's most-traded stocks all this week - investors are clearly betting that more deals are in the pipeline.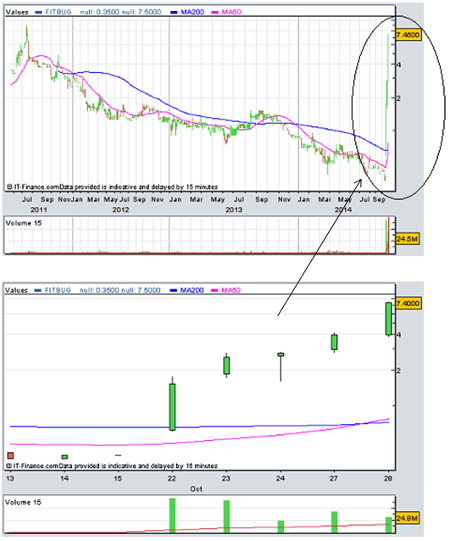 (click to enlarge)
That's why Fitbug management issued the two statements Tuesday. "The company wishes to announce that it continues to trade in line with the board's expectations and will make further announcements when appropriate," it said at midday Tuesday. At 2.31pm, it added: "The company wishes to make it clear that it knows of no reason for the move in its share price other than its agreements with Target Corporation and J Sainsbury plc to stock Fitbug products in their stores, as announced on 22 October 2014."
Mr Nathan has had a quick stab at the sums.
"Target has approximately 1,800 stores and an online operation," he says. "Should each store sell just two devices per week in H2 we would expect that to generate upwards of £0.5 million revenues for Fitbug through the US six week retail holiday period."
But there are other factors to consider. Fitbug devices should also do brisk business at Sainsbury's over Christmas, and it's launching the new KiQplan digital coaching product next month, too. "It's a nice product as there's not much in terms of inventory," says Nathan. It's all online, and the product - sold as plans with names like "no more baby belly" and "salsa to fitness" - can be bought as gift cards, or as an app, and is compatible with other tracker and smartphone devices.
Back of a fag packet valuation
If we assume Fitbug grows at its current rate, full-year sales would double to £1.5 million. If we're generous and say the second half of 2014 is as good as the first (over £0.9 million), annual revenue hits £2 million. Adding the estimated £0.5 million from Target takes that to £2.5 million. Predicting 2015 numbers is impossible given the variables – Target, Sainsbury's, Christmas and KiQplan – but we can figure out what it will have to do to justify current multiples.
At 6.25p, Fitbug's market capitalisation is about £10.5 million. Adding in £6 million of debt gives an enterprise value of £16.5 million. That gives an enterprise value-to-sales (EV/Sales) ratio of 6.6.
As a guide, NASDAQ-listed sportswear apparel company Under Armour currently trade on a trailing 12-month EV/Sales ratio of 4.8, and both Lululemon Athletica and Gildan Activewear trade on 3.1 times. Elsewhere, Cherokee (CHKE) trades on 5 times and VF Corp 2.5. For Fitbug to get near the top end of those ratings, it would have to generate sales of at least £3.3 million. At a multiple of 3 times it would need to top £5 million. That kind of growth is certainly ambitious, but possible.
If we assume Fitbug generates sales of £3 million in 2015, trades on an aggressive EV/Sales multiple of 5 and there is no change in debt, the shares would currently be worth 5.3p. It's the same with sales of £5 million and a ratio of 3. As a comparison, if sales rocketed to £4 million and the shares traded on 3 times EV/Sales, the share price would be 3.6p.
First sales figures for Fitbug products from both Target and Sainsbury's, and a guide to demand for KiQplan, will give us a much better idea of prospects.
But is it just sales prospects that are driving demand for the shares, or are investors betting on a takeover? Hybridan's Nathan points out that the sector has been awash with M&A activity recently. In April 2013, Jawbone, a direct competitor with Fitbug, is reported to have paid $100 million (£62 million) for BodyMedia, a US based company that makes health-monitoring armbands. Last November, Under Armour bought app-maker MapMyFitness for $150 million. Intel snapped up health tracking band firm Basis Science in March and Facebook took out Finland's ProtoGeo Oy, which designed a fitness-tracking smartphone app called Moves.
There's also an expensive legal battle Fitbug has been fighting against rival Fitbit, alleging trademark infringement, unfair competition and unfair business practices. A trial date of 9 February 2015 has been set by the US District Court of Northern California to hear the Company's legal action against Fitbit. If things go Fitbug's way, there could be compensation.
This article is for information and discussion purposes only and does not form a recommendation to invest or otherwise. The value of an investment may fall. The investments referred to in this article may not be suitable for all investors, and if in doubt, an investor should seek advice from a qualified investment adviser.