When to buy the oil services sector
Cuts to this year's non-OPEC production guidance has helped thin the fog of uncertainty covering the commodity market's future ever so slightly, suggesting that OPEC's plan to leave any physical rebalancing to the market may work. To cope with the challenging conditions, companies are slashing their capex budgets, putting the European oil services and drilling sector under threat. Citi has downgraded the sector, but Barclays believes it has uncovered value.
The trend of capex downgrades will continue into the first half of this year as oil producers adjust to the challenges the market is throwing up. Citi reckons cuts will soon be made to brownfield budgets, which currently account for around 40% of Big Oil's spending. But Barclays is confident that producers have learnt the lessons of the past and will avoid cutting too far.
"The industry," in Barclays' opinion "is acutely aware of history. Sudden stops to spending, delays to maintenance work and less exploration for the future only leads to a tighter situation down the road. Oil is the original cyclical industry."
Citi now expects consensus earnings for the sector to be 20% lower, making the risk/reward profile unfavourable. It believes years of oil price stability has caused complacency in the market, and while this new environment will cause a sector response, not even the service companies' clients know what action is the best to take right now. Earlier this week Goldman Sachs reported that capex has fallen 25%, and Barclays sees this falling by another 9% in 2015.
The US will take the biggest hit, with a 14% reduction to capex. That's led to analyst downgrades for Hunting and Wood Group to 'equal weight' with revised price targets of 800p and 850p respectively (see chart). Both have significant upside potential, says Barclays - 46% for Wood Group and 64% for Hunting - but it very much depends on a recovery in oil prices and return of investor confidence. Says the broker:
"Perhaps OPEC's recent moves are justified. The oil industry, and its backers, need to understand pain. its potentially just a matter of how much can be endured, how much financial liquidity there is in the system and how much inventory is already drilled, but not completed, before we see a supply response."
Do your homework
Of course, things will not remain this bad forever. Indeed, Barclays can already see light at the end of the tunnel.
"Day by day the picture becomes clearer and we see reasons not to be overly pessimistic - capital discipline in oil is not a new concept, backlogs in [oilfield services] are robust, US$ strength should help, and input prices for projects are falling," it says.
"More importantly, our analysis shows that relative valuations already factor in scenarios as worrying as 1999 and 2009, but as history indicates, the apocalyptic forecasts at the start of a new oil price period tend to be extreme, and, as oil prices recover, so do earnings estimates. Assuming a more robust 2H15F oil price environment, we see light at the end of the tunnel and remain Positive on a one year view. Today may not be the time to buy the European OFS sector, but as oil prices find a new equilibrium and negative earnings revisions abate, it should soon be time for investors to do their homework."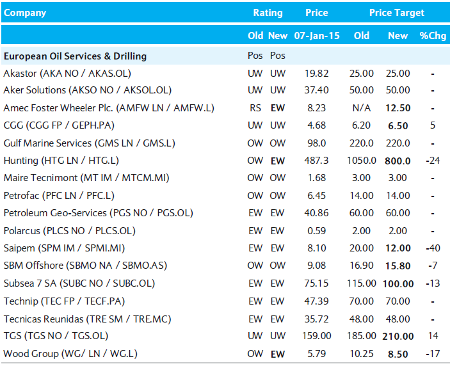 Source: Barclays
Favouring companies with backlog-driven visibility, Barclays is particularly fond of companies with strong Middle East exposure and existing order book. Picking from the polar market caps, they favour SBM Offshore, Petrofac, GMS and Maire Tecnimont.
Of the UK players, it has this to say:
Amec Foster Wheeler
"With the benefit of hindsight the acquisition of Foster Wheeler's (AMFW) downstream and non-OECD activities looks well timed in light of recent commodity price movements. Indeed, we would argue that the recent commodity price falls could give added impetus to its cost saving plans."
Hunting
"Hunting is trading on a pre-amortisation 2015F PE of 10x, versus US peers on 15x consensus which face the same uncertainties. This is as big a differential as we have seen and should support the stock."
Petrofac
"In 2015F, in an uncertain macro environment, we believe Petrofac's strong backlog and high exposure to National Oil Companies (NOCs) not only help to underpin our earnings forecasts, but position it well for further awards."
Wood Group
"We have reduced our 2015-16F net income by ca 20%. Despite this cut, the shares are only trading on 10x PE and offer 47% upside potential to our reduced 850p/share price target. Given upside potentials elsewhere, a 54% outperformance versus the sector in 2014 and uncertainties surrounding the exact impact of US exposure, we are downgrading to Equal Weight."
Although Barclays sees value, Citi is not won over by sector valuations.
"With up to 30% overcapacity in the asset heavy offshore businesses (e.g. seismic, drilling), our SoP valuations indicate 30 %+ downside in bear - case scenarios . Earnings multiples also suggest little value in the sector: our revised estimates place OFS on 11x 2016 E earnings ( in line with wider Oils at 11x) despite high balanced risk and operational leverage in the sector. We downgrade 2014 - 20E sector earnings by 20%, reflecting a deteriorating outlook. We downgrade Subsea 7 from Buy to Sell /High Risk, as backlog and returns look set to contract more than anticipated."
Brent crude was up by nearly 3% on Friday, but still below $50/bbl.
This article is for information and discussion purposes only and does not form a recommendation to invest or otherwise. The value of an investment may fall. The investments referred to in this article may not be suitable for all investors, and if in doubt, an investor should seek advice from a qualified investment adviser.