XP Power: My favourite share
Traders sell when business suffers, but for those with longer horizons these shares are more attractive.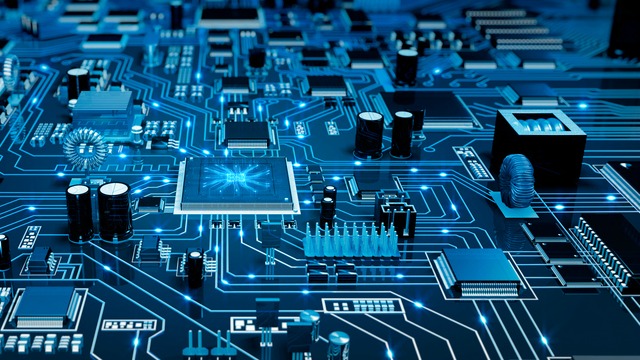 Although investors have taken flight, dropping the share price by a third over the last year or so, XP Power (LSE:XPP) is probably in a good situation. Fearsomely profitable, it says it is the leading supplier of power converters for manufacturers of industrial and healthcare equipment.
A decade of investment means it has the broadest and most up to date product range, which is manufactured in its own Asian factories and sold by the industry's largest technical sales force, predominantly in North America and Europe.
Operating from a position of strength, XP Power appears to hold its destiny in its own hands but the company is thinking about how it keeps ahead of the competition. It says Asian competitors may enter the European and North American markets with low-cost products, and competitors might be first to market with new technologies. They must be trying.
That is almost certainly why XP Power is spending more on Research and Development: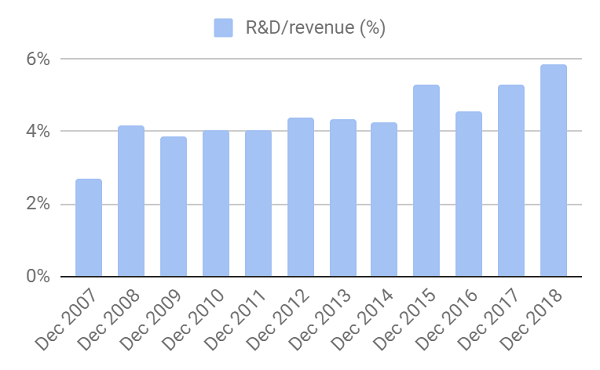 The increased in R&D coincides with generally higher investment including three acquisitions and a new factory, its second in Vietnam, and new software systems. Heavy investment is partly an offensive move. XP Power's customers, big blue chip customers, use all manner of converters, often in the same machine, and XP Power wants to supply as many of them as it can.
Glassman, the latest acquisition in May 2018, makes high voltage, high power, supplies used in machines that manufacture transistors, the building blocks of silicon chips, and particle beam accelerators used in medical diagnostics. It fits with XP Power's strategy of selling a wider range including more specialised products to established blue-chip customers.
Despite Glassman and earlier acquisitions, Comdel and Emco that also filled "power gaps" in XP Power's range, XP Power earned more revenue from its top 30 customers in 2018 than it did in 2014 (52% compared to 40%).
This chart from XP Power's annual report, show how the power gaps have mostly been filled (the horizontal axis shows voltage, and the vertical axis power):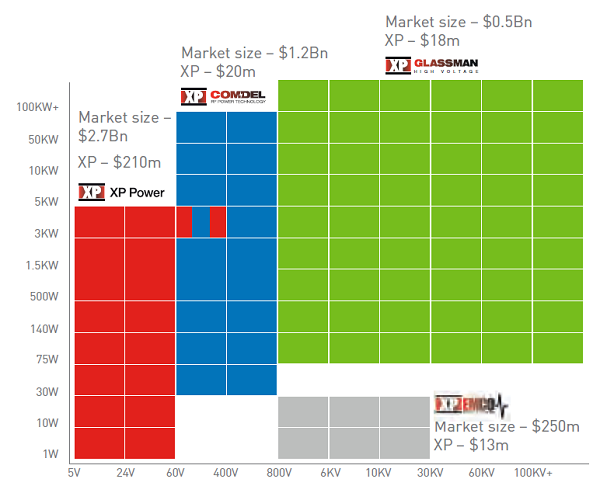 The company says "We are now one of the few companies in the world that can offer our customers a complete range of power solutions across voltage and power".
The strategy is also defensive. It is easy for a company in Europe or America to buy off-the-shelf AC/DC adapters from a low-cost manufacturer in Asia.
XP Power is focusing on customers that are not primarily cost conscious. What its customers need most of all, is reliability and efficiency.
If a power supply fails it can kill a person, or stop a production line. Reliable and efficient converters use advanced materials and more complex circuits, and they are often designed into machines requiring XP Power's technical salesforce to work closely with their customers, usually to modify products from one of its 250 product families.
The strategy flows from XP Power's strengths. R&D should keep XP at the leading edge of what is technically possible.
Developing a large number of product families that can be easily modified allows it to supply relatively sophisticated products to many customers at relatively low cost. Its local technical sales forces work with customers to modify and supply adapters providing a service that remote low-cost manufacturers cannot match.
Manufacturing its own converters reassures customers about quality. Using a smaller number of high quality components increases efficiency as well as reliability, which is important to customers seeking to burnish their environmental credentials, and their customers seeking to reduce energy bills.
The proof of XP Power's business model is its results. Over the last twelve years, including three years of lower profitability in the early years of its transition to manufacturing, it has earned an average return on operating capital of nearly 30%: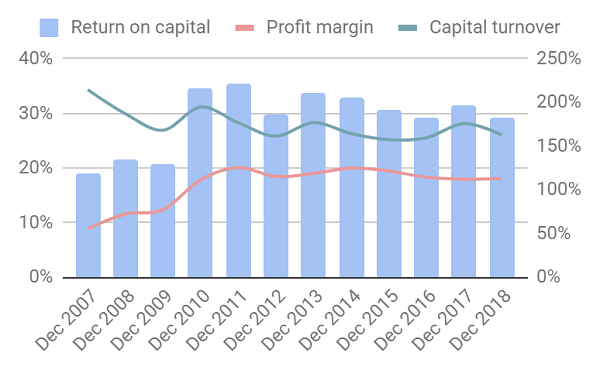 Operating capital is a measure of the investment required to keep the existing business running. If XP Power were to make no more acquisitions, it might be a rough guide to how profitable the firm will be in future. By adding goodwill and acquired intangible assets to operating capital, we can also get a sense of whether XP Power has been a good acquirer. The larger denominator means return on total invested capital is lower, but XP Power is still highly profitable: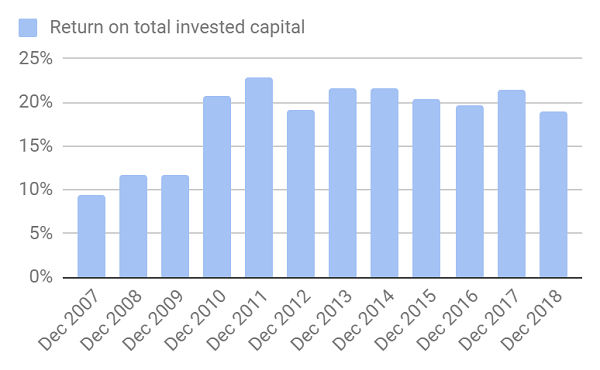 A decade of results and a coherent strategy, suggest XP Power has a prosperous future, but its performance in the year to December 2018 has unsettled traders.
The company had difficulty getting components, reporting lead times of up to 52 weeks compared to 12 weeks, which is more normal. This required it to stockpile at relatively high prices and tied up cash in stock, resulting in unusually weak cash flow: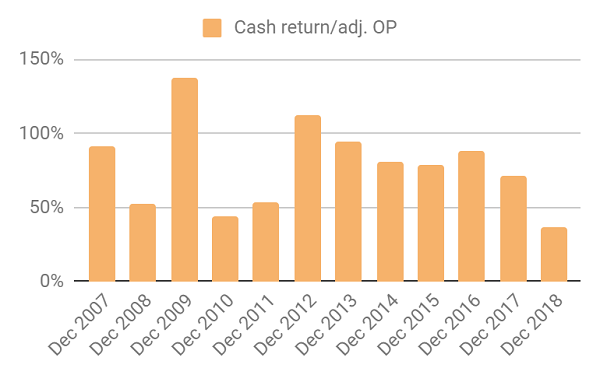 XP Power expects the situation to normalise over 2019 and 2020, but it is still experiencing some shortages today.
In addition to the supply squeeze, a downturn in demand from the semiconductor machinery manufacturers in the final quarter of 2018 and persisting into the current year may threaten growth in 2019. XP Power earned about a quarter of revenue from semiconductor manufacturers in 2018 due to high demand and the acquisition of Glassman.
Over the full financial year, the company grew revenue 17% (11% on a like-for-like basis) and adjusted profit 18%. Its order book was also bigger at the end of the financial year than at the end of 2017. The company says it expects growth in 2019, but reading between the lines of the annual report, it may currently be fulfilling more orders than it is taking. Its optimism is based on the expectation of resurgent demand in the second half of the financial year and the fact that it will receive a modest boost from twelve months of revenue and profit from Glassman. It only owned Glassman for seven months of 2018.
Scoring XP Power
As usual, I have scored XP Power to determine whether it is profitable, adaptable, resilient, equitable, and cheap. Each criterion can achieve a maximum score of 2, and a minimum score of zero except the last one. The lowest score for companies trading at very high valuations is -2.
Profitable: Does it make good money?
Yes, average return on capital is nearly 30%, average cash conversion is 73%.
Score: 2
Adaptable: How will it make more money?
Yes, the company focusing on sophisticated products for big customers. This is a market it is peculiarly well adapted to serve thanks to investment, a large technical sales force and control of much of the supply chain.
It is operating from a position of strength. In 2017, before the acquisition of Glassman increased its addressable market, XP Power reported a market share in Europe and North America of 11%.
Score: 2
Resilient: What could go wrong?
Low-cost competitors may be taking some of XP Power's business, particularly for less efficient or reliable converters, but the focus on customers requiring more demanding specifications addresses the risk.
The cyclical nature of some of XP Power's industrial markets means profitability can vary, but the company tends to invest through the cycle coming out stronger in comparison to its rivals. As semiconductors proliferate, the semiconductor market may become less cyclical.
The US may increase tariffs on imported converters from China from 10% to 25%, but XP Power's two factories in Vietnam give it flexibility (unlike many competitors).
XP Power already imports into Germany from Asia. It does not believe Brexit is a material risk.
Score: 2
Equitable: Will we all benefit?
XP Power is clearly customer focused. It lists employees first among competitive advantages. Executive pay is high, but at least it is relatively transparent.
Score: 2
Cheap: Is the firm's valuation modest?
At £24.20 the shares current trade on an enterprise multiple of about 15 times adjusted profit in 2018.
Score: 1.3
Last year XP scored well too, except for the valuation. The share price is lower than it was then. And that must just makes it more attractive to long-term investors. A total score of 9.3 means XP Power is my favourite share, as ranked by the Decision Engine.
Richard owns shares in XP Power.
Contact Richard Beddard by email: richard@beddard.net or on Twitter: @RichardBeddard.