James Halstead and the Vinyl Tycoon
by

interactive investor

|

from
Let me share with you my internal monologue on James Halstead, a company I've wanted to invest in so long, it's doing my nut in.
The globetrotting company's annual report is an annual highlight. The business monotonously earns humongous profits relative to the money it invests, typically more than 30% return on capital, selling vinyl flooring made in Manchester and Teesside all over the world. Two-thirds of revenue comes from abroad.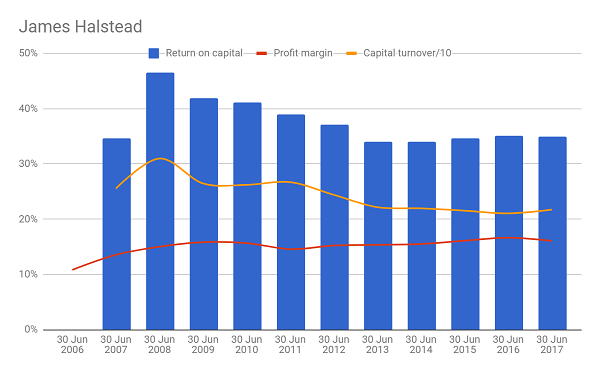 Every year, Halstead reveals the most exotic sales. In the year to June 2017, it floored Svalbard Satellite Station, which Wikipedia informs me is the only ground station that can see a low-altitude polar-orbiting satellite. It's not far from my favourite James Halstead installation in Longyearbyen, a settlement founded by miner James Munro Longyear in 1906, also on the island of Spitsbergen. If the Arctic Circle doesn't do it for you, James Halstead will tell you all about how it's floored hospitals in India, gymnasiums in Germany and even the pride of the French oceanographic fleet, 'Thalassa'.
The days of Empire may be over, but we're, or rather, James Halstead is covering nooks, crannies, shops, laboratories, offices, hospitals, sports stadia and the rest, everywhere. Sometimes I dream about making a global vinyl trading board game to play with the kids at Christmas (they'd hate me). Let's call it Vinyl Tycoon.
This year James Halstead benefitted from the low pound, which increased the value of overseas revenue and enabled the company to be more competitive. But it endured higher raw material prices due to two fires and an explosion affecting suppliers of PVC and plasticiser, vital raw materials. Two major UK distributors also de-stocked, so sales in the UK fell.
Despite all of the action (just think of the game: "Pound plummets, move forward six spaces", "Fire in PVC plant, alternative suppliers up prices, move back four spaces") James Halstead increased revenue 6% and adjusted profit 4%.
I have an inkling why it's special, mostly by process of elimination. The product isn't particularly special. Presenting the company to investors once, Halstead's finance director joked he'd be hard pressed to tell if the floor he was standing on was Polyflor, its principal brand, so similar are brands of vinyl flooring.
I'm sure he was exaggerating for effect, the company innovates, and launches new ranges, but basically vinyl is salt (chlorine) and oil (ethylene). Neither did he think the company is notably more efficient at manufacturing vinyl tiles. That leaves sales, as the most likely explanation for Halstead's supremacy.
Halstead uses distributors to ship vinyl to customers as and when they want it, but it prefers to sell to end-customers and specifiers, the architects and contractors who fit-out buildings. That way it can present the distributor with the sale and take a bigger cut for itself, while building the awareness of the brand among the people who ultimately choose the flooring.
Technically adept and design conscious sales people provide a good service, so customers are more likely to come back. The whole company learns from its sales people, improving the product, and how it's delivered. A sales-led strategy is perhaps the most simple strategy of all, but it's not necessarily easy. Halstead provides no detail.
The annual report contains just one sentence about strategy under the strategy heading: "Our businesses are totally flooring focused and our strategy is designed to enhance our brand identity thereby generating goodwill and customer satisfaction with the aim of continued repeat business."
It isn't actually a strategy at all. It describes what the strategy is supposed to achieve. The frustrating thing about James Halstead is it's very coy about the "how". That's probably because it doesn't want competitors to know. It also says:
"It is clear that the success this business has achieved over the last 20 years leads our competitors to scour all information we publish for data on our activities."
Bit weak, I think, James Halstead. If the strategy is hard to ape, it's likely to put off competitors. There's no point in hiding it, better to boast about it.
There's probably much more to the "how' than good customer service though, advantages work best when they combine. Halstead is a specialist. It only sells vinyl, so it does one thing well.
The majority shareholding of the founding Halstead family has kept it from straying from its winning formula. A long-standing profit share scheme ensures all staff can benefit from its prosperity, and helps foster an industrious and loyal culture throughout the organisation. Halstead has lots of strengths, and if it has weakness, I have yet to discover them.
So, why am I resigned to playing the board game rather than buying the shares?
A share price of 465p values the enterprise at £920 million, about 24 times adjusted profit. The earnings yield is 4%.
The earnings yield is a hypothetical rate of return, what you would get if the company paid all of its profit out as a dividend. Four per-cent is pretty feeble, but the company could earn more profit in future, improving the return on an investment made now, over time.
As distributors re-stock, supply returns to normal, and James Halstead continues to benefit from the depreciated value of the pound, it's quite possible profit will receive a fillip.
Longer-term, a highly profitable businesses like James Halstead should be able to grow because it's earning lots of money which it can invest in new and equally profitable business, but James Halstead isn't following the script at the moment.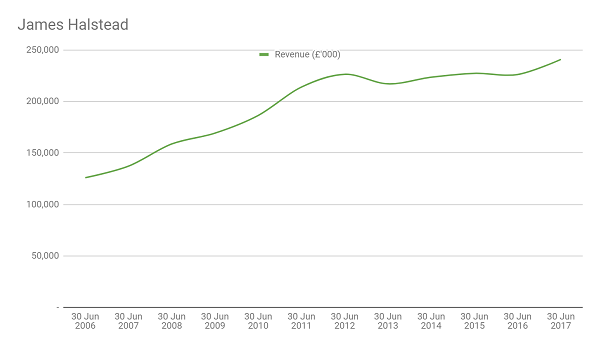 Since 2011, it's grown revenue at a compound annual growth rate of just 2%.
Companies can choose what they do with their surplus cash, once all the bills have been paid. They can spend it, hopefully on investments that will earn more profit in future, or return it to shareholders.
The emphasis is on income, currently. James Halstead proudly boasts of raising the dividend for over 40 years, and, as the years go by, it's paid out a bigger proportion of earnings and cashflows as dividends. In 2017, it paid out 74% of earnings (compared to 54% in 2010) and 57% of operating cash flow.
Despite its exceptional record of profitability, I doubt the current valuation because the company's not growing enough to justify it.
I keep looking for flaws in the business, but maybe the rate of growth is not in Halstead's hands. Its customers probably aren't spending as freely as they were in the go-go years before the financial crisis. Governments and corporations may well be leaving it a bit longer before refurbushing their buildings, and construction generally is subdued (I've seen figures that suggest this is true of Europe, less so of the UK).
An investment in James Halstead at the current elevated price could make sense if we knew there would be a sustained recovery in construction in the coming decade.
I don't know that though, and I don't believe I can. Did I mention it's driving me nuts?
Vinyl Tycoon, though. What a game that would be.
Contact Richard Beddard by email: richard@beddard.net or on Twitter: @RichardBeddard
This article is for information and discussion purposes only and does not form a recommendation to invest or otherwise. The value of an investment may fall. The investments referred to in this article may not be suitable for all investors, and if in doubt, an investor should seek advice from a qualified investment adviser.