A rare valuation for a decent company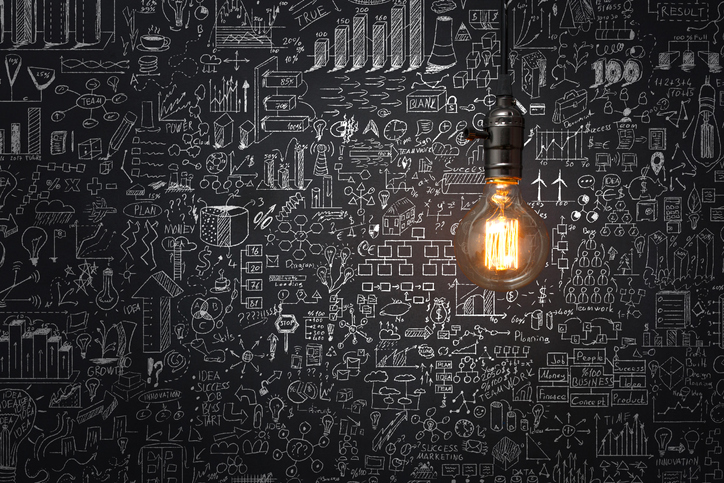 Now here's a rarity, a company prospering in a difficult market. Its valuation is uncommonly low too.
RM: We don't need no education boom
I have none of my standard charts for you this week, because RM Group's (LSE:RM.) past performance probably tells us little about the future. Profit slumped in 2011 and only recovered to the level it achieved the year before that in 2017. Despite increasing 32% over the last two years, mostly due to a large acquisition, revenue is still 42% below its 2010 peak.
Austerity bites
The company, which supplies schools in the main, had been sheltered from austere education budgets by long-term contracts won under the government's Building Schools for the Future (BSF) scheme, a programme to fund the modernisation of schools. When the government axed BSF in 2010, austerity started to bite but although revenue fell in 2011, it was only the beginning as the vast scheme wound down.
The company quickly killed an unsuccessful overseas expansion, disposed of several marginally profitable or loss-making businesses, tightened up its financial discipline, and made people redundant. The turnaround was executed by Martyn Ratcliffe the company's executive chairman, who only stayed with RM for a couple of years, and then David Brooks, who was rapidly promoted to become chief operating officer and then chief executive, a position he retains today.
Today, RM has four strategic pillars: the development of intellectual property, international growth, innovating services with customers, and simplicity and efficiency. The results bear out the efficiency claim. In 2018, RM made a return on capital of 59%. It is smaller, but it is more profitable.
Three businesses in one
That makes RM an interesting, if slightly complicated proposition. Interesting because RM appears to be improving and the shares are cheap. A share price of 230p values the enterprise at about 10 times adjusted profit. Complicated because RM is really three businesses, and what has gone on within these businesses is more revealing than the statistics for the group as a whole.
RM Education is the original business, a well-known supplier of IT to schools that originally manufactured computers. It withdrew from that market once the PC became ubiquitous because it could no longer compete with mainstream suppliers like Dell (NYSE:DELL). Today, it mostly supplies outsourced IT services to schools, and cloud-based school management software as a service. A major supplier to the BSF scheme, it is the reason revenue has declined so majestically (orange bars in the chart below).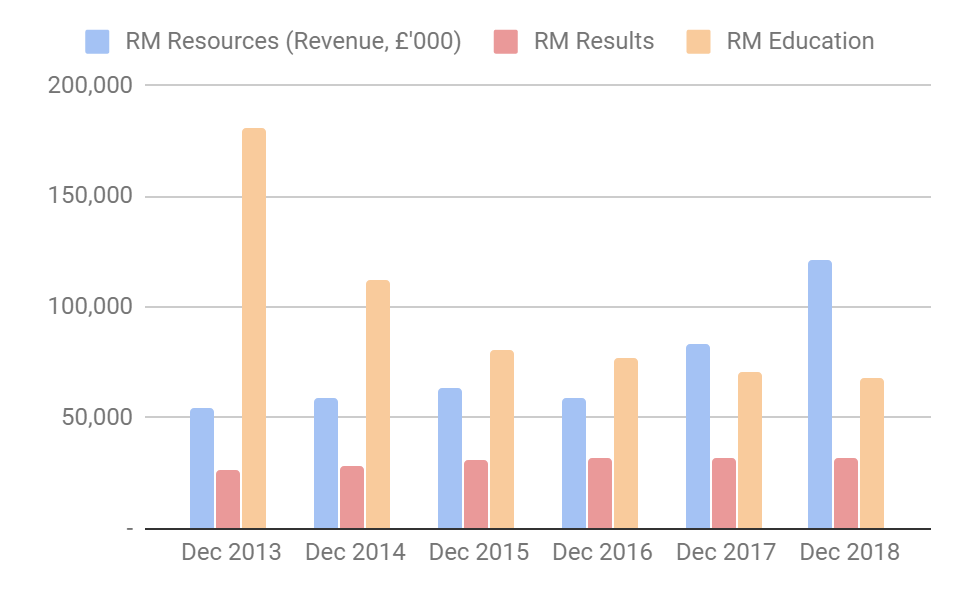 Source: interactive investor
The biggest business by revenue today is RM Resources (blue bars), which supplies equipment, everything from photocopier paper to desks and footballs. RM Resources is two similar businesses, TTS, acquired in 2004, and Consortium, acquired in 2017. TTS has flourished under RM's ownership, RM paid £11 million for it in 2004 when it made less than £2 million profit. Perhaps it benefitted from the association with RM, which was a big name in IT. In 2016, before it was joined by Consortium, TTS earned over £10 million in adjusted operating profit. The dramatic increase in revenue in 2017 and 2018, though is almost entirely due to the acquisition of Consortium.
The third business is RM Results (red bars), which supplies e-marking software to professional associations as well as examination boards. It became part of RM in 2007 when the company acquired the assets of the Schools Exam Results Analysis Project from the University of Bath. Most exams in the UK are marked electronically using scanned in scripts because it is more efficient and less error-prone. Though it is hard to see on the scale of this chart, RM Results has grown revenue 20% over the last six years but growth in its core business, e-marking, has been obscured as the company has contracted a data analysis sideline to just one contract: compiling the Department of Education's School Performance Tables.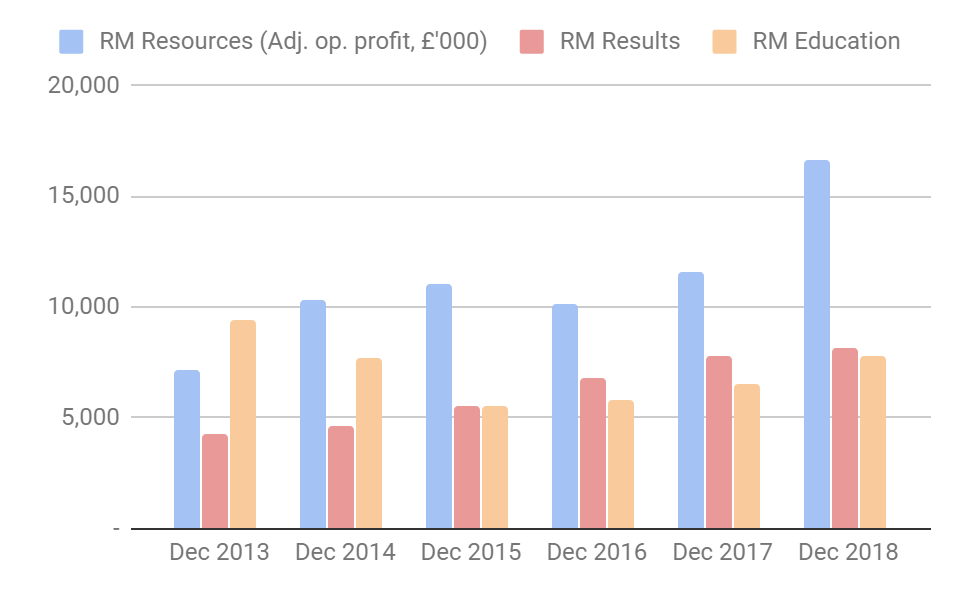 Source: interactive investor
The biggest business, RM Resources, makes the most profit (blue bars in the chart above), but profit margins have fallen from 17% to 14% since the acquisition because Consortium is not as profitable as TTS. Though they do not include head office costs, the figures look quite strong for a distributor. Perhaps TTS' high margins are due to the fact that 40% of its revenue is from products it manufactures itself.
In the face of declining UK education spending in real terms, and increased competition due to the Internet, the challenge for RM Resources is to increase the profit margins of Consortium, sell more of its enlarged product range through its enlarged customer base, and share costs between the two businesses. It is achieving the latter by consolidating the five warehouses it currently owns into one automated facility, a major investment programme in the current year.
RM Education is RM's least profitable business. It earned profit margins of 12% in 2018, but profit margins have recovered from 5% three years ago suggesting the division is finding its profitable core, which the company believes is recurring revenue from software and services. Only 5% of the division's revenue is from legacy contracts it is still running off.
RM Results is very profitable. As it has ditched data contracts and won new e-marking customers, operating profit margins have increased from 16% in 2013 to 26% today. The company may well be the UK market leader. It supplies the biggest examinations board AQA, other exam boards and the International Baccalaureate, as well as the Institute of Chartered Accountants, and it is winning an increasing number of customers abroad.
Scoring RM
As usual, I have scored RM to determine whether it is profitable, adaptable, resilient, equitable, and cheap. Each criterion can achieve a maximum score of 2, and a minimum score of zero except the last one. The lowest score for companies trading at very high valuations is -2.
Does RM make good money?
Yes. Return on operating capital in 2018 was 59%, and while the company has not always been this profitable, it has jettisoned much low-value business to focus on money spinners. Since funding in education has not improved, the improvement in performance is likely to be because of these changes. Growth, so far elusive, should follow now the long hangover of BSF is wearing off.
Score: 2
What could prevent RM from growing?
RM is three different businesses with different sets of customers, suppliers and capabilities. They may not benefit much from being together and the complexity may overwhelm management as it may have done in the past.
The Educational market for IT is competitive and specialists like RM have been driven out of markets by mainstream suppliers as hardware and software have become commoditised. The supply of school equipment is also becoming more competitive as companies put their catalogues online.
RM is already a big brand in the UK, and some of its businesses may struggle to grow, especially as education funding is constrained. It is seeking to grow overseas, but it has failed overseas before.
Score: 1
How is RM overcoming these challenges?
RM is confusing because its three different business cannot have one guiding policy. It has four 'strategic priorities' essentially innovation, exports, partnership, and simplicity and efficiency, however owning three very different businesses is far from simple. Nevertheless the individual businesses are using these strategies in their own ways.
Going for scale is a time honoured route to efficiencies for a supplier like RM Resources. It is also making hard, simplifying, choices, for example by withdrawing the products TTS manufactures from the catalogues of third-party distributors so it retains exclusivity.
In common with RM Results, which earns 20% of revenue abroad, RM Resources is growing overseas sales, which are 16% of its total revenue.
RM Assessor, RM Result's e-marking product, is already used in 100 countries by International Baccalaureate, and targeting overseas examination boards for a product so readily exportable is probably a no-brainer.
Cost-efficiency is an important part of the strategy of all three businesses. Much of RM's software development and support is done in India.
The biggest doubt lies over RM Education, the core IT business, which remains highly competitive and rooted in the UK.
Score: 1
Will we all benefit?
RM does not give much away about its culture. Staff give it mostly positive reviews on online recruitment sites, and though the two executive directors are very well paid, they do at least participate in the same pension and benefits schemes as other employees instead of having gilt-edged arrangements of their own. David Brooks started at RM as a graduate trainee, so at least one member of staff has made it all the way up the career ladder.
Score: 1
Are the shares cheap?
A multiple of just 10 times adjusted operating profit is a rare valuation for a decent company. RM probably is a decent company, but its quality has been obscured by unprofitable contracts agreed when it was less disciplined, and declining revenue from the BSF programme.
Score: 2
A total score of 7 puts RM right on the borderline for recommendation. It is a well managed business that appears to be facing up to the challenges it faces, although it is difficult to tell because of its complexity.