Three shares to help feed the world?
A trio of ag-tech firms with robotic 'farmers' could help keep food on our plates despite a booming global population, the climate crisis and food insecurity. Even FTSE 100 firm Ocado wants a bite.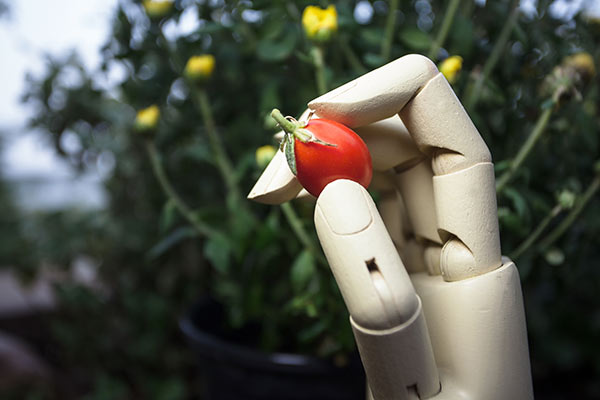 Yes, we have no tomatoes. If you've been to a major UK supermarket recently, you'll likely have seen empty cartons where the tomatoes, peppers, broccoli, and cucumbers usually sit. I couldn't find any tomatoes or cucumbers in my local Tesco Express, for example. Some firms, including Tesco, Aldi, Asda and Morrisons, have even introduced temporary limits on some fruits and vegetables because of the problem.
The shortages are due to bad weather in North Africa and Europe – regions that we rely on in winter to supply the UK with certain fruit and vegetables. The BBC reports that "southern Spain has been suffering unusually cold weather and in Morocco crop yields have been affected by floods, while storms have led to ferries being delayed or cancelled". In addition, farmers in this country and the Netherlands have been affected by higher electricity prices, and so have had to cut back on their use of greenhouses.
Carol Wagstaff, professor of crop quality for health at the University of Reading, said: "Climate change is causing an increased frequency of extreme weather events, which will make our supply of fresh food more vulnerable. Although it would be good to grow more of our food in the UK, we have to recognise that to produce crops out of season requires high energy for additional heating and artificial lighting of glasshouses and polytunnels – and we would need to be confident that this comes from renewable sources to avoid simply adding to the challenge of climate change.
"If we only eat vegetables that are in season, then at this time of year we would really struggle to eat the five-a-day that we need as part of a healthy diet."
In December 2021, the government published a UK Food Security Report. It highlighted that since 2010, the UK's food system has been impacted by Brexit, greater climate change impacts, and Covid-19. The war in Ukraine, deemed the 'breadbasket of Europe', has exacerbated food insecurity, while also impacting energy prices.
I'm conscious that not being able to buy certain produce in the UK for a short time is more of an inconvenience (or what some people might call a 'first-world problem') than a crisis, especially at a time when thousands lost their lives to the earthquake in Turkey and Syria, and while war persists in Ukraine. However, shortages raise interesting questions about food security against the backdrop of the climate emergency and a growing global population.
Here are three speculative share ideas involving innovative, but high-risk, firms that could play a role in securing food for a growing global population, while limiting harmful effects on our planet.
Food glorious food shares
AppHarvest (NASDAQ:APPH) is a $106.8 million (£89 million) Nasdaq-listed agriculture technology company "developing and operating some of the world's largest high-tech indoor farms with robotics and artificial intelligence to build a reliable, climate-resilient food system".
According to its website, the US company's farms are designed to "grow produce using sunshine, rainwater and up to 90% less water than open-field growing, all while producing yields up to 30 times that of traditional agriculture and preventing pollution from agricultural run-off".
AppHarvest has four farms in the state of Kentucky (the farm in Morehead is pictured below) growing tomatoes, salad greens, and berries. The company will release its fourth-quarter and full-year results on 9 March. It recently raised $46 million via a share offering.
Regarding electricity, the company says: "our hybrid lighting allows us to use LED lights that are 40% more efficient than traditional lighting". LED lights are also cheaper.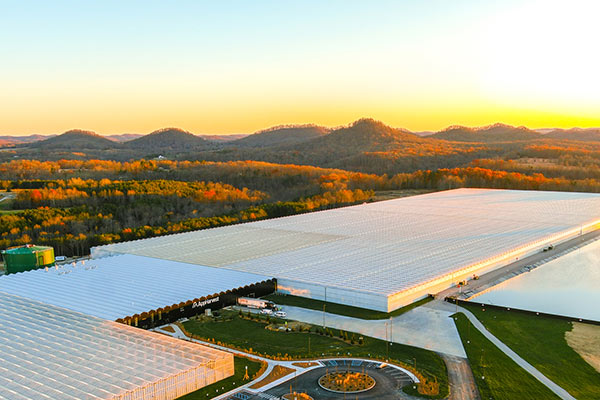 Meanwhile, Kalera (NASDAQ:KAL) describes itself as "a global leader in vertical farming" and "the spearhead of the third wave of farming". The $4 million company has several indoor farms in the US, including in Florida, Georgia, Colorado, and Texas, as well sites in Germany, Kuwait, and Singapore. Kalera says its farms use less water and less land compared with traditional practices.
The images of farms on its website have an otherworldly look – lots of purple lighting - and would not be out of place on a spaceship in a sci-fi film.
Kalera says that vertical farming can "play an important role in the coming years to secure access to fresh produce for a growing world population that is faced with climate change, reduction of fertile farmland, and soil erosion.
"We also see the need to replace the current traditional system of transporting produce around the country rather than focusing on locally grown, fresh, and flavourful produce."
Limiting 'food miles' is certainly an attraction in trying to cut carbon emissions.
Total revenue increased by 222% to $2.9 million in 2021, up from $0.9 million in 2020.
A third ag-tech option is CubicFarm Systems (TSE:CUB), founded by farmers and listed in Toronto. The CAD$12.4 million (£7.6 million) firm offers "automated, modular, indoor farm technologies to grow plant, food and livestock feed at commercial scale, anywhere [year-round]".
On its website, the firm says that inside an individual CubicFarm System module, it is possible to grow 1,900-plus lettuces a week (100,000-plus annually); 5,500-plus plugs of basil (pictured below) a week (286,000-plus annually); and 240-plus pounds of microgreens (12,500-plus annually).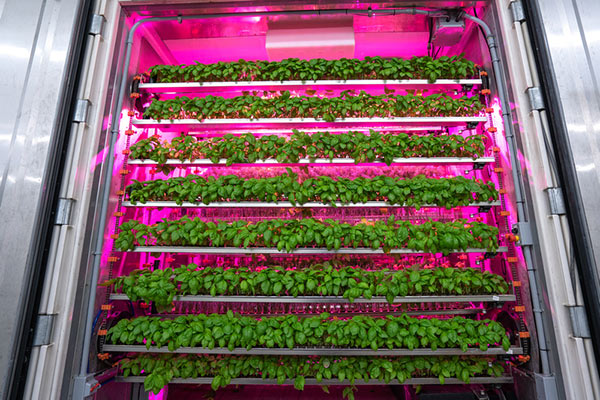 Financial results showed revenue for the nine months ended 30 September 2022 was $3.5 million, down from $4.5 million the year before.
Meanwhile, FTSE 100 business Ocado Group (LSE:OCDO) has invested in UK firm Jones Food Company (JFC), which operates "the largest vertical farms in the world". It currently has two sites, one in Lincolnshire and one in Gloucestershire. One farm is powered using entirely renewable sources.
According to the JFC website, it builds "indoor hydroponic farms, growing fresh produce in a completely controlled internal environment on layers stacked from floor to ceiling. Vertical farms allow us to grow a huge amount of food using a very small amount of space to grow local food all year round." JFC makes use of robotics as well as implementing technology from The Ocado Group.
The ag-tech firm's farms currently grow herbs and leafy greens, including basil, chives, lettuce, spinach and pak choi, and its website says that it can grow tomatoes, mushrooms, peppers, raspberries, and more besides.
In May 2022, James Lloyd-Jones, the CEO and founder, said: "We use zero pesticides, 95% less water, grow and harvest all year round, massively reduce food miles and make every acre of land several times more efficient by growing in layers above it. We work with existing genetics extremely well and there is no biological difference between our products and those grown traditionally."
In Ocado's recently published full-year results, Jones Food Company earned £800,000 in 2022, double the figure for 2021.
These articles are provided for information purposes only. Occasionally, an opinion about whether to buy or sell a specific investment may be provided by third parties. The content is not intended to be a personal recommendation to buy or sell any financial instrument or product, or to adopt any investment strategy as it is not provided based on an assessment of your investing knowledge and experience, your financial situation or your investment objectives. The value of your investments, and the income derived from them, may go down as well as up. You may not get back all the money that you invest. The investments referred to in this article may not be suitable for all investors, and if in doubt, an investor should seek advice from a qualified investment adviser.
Full performance can be found on the company or index summary page on the interactive investor website. Simply click on the company's or index name highlighted in the article.