Woodford slams 'madness' at GlaxoSmithKline
GlaxoSmithKline's fourth-quarter results, unveiled three weeks ago, beat City consensus estimates on many key measures. Yes, the pharmaceuticals colossus made much less in 2015 than the year before, but double-digit growth is predicted for 2016, and shareholders already enjoying a 5.9% dividend yield will receive a special dividend in April. But not everyone's happy.
In fact, some shareholders are absolutely fuming, among them star fund manager Neil Woodford. Glaxo makes up nearly 7% of his £8.2 billion open-ended fund Woodford Equity Income, and, while the dividend is clearly the main draw, the share price performance has been poor.
Woodford's main gripe is that Glaxo chief executive Andrew Witty refuses to accept the recommendation of fellow activist shareholders that the company should be broken up.
"I heard him say the same thing eight years ago," said Woodford Tuesday. "The board and the executive are pursuing the wrong strategy. The results of the past eight years show that I am right and they are wrong; Andrew Witty is wrong.
"What did Einstein say? That doing the same thing over and over again and expecting a different result is the definition of madness? Well that is what Witty and the board have done for the past eight years."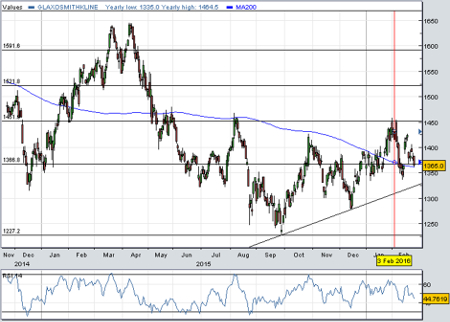 Woodford has long been an outspoken critic of Glaxo's board, management and strategy. Last summer, after a poor performance from the pharma division and with the shares at a similar level to now, Woodford said that "the market is failing to appreciate the value of other parts of the Glaxo conglomerate".
"It is valued by the market as a struggling pharmaceuticals business. We continue to see considerable inherent value in Glaxo, however, and believe the sum of the parts to be significantly greater than the whole."
But, with Witty & Co promising to keep paying a knockout dividend of 80p both in 2016 and 2017, Woodford is in no rush to sell up. When asked what it would take for him to ditch his Glaxo shares, he replied:
"If it were to become overvalued. The same as any stock I hold."
Pushing for change
Woodford himself promises to keep pushing for Glaxo to change its strategy. And he may not have to badger Witty for too much longer. If reports are correct, the highly-paid Glaxo "lifer" will soon be on his way out after eight years in the top job.
And business is expected to pick up in 2016. Much of the slump in profit last year was triggered by generic competition slashing prices for Glaxo's asthma drug, Advair. Sales fell 13% to £3.7 billion in 2015, down 30% from their peak in 2013.
An asset swap with Novartis last year flattered so-called reported results. Glaxo bought Novartis's global vaccines business, set up a consumer healthcare joint venture, and sold its oncology business to the Swiss firm, almost tripling operating profit in 2015 to £10.3 billion.
Glaxo also confirmed it will pay back £1 billion of the proceeds of that deal via a 20p-a-share special dividend.
Full-year core operating profit, adjusted to take account of the Novartis deal, dropped 9% to £5.7 billion at constant currency, giving earnings per share of 75.7p, down 15%. But predicting double-digit growth this year implies about 87.1p of earnings in 2016, slightly ahead of Barclays' forecasts for a 14% jump to 86.2p and company-compiled consensus of 83.5p.
At 1,365p, Glaxo shares currently trade on 15.7 times forward earnings, certainly not overvalued.
This article is for information and discussion purposes only and does not form a recommendation to invest or otherwise. The value of an investment may fall. The investments referred to in this article may not be suitable for all investors, and if in doubt, an investor should seek advice from a qualified investment adviser.