Howden Joinery: My third-favourite share
After a typically robust 2018, our companies analyst explains why Howden is in his top three.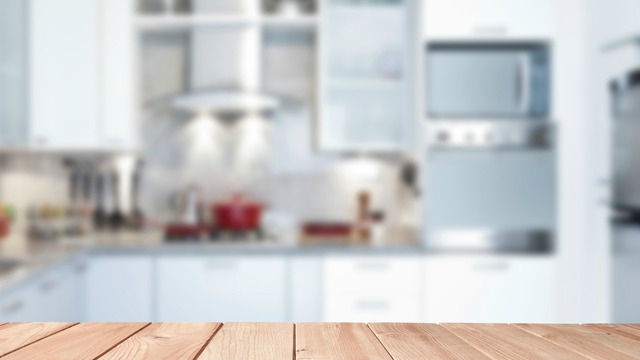 In 2018, kitchen supplier Howdens (LSE:HWDN) opened 33 new depots, bringing the total to 694. It launched 18 new kitchen ranges, introduced a new depot format, revamped its website, and increased manufacturing and distribution capacity.
Incremental improvements are par for the course at Howdens. Just for the record, UK revenue increased 6% on same depot basis in the year to December 2018, while in France, where Howdens opened no new depots, revenue increased 4% (in euro). Adjusted profit increased 5%. In the first two months of the new financial year, Howdens says like-for-like sales increased 3.5%.
So much for the year's highlights. The most intriguing things about Howdens are how it came to be so dominant, and what it does next.
In a class of its own
From a standing start in 1995, Howdens has grown to dominate the supply of fitted kitchens in the UK. There is a wealth of suppliers, but research from JKMR in 2017 indicated Howdens sold a fifth of fitted kitchens by value and a third by volume in a market that includes independent kitchen studios, large multiples like Wickes and Magnet and firms that contract directly with housebuilders. JKMR estimated Howdens has a 50% share of the trade market (local builders), the only type of customer it serves.
Fitted kitchens are sophisticated products often installed when properties are modified, requiring skilled builders. While homeowners replace their kitchens relatively infrequently, builders are installing them in different properties all the time, which is why they are such valuable customers.
Typically, a customer approaches a local builder who sends Howdens around to measure up and design the kitchen. The quote, though goes to the builder, who supplies the customer with a new quote after adding his or her mark-up. Crucially, the customer cannot easily go to Howdens and price the job (the customer would have to set up a trade account).
It is difficult to imagine another business competing successfully with Howdens when the incumbent serves the trade so well.
Howdens has sewn the market up by giving builders what they want. The trade price is confidential, it keeps everything in stock so jobs are not delayed, it designs and manufactures its own cabinets so they are cheap to make and easy to fit and provides up to eight weeks credit so the builder can be paid before settling up with Howdens.
Howdens' depots are situated conveniently on the fringes of towns, and depot managers are free to recruit their own staff, set their own prices and earn substantial bonuses.
Howdens is above all a well-oiled sales machine. In 2018, the company introduced a five-day training course to improve the sales skills of its kitchen designers, the point of contact with its customers' customers.
Howdens pays staff well. All receive higher salaries than the national living wage and are eligible to participate in a number of share schemes. After three years, all staff receive free shares. This helps to insure "customers always see the same faces", and Howdens wants builders and their customers to see more of them. It is introducing a new format depot that uses space more efficiently (so it has a smaller, cheaper footprint) while at the same time opening up the customer area at the front of house so more of its staff are available.
Paying staff generously, high levels of stock, and providing credit is costly, but more than offset by the fact that builders do much of the selling for it so it does not need to maintain expensive showrooms or advertise much and the rent is cheap. The net result of Howdens' choices is a highly profitable business: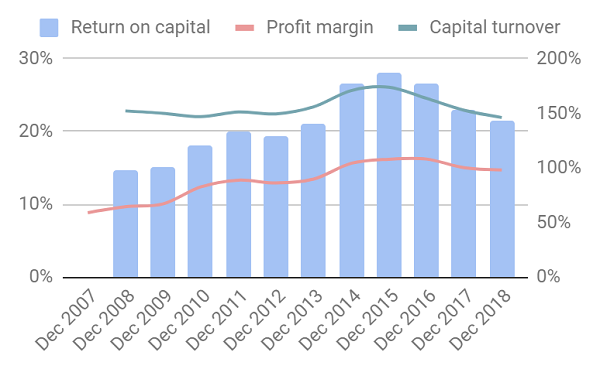 Source: interactive investor
Brexit is an unwelcome hassle. It introduces the possibility of delays and tariffs on imported raw materials and products, and regulatory uncertainty as UK standards would cease to be recognised in the EU. Howdens has a modest operation in France, which it is seeking to expand in 2019, but the timing is dependent on the mutability of Brexit and its timing.
What do you do when you have saturated the market?
Long-term, a strong business roll-out will trump temporary economic and political woes. The main risk therefore is not the property market or Brexit, but how Howdens will keep growing once it has saturated the UK. On that, shareholders received some clarity in this year's annual report.
It looks as though saturation is looming. The company has revised its target number of depots in the UK from 800 to 850, about 150 more than it has today, but the 50 additional depots are much smaller "infill" sites. In 2018, it opened 33 new sites and notably did not close any and it plans to open 45 in 2019. At that rate, the UK will be saturated by 2021 or 2022.
The company has decided it can operate a very similar business in France. It already operates 20 depots there, the first was opened in 2005, so Howdens has had twelve years to experiment and gain confidence.
It says there are encouraging similarities between the French market today, and the UK market before Howdens: there is not already a dominant trade-only supplier there and fitted kitchens are not as popular as they have become here.
Howdens' existing depots in France perform as well as the UK ones in terms of revenue and volumes of kitchens sold per customer.
It plans to open four new depots in Paris, and then roll out clusters of depots in other French cities, a strategy that should allow it to build its reputation through word of mouth.
Having decided on France, Howdens is closing two stores it had opened in the Netherlands and Germany.
The increasing emphasis on France is probably another indication that the UK is filling up with depots, but it is reassuring that it believes it can roll-out the same format.
Other obvious possibilities like supplying independent studios, property developers, or homeowners directly might compromise the trade-only principle from which everything good flows.
As usual, I have scored Howdens to determine whether it is profitable, adaptable, resilient, equitable, and cheap. Each criterion can achieve a maximum score of 2, and a minimum score of zero except the last one. The lowest score for companies trading at very high valuations is -2.
Profitable: Does it make good money?
Yes. Average return on capital over the last decade is 22%. Average cash conversion is 65%.
Score:2
Resilient: What could go wrong?
Howdens is the dominant trade supplier, and seemingly unassailable in the UK.
Score: 2
Adaptable: How will it make more money?
The UK probably does not need many more Howdens, but the firm believes it can roll out a similar format in France. This is not a decision it has rushed into, but it remains to be seen how profitable the French stores will be.
Score: 1
Fairness: Will we all benefit?
There is no doubt Howdens treats customers and staff well, that is what it is all about. Andrew Livingstone, who replaced the company's founder as chief executive last April, and finance director Mark Robson earn eye-popping salaries, bonuses, and long-term incentives but since the depots are the cornerstone of prosperity that is where Howdens chooses to use most of its resources and the company says the head office is otherwise lean.
I cannot help but feel well disposed to a firm that states a number of times in its annual report: "Howdens was founded on the principle that its business should be worthwhile for all concerned – customers, prospective customers, homeowners, tenants, local communities, our suppliers, our investors, our staff and their families."
Score: 2
Cheap: Is the firm's valuation modest?
Yup. A share price of 515p values the enterprise at about 16 times adjusted profit.
Score: 1.1
A total score of 8.1 means I recommend Howden Joinery for the long-term, Brexit and economic uncertainty notwithstanding. Having written up my favourite share last week, Howdens is my third-favourite – as ranked by the Decision Engine.
This is not a greatest hits series, though. XP Power (LSE:XPP) and Howdens happen to publish their annual reports at the same time of year. It will not be second-ranked Cohort's (LSE:CHRT) turn for appraisal until August and in the meantime I am sure I will find some shares to be more ambivalent about.