Shell's 70-year dividend record at risk
22nd September 2016 14:18
Running an income fund has been fairly straightforward for the past few years. Drug giants like GlaxoSmithKline and AstraZeneca have kept up shareholder returns and the telecoms sector has offered rich pickings. So have BP and Royal Dutch Shell. However, income plays are becoming more expensive, and now we're hearing that Shell's divided record is in serious danger.
Shell has not cut the dividend since the Second World War; it's a fact we love to repeat whenever the conversation turns to the oil sector and dividends. And, despite a 55% rally since late January, the shares still offers a prospective dividend yield of 7.3%.
Clearly, Ben van Beurden has no intention of going down in history as the CEO who ended the amazing run.
Unfortunately, Stephen Bailey and Jamie Clark, who run the Liontrust Macro Equity Income fund, think it's inevitable.
It's partly why the fund now has a zero weighting in the oil sector for the first time since 2002. But it's the potential causes of a dividend cut in this highly cyclical, capital intensive industry, that are interesting here.
There's a huge issue with supply and demand, we know that.The Saudis have been pumping oil like there's no tomorrow to try and put the American shale drillers out of business. That ain't gonna happen, and Saudi "knows the game is up," argues Bailey, with shale breakeven costs below $45 a barrel.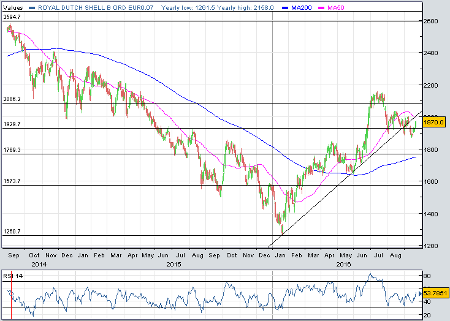 "We think crude will struggle to stay about $50 a barrel through 2017," he adds, predicting a range of $35-$50. Oil ministers both in Venezuela and Algeria hint at a possible production freeze in a few months which would boost prices, but there are so many conflicting agenda within OPEC that a deal like this is almost guaranteed not to happen.
That's no good for BP and Shell who both need crude at $50-$60 to satisfy cashflow requirements, namely shareholders. "Cashflow is insufficient to cover the dividend," warns Bailey who also doubts Shell will raise the $30 billion needed from asset disposals following the acquisition of BG Group.
Low oil prices not only damage earnings, but they also increase debt. Let borrowing spiral out of control and credit ratings will deteriorate, too. You only have to look at the spike in oil major credit default swaps (CDSs) over the past few months to see what the market thinks.
"BP and Shell are two of the biggest providers of income into the finance industry," points out Bailey. "Both are faced with a stark choice and will have to cut the dividend in the absence of an asset sale programme."
Buying opportunity
Away from oil, Bailey also worries that massive pension deficits will crimp the ability to maintain big yields at both BAE Systems and GKN.
However, "BT is a buying opportunity," he tells us. "It's fantastic value."
Yes, it's paying billions for content, but Bailey isn't worried about that as it's easily passed on to the consumer. They have pricing control. Big news here is the 40% of debt it's refinancing over the next few years. Lower rates will free up hundreds of millions of pounds.
With mobile and broadband an increasingly significant part of our lives, there's also growing evidence that consumers are trading up to premium providers to guarantee service. Good news for BT.
This article is for information and discussion purposes only and does not form a recommendation to invest or otherwise. The value of an investment may fall. The investments referred to in this article may not be suitable for all investors, and if in doubt, an investor should seek advice from a qualified investment adviser.