Why consolidating your investments makes sense
Having all your investment accounts in one place means convenience and flexibility. You can see all your investments at a glance and easily keep track of their progress.
Better still, you could make big savings on fees. With ii, just £9.99 a month gives you our Stocks and Shares ISA, Trading Account and as many Junior ISAs as you have children. Our flat fees don't grow with your investments – unlike providers who charge a percentage.
That means if you have investments with us and another provider, you could be throwing money away. In fact, moving all of your investment accounts to ii could give you up to £44k more over 30 years*.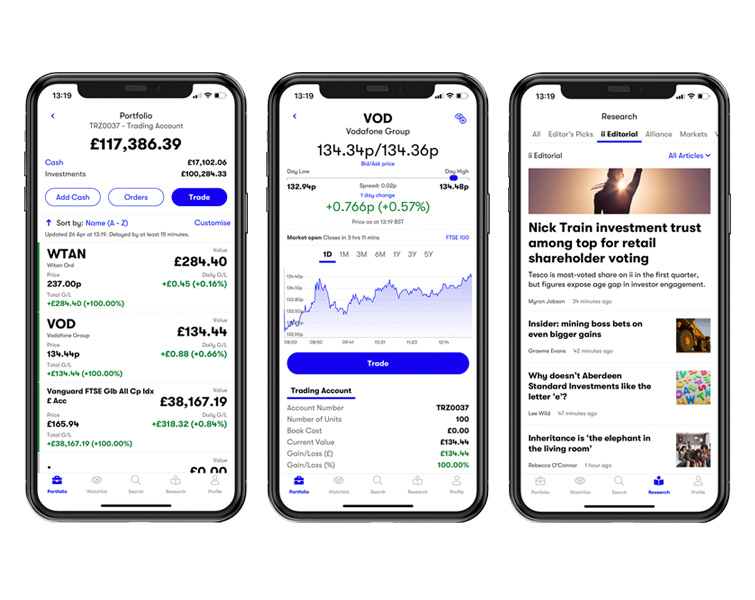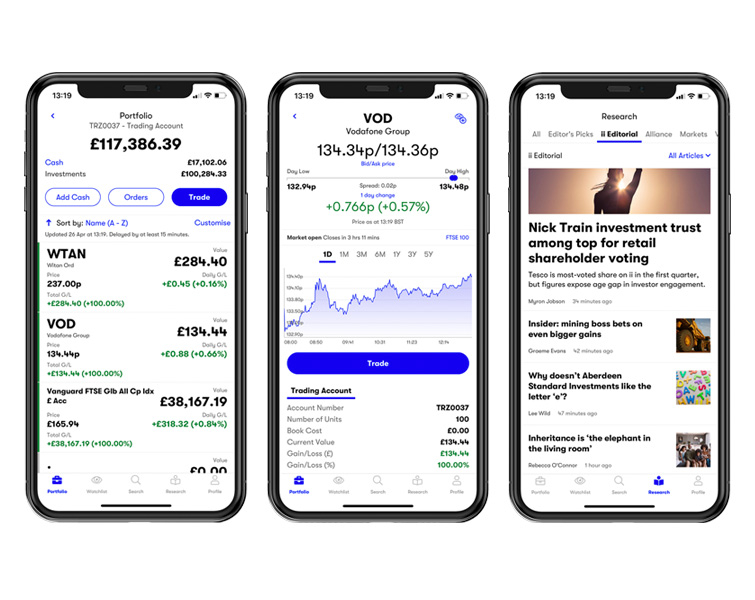 Even greater savings when you add a SIPP
The flat fee savings only get better if you add a Self-Invested Personal Pension (SIPP).
Most pensions are charged on a percentage basis. Adding an ii SIPP is only £10 a month extra, meaning you can keep all your investments and pensions with us for £19.99 a month. By bringing all of your investments and pensions together with our flat fee, you could be £100k better off over 30 years.
A simple example
Simone has £50,000 in an ii ISA. This costs her £9.99 per month, which is £119.88 per year in total.
She also has a Trading Account with another provider. With a balance of £50k and annual fees of 0.45% for holding funds, she pays another £225 a year for this account.
If Simone moved this account to ii, she would continue to pay the flat fee of £119.88 per year, and save £225.
Accounts
Cost with ii (annual)
Typical competitor %
charge (annual)*
See how much you could save in the long run
The charts below show how much you could save over 30 years by keeping all your investments with ii. What starts as a small difference can have a big impact over time.
Things to consider before you switch
You should check for any exit fees with existing providers - although you could still save money in the long run. There are no fees to join ii, and it's free to leave.
When switching pensions, you should check whether you would lose any safeguarded benefits or employer contributions. You may need to seek financial advice.
How to transfer to ii
If you are a new customer, you will need your National Insurance number and details of the account(s) you want to transfer.
Start your transfer online
You can do this later if you prefer.
We'll do the rest…
Including working with your current providers. We will keep you updated along the way.
Risk Warning: The price and value of investments and their income fluctuates: you may get back less than the amount you invested. If you are unsure about the suitability of a particular investment or think that you need a personal recommendation, you should speak to a suitably qualified financial adviser. Please note, the tax treatment of these products depends on the individual circumstances of each customer and may be subject to change in future. If you are uncertain about the tax treatment of the products you should contact HMRC or seek independent tax advice.