Accesso Technology is hot stuff
14th September 2016 14:24
Accesso Technology has tripled in value since last summer. Triggered by a brief statement claiming 2016 results would beat forecasts and that 2017 number would smash estimates, the theme park tech firm's share price multiplied from 530p to a high this month of 1,733p. Now, half-year results look good, and there's plenty of growth on offer, but what do buyers make of its eye-popping valuation?
Decent weather in the US and overseas attracted increased attendances at theme parks, water parks and sporting events during the first six months of 2016. Getting more guests to buy season passes and priority queuing also helped revenue at Accesso, formerly known as Lo-Q, surge by 24% to $39.7 million (£30 million).
"The numbers are great. We've made a fantastic start to the year," executive chairman Tom Burnet told Interactive Investor Wednesday, revealing underlying operating profit swelled to $5 million from $1.6 million.
There's special thanks to the big theme park operators for building great rides - Accesso has deals with Six Flags in the US and Merlin Entertainments, which owns Alton Towers and Thorpe Park - but the company has worked hard thinking of "cool products" to make punters spend more.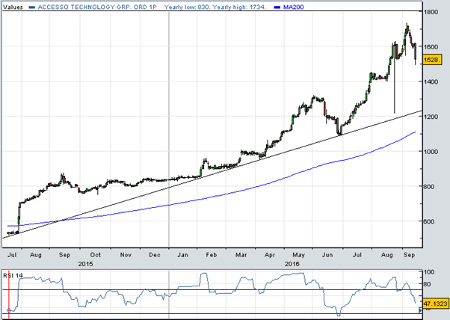 Remember, Accesso makes most of its money only when it starts generating revenue for customers. So winning 57 new contracts this period, with 72 new sites going live, among them a bunch of Merlin attractions, is a major boon.
The second half is typically much stronger than the first for Accesso, split about 40:60, and this year feels like it's going to be the same, says Burnet. Hearing that hot weather in America kept punters away from big attractions during July and August is a worry, though.
Broker N+1 Singer had expected to put through an upgrade this time, but Accesso's weather warning and outlook statement suggests full-year results will meet rather than beat expectations. The big question now is can it make up any shortfall.
"The market will no doubt be disappointed by the lack of guidance to do so given the strength of the first half performance (and the current valuation)," said Singer.
"We suspect that there will be an opportunity to move our numbers up later in the year, but make no changes to our forecasts or 'hold' recommendation for the time being. We increase our target price from 1,579p to 1,600p to reflect improved peer multiples."
Singer currently looks for an increase in annual underlying pre-tax profit from $12.1 million to $13.8 million in 2016, giving underlying earnings per share (EPS) of 43.4 cents, up from 39.3 cents.
Accesso trades on 47 times current year EPS estimates, despite the stronger dollar. However, margins are tipped to improve as the Merlin contract signed last year rolls out, which should drive double-digit profit growth and drop that valuation multiple well below 40.
This article is for information and discussion purposes only and does not form a recommendation to invest or otherwise. The value of an investment may fall. The investments referred to in this article may not be suitable for all investors, and if in doubt, an investor should seek advice from a qualified investment adviser.