It owns a huge swathe of London's busy West End - about 14 acres of Covent Garden, Carnaby Street, Chinatown, Soho, and Charlotte Street - so little wonder Shaftesbury's half-year results reveal strong demand for space is driving both rents and capital values higher.
Shaftesbury's property portfolio is now worth £2.86 billion - up 8% in the past six months and 24% over the past year. Its Carnaby estate, the original of which was bought in 1997 for just £90 million, is worth £994 million, up 9% on the year. Covent Garden increased in value by 7% to £748 million, Chinatown by 8% to £633 million, and Soho 6% to £199 million.
Sky-high rents are behind the surge. Estimated rental value (ERV) rose by 3.4% over the six months, or 7.4% year-on-year, to £123.6 million. Yields eased 16 basis points to 3.84%.
Unsurprisingly, net asset value (NAV) grew by 8.7% to 775p even after a 10p reduction for the cost of terminating interest rate swaps in March. NAV is up 30% year-on-year.
"Across our unique portfolio, located in the heart of the West End, the buoyant local economy is reflected in continuing strong demand for space in our carefully-curated locations, high occupancy levels and sustained growth in current and prospective rental income," said chief executive Brian Bickell.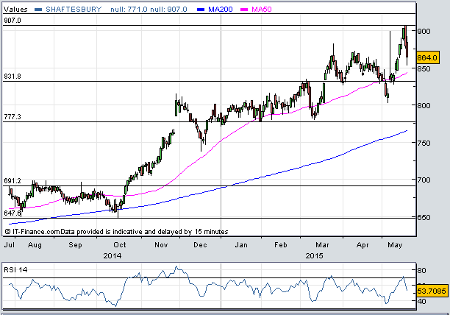 (click to enlarge)
Panmure Gordon remains bullish and reckons these numbers keep Shaftesbury on track to hit the broker's full-year forecast of a 16.3% increase in NAV to 830p. "The adjusted interim profit of £17.9 million also underpins our FY15E estimate of £39.4 million," says analyst Sue Munden.
"There is significant intrinsic value in the portfolio which is not, we believe, reflected in the share price, nor is it reflected in the portfolio value as assessed by DTZ [independent valuers]," she adds. "We maintain our target price of 1,106p and 'buy' recommendation."
Currently trading at only a small premium to forecast year-end book value, Shaftesbury shares continue to look attractive given the West End's enduring popularity - Crossrail can only help.
This article is for information and discussion purposes only and does not form a recommendation to invest or otherwise. The value of an investment may fall. The investments referred to in this article may not be suitable for all investors, and if in doubt, an investor should seek advice from a qualified investment adviser.