Craft beer boom's £1bn company
SAB Miller, the world's second-largest brewer and the name behind Fosters and Peroni lager, has just bought London craft beer leader Meantime. We don't know how much it paid, but the guess is it paid a "full price" for a business which last year sold £17 million of ale. Now, investors are taking other beer companies seriously.
The craft beer movement remained a rather niche area of the booze industry until relatively recently. But a sizeable shift toward tastier ales from lifeless lagers has seen microbreweries spring up around the country, offering experimental beers with exciting new ingredients.
According to industry-backed research - The Cask Report - there are nearly 1,500 breweries in Britain, mainly brewing cask ale. And the cask ale market is now worth over £1.7 billion, up 23% since 2010. Britons drink about 634 million pints of ale every year - one in six pints of beer served in pubs - and volume growth is outpacing the on-trade beer market by 4.5%.
Recently, Camden Town Brewery raised almost £2 million via crowdfunding site Crowdcube, and Scottish beer maker BrewDog has raised millions since its first crowdfunding deal in 2013. That valued Camden at about £70 million, or almost eight times revenue, and BrewDog at £305 million, or more than 10 times sales.
But what about the traditional brewers asks broker Shore Capital?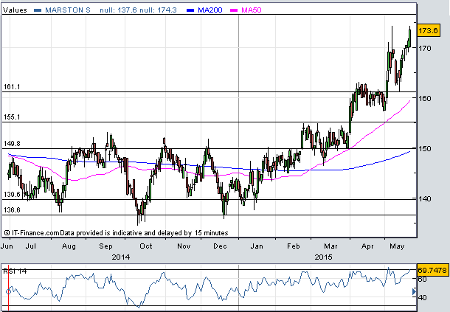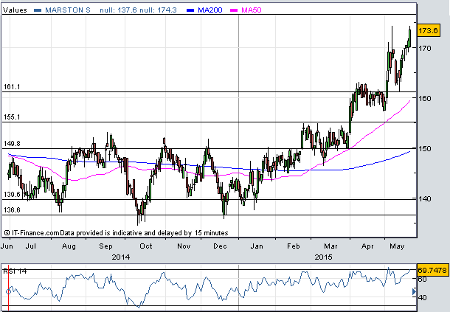 (click to enlarge)
Brewer and pub owner Marston's - worth almost £1 billion at today's share price - trades on a forward enterprise value/cash profit ratio of about 10 times. The company behind Pedigree and Hobgoblin recently bought premium ale brands Wainwright and Lancaster Bomber from Thwaites for £25 million. Marston's makes about £30 million from its brands division, implying a read-through valuation of about £300 million, says ShoreCap, the same as BrewDog.
It argues that on a marked-to-market basis, that valuation could add 25p per share to Marston's stated current net asset value (NAV) of 163p per share against a current price of 170p, a seven-year high. Marston's currently has a 23% share of the UK bottled ale market and a 20% of the premier cask ale market.
"Given the significant property backing and improving return on capital employed we see the adjusted NAV as a good starting point for valuing Marston's. Our investment thesis on Marston's is predicated on the market willing to pay 12-13x 2016F earnings as the drag from its disposal programme diminishes and a better quality business with strong earnings growth emerges.
"This could equate to a valuation of c190p per share by the end of the current calendar year."
While the broker stops short of suggesting a demerger, it believes Marston's beer division is often overlooked in valuation terms. Premium volumes were up 9% in the first half and operating profit was up 10%. Sales of Hobgoblin, the firm's largest brand, jumped 11%.
"With cask ale now in growth maybe it now merits valuation comparison with other UK branded drinks companies," reckons ShoreCap. "We note forward EV/EBITDA multiples up to 13x. Such valuations may be rich for a brewer but what's clear is that the beer company once more merits standalone consideration."
This article is for information and discussion purposes only and does not form a recommendation to invest or otherwise. The value of an investment may fall. The investments referred to in this article may not be suitable for all investors, and if in doubt, an investor should seek advice from a qualified investment adviser.