Dechra Pharmaceuticals grows profit again
Developing and selling drugs and various other products to local vets was good business for Dechra Pharmaceuticals in the year to June. Strip out the impact of overseas currencies and the firm delivered double-digit profit growth, driven by a knockout performance in North America. And, despite some obvious headwinds - ongoing weakness at the food producing animal products (FAP) business - there are a number of potential catalysts to keep investors interested.
Growth in North American pharmaceuticals and European companion animal products (CAP) drove revenue 10% higher to £203.5 million during the period, or 5.1% at actual exchange rates. That's despite falling FAP sales as competition increases but demand for antibiotics falls. Governments are putting pressure on companies to reduce the amount of antibiotics in the food chain, to maintain human resistance.
Dechra, a constituent in Interactive Investor's Summer Portfolio, grew underlying operating profit by 11.6%, or 5.2% at actual FX rates, to £44.4 million and underlying earnings per share (EPS) rose to 39.9p. Gross profit margin rose 150 basis points to 57.1%. Heavy investment in its direct salesforce - trading has now begun in Canada and Poland - and a higher underlying tax rate pulled the group's operating profit margin 50 basis points under forecasts. There was net cash of £13.4 million versus £5 million of net debt the year before.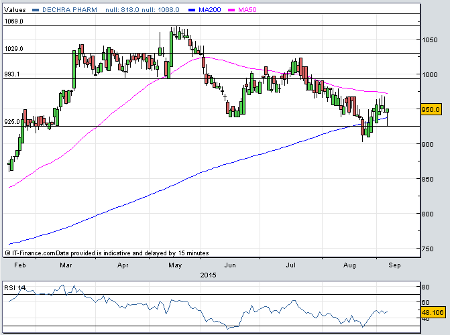 (click to enlarge)
Dechra's also made progress in its short-term pipeline with the approval of TAF Spray wound treatment and Osphos, which treats bone-related lameness in horses, in Europe.
"The move from distributor to direct salesforce in a number of territories is expected to drive margin gains in the future and we thus reiterate our 'buy' but place our forecasts under review," said Investec analyst Cora McCallum.
Current trading looks good, but management does warn that phasing its investment to improve general expenses, higher tax rates and foreign exchange volatility could affect numbers into 2017. McCallum reckons this will pull EPS forecasts down 5% for 2016 and 6% for 2017, although her targets are under review. Her current estimates stand at sales of £203 million and 39.8p EPS, with her 1,141p target price reflecting 20% upside.
The shares were trading at 949p Monday afternoon, flat on Friday's close and continuing to hover around the 200-day moving day average (See chart). This is 11% lower than 2015 highs of 1,068p seen in May, but 5% higher than lows seen as a result of global market weakness at the end of last month.
"In FY16, we expect Dechra to benefit from a further subsidiary planned for Austria and the roll-out of new pipeline products throughout its burgeoning geographic footprint and believe it remains well-positioned to drive longer term growth," said Numis analyst Sally Taylor. "Dechra trades on 14.6x 2016 EV/EBITDA and 21.3x 2016 PE for 9% 2015-18 annualised EPS CAGR [compound annual growth rate]."
This article is for information and discussion purposes only and does not form a recommendation to invest or otherwise. The value of an investment may fall. The investments referred to in this article may not be suitable for all investors, and if in doubt, an investor should seek advice from a qualified investment adviser.