Insider: A little-known AIM share worth watching
More buying at Everyman Media
I'll be honest, I know little about Everyman Media Group. I'm clearly going to the wrong places, but plenty of people have discovered the company's unique chain of high-end cinemas and business is booming.
Turns out the first Everyman cinema, opened in Hampstead in 1933, was bought in 2000 by local investors led by entrepreneur Daniel Broch. Taking over Screen Cinemas in 2008 added more sites which were rebranded Everyman. Maida Vale, Leeds, Birmingham and Canary Wharf followed.
Results for 2016, published last month, showed revenue from its 20 sites up 45% to £29.6 million after a 40% rise in admissions to 1.7 million. Adjusted cash profit more than doubled to £4 million, and adjusted pre-tax profit of £1.5 million was better than the £1.3 million forecast by house broker Cenkos Securities, driven largely by margin improvement.
Hearing from chairman Paul Wise that "trading since the year end has been strong," and that directors had "upgraded trading expectations for 2017 and beyond," Everyman shares surged 25% over the next few days.
Now at a record 140p, Everyman shares are up 69% since the IPO on AIM at 83p in November 2013.
However, the firm says opportunities for more Everyman venues within the UK are "significant", and film buffs on the board have been tucking into the shares.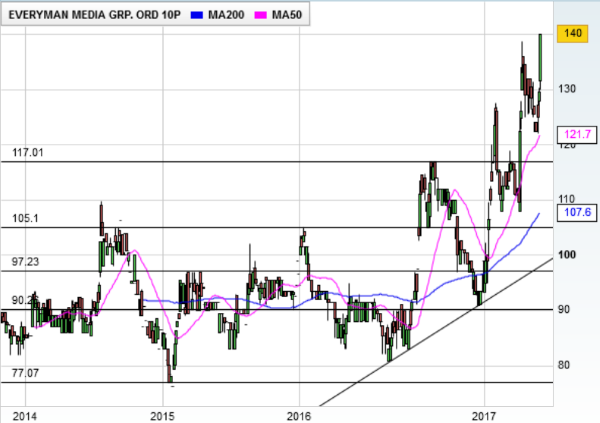 Director Adam Kaye, co-founder of the ASK Central restaurant chain sold in 2004 for £223 million, wasted no time adding to his position straight after the March 13 results, picking up 200,000 at 124p. He's now sitting on a paper profit of £32,000 on that stake alone.
He bought a further 25,000 shares last week at 127p and 50,000 more yesterday at 130.25p, taking his entire holding to 4.96 million shares, or 8.29% of the company, currently worth over £6.9 million.
Wise, a City trader and Everyman board member for the past decade, joined Kaye Thursday, paying 129p for 39,000 shares - he now has a 5.2% stake in the business.
And Cenkos continues to back its client. "Everyman remains at the early stages of its development and is in the process of expanding a national brand with a loyal customer base and attractive margins," writes the broker.
"With EBITDA [cash profit] set to double over the next two years and seven (net) new openings scheduled there is strong momentum within the business and compelling growth credentials. Buy."
Taptica trousers massive profit
We've covered Taptica a couple of times since last summer when you could have had the shares for 163p. Then, we said "there is room for further upside if the second half goes as well as Taptica predicts", suggesting brave investors "buy on the dips".
When we returned to the company in January, shares in the Israeli software firm, which did drop back to 140p during the autumn, were changing hands for 245p. However, they were still only trading on an "undemanding" forward price/earnings (PE) ratio of 10.
Last month's full-year results beat expectations and a bullish outlook statement from chief executive Hagai Tal had the shares at a peak of 325p.
However, it seems vertigo has set in and sellers have been busy banking profits, among them Mr Tal and finance director Yaniv Carmi.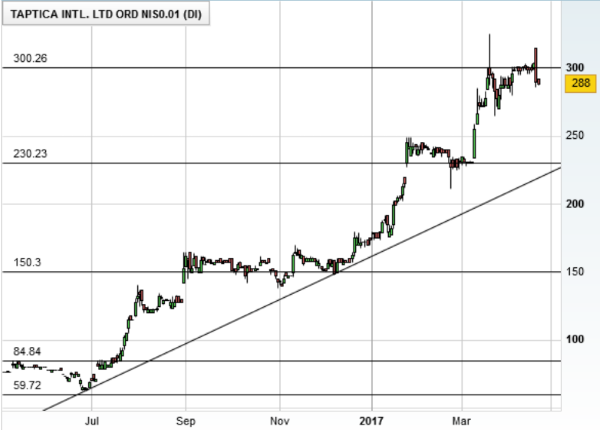 The boss sold his 50,000 shares on results day at 300p each, although he still owns more than 11 million of them, or 18% of the business.
This week, Mr Carmi cashed in 155,000, or a third of his stake in the company, at a whisker above 300p, pocketing over £465,000.
Despite the selling, there seems little to worry about for now. Taptica made a pre-tax profit of $19.6 million in 2016, up from $2.8 million the year before. Broker Investec now expects adjusted cash profit will increase from $25.9 million to $28.5 million in 2017 and $30.9 million in 2018.
Do the numbers and that forward PE ratio of 11 will continue to look modest. Analyst Steve Liechti certainly thinks so, having upgraded his price target to 330p from 252p to coincide with the results.
This article is for information and discussion purposes only and does not form a recommendation to invest or otherwise. The value of an investment may fall. The investments referred to in this article may not be suitable for all investors, and if in doubt, an investor should seek advice from a qualified investment adviser.