Three star investment trusts for ethical investors
Climate change and sustainability is now mainstream, but going green need not impact your investment returns. These trusts are all great performers.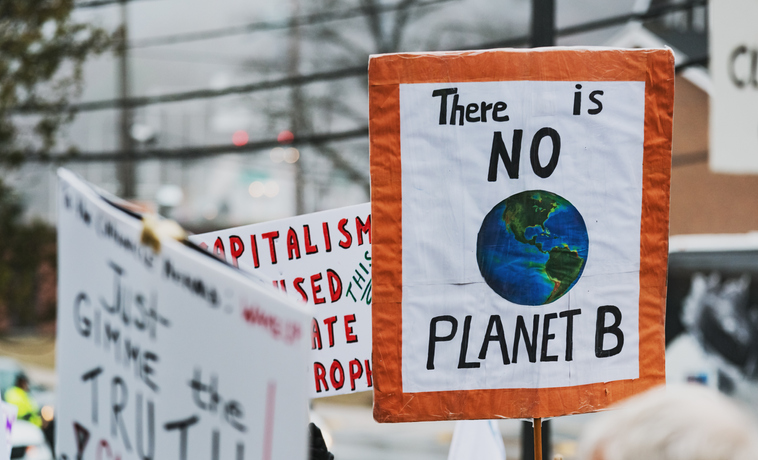 This content is provided by Kepler Trust Intelligence, an investment trust focused website for private and professional investors. Kepler Trust Intelligence is a third-party supplier and not part of interactive investor. It is provided for information only and does not constitute a personal recommendation.
Material produced by Kepler Trust Intelligence should be considered a marketing communication, and is not independent research.
Rebels no more...
William Heathcoat Amory, Founder, Kepler Trust Intelligence.
Whilst not everyone is yet declaring a "climate emergency", most people now recognise that the global economy is not on a particularly sustainable trajectory. Recent news from Nestle (XETRA:NESR) – that they aim to be "net-zero" greenhouse gas emissions by 2050 - shows that what might have seemed a "fringe" idea a few years ago, is now mainstream.
According to a 2018 YouGov survey, 62% of people believe Government are doing too little to prepare for and adapt to the impacts of climate change. 71% believe fossil fuel companies should help pay for damage caused by extreme weather events, and (perhaps of most immediate relevance to our readership) 62% of people are interested in a pension fund or financial institution that considers the environmental impact of the companies it invests in (Source: YouGov 2018).
At the same time, consumers are increasingly aware of their buying power, and the influence it can have on companies' corporate behaviour and supply chains. Allied to this, investors also recognise the effect their investing behaviour can have on companies they invest in. Increasingly, they look to the managers of the funds they invest in to engage with company management and see this as a mechanism by which positive change in investee companies can be brought to bear.
Many established funds and ETFs offer "ethical", "green" or another shade of socially responsible investment. However, these labels don't in our view really reflect the full range of what is potentially on offer.
We understand the broad concept as "ESG Investing" – environmental, social, governance. As a theme or concept it is clearly rising in popularity - Google searches for 'ESG investing' have risen rapidly over the past decade, with a compound annual growth rate of 73%, almost double that of 'passive investing' (42%). Many fund managers (or their marketing departments) have been jumping on the bandwagon, and ESG now features in many presentations where perhaps as recent ago as last year, there had never been any mention!
Despite its apparent popularity, many investors do not have a fixed idea of what they really mean when they say they want funds with better ESG credentials.
For example, some investors may mean that they want a very narrow focus in the types of companies they invest in – for example supporting renewable energy, and thereby generate strong returns but also help finance the shift to a less carbon intensive economy.
Others may want to invest in companies which are leading the way in reducing (or actively addressing) the harmful effects of their business operations' externalities, meaning that they are comfortable investing in companies and industries that pollute – but only if they are "getting their act together", trying to reduce negative externalities, or are "best in class" in trying to minimise their negative effects. Others may want their fund managers to actively engage with company managements, and try to influence the strategic direction the company is taken on.
Lastly, investors may only want to own companies with what they see as a correct gender-balance, or have policies which prevent child labour within their supply chains.
There are many different ways of interpreting what ESG really means. The job of investors looking at ESG must be to find a fund or investment trust which is aligned with their own specific values, irrespective of the marketing document or industry sector it belongs to. We believe an increasing number of "mainstream" funds will be suitable for ESG investors, depending on what their requirements are. How, then, do investors find them?
Lies, damned lies and statistics
As we discussed in our April article Nice guys finish first, within the funds world there are two commonly used ESG scoring systems provided by MSCI and Morningstar / Sustainalytics.
To cut a long story short – in our view, these are not very useful at all in determining how well a fund measures up in terms of its ESG qualities. As we discuss in that article, there are several crucial flaws.
Fundamentally, this is because they rely on measuring the output of the manager's process (which may or may not include ESG research) rather than the input. We believe that analysing and understanding a fund manager's efforts are likely to be a far better guide to their suitability for any ESG investor.
The perils of following a statistical approach to ESG investing is illustrated by Jupiter European Opportunities (LSE:JEO), managed by Alexander Darwall, who for a long time has paid great attention to board and company governance, seeing it as a key determinant of strong business performance.
However, he openly states that he invests for profit rather than a 'higher purpose', and in his presentation even states that he believes that ESG is subverting the aims of business and investment – sometimes driving companies into the hands of private equity (who traditionally have held fewer qualms about ESG issues).
Despite this, his portfolio scores relatively well on in absolute terms on output based ESG, yet his ESG input is clearly relatively low. Without knowing what a manager thinks or believes in (regarding ESG themes), an investor in such a fund might unwittingly find themselves invested in a fund that is very un-representative of their ESG aims and objectives.
Our framework for understanding ESG
Statistics provide an easy way to filter the wheat from the chaff, but as we explain above, they do very little in helping investors get to the root of what they are looking for.
We have developed a framework which we anticipate using going forward which will, we hope, help our readers navigate the ESG maze a little better. As part of our meetings with fund managers henceforth, we will be attempting to get to grips with how their fund fits within the multi-faceted ESG world using the following framework:

Using the above framework, we hope to provide investors and advisors with a clearer picture of how a fund might fit as a potential ESG investment. What is clear is that different investors mean different things when they say they want an ESG investment. Our aim is to help make it clearer which funds might be considered for any investor trying to match their aims and objectives with those of the underlying managers, whilst at the same time providing strong investment returns.
In practice...
Within the investment trust universe there isn''t a defined ESG sector – and that makes sense to us. In the open-ended world, ESG funds are termed 'ethical', which in our view misses many of the nuances. Depending on your view, it is entirely possible to have elements of ESG run through any almost type of fund or investment process.
It is our (and a fund selector's) job to try to determine what aspects of the broad ESG theme any trust leans toward, and to what extent the marketing "spin" is reflected in reality. In order to illustrate our analysis, we compare several investment trusts which can be seen to employ ESG in different ways – despite them not being classified as ESG funds.
Over time, we hope to be expanding our analysis over all of the trusts we cover, and ultimately provide a matrix for the investment trust universe which will enable investors to better hone in on funds which meet their own interpretation of ESG best.
From today, our ESG analysis will be featured in all of the fund profiles that we produce, and centred around a separate tab in the on-line version (and section in the PDF). We are taking the perspective of a generalist investor who is waking up to ESG as a concept, and may want to incorporate some broad or narrow ESG themes into their fund portfolios.
Funds in focus this week
Impax Environmental Markets
Impax Environmental Markets (LSE:IEM)'s portfolio is derived from Impax Asset Management's (LSE:IPX) long held philosophy, and represents a practical expression of what some people view as a 'classic' ESG theme. IEM has few prescriptive restrictions as to how the portfolio is made up – other than the necessity for investee companies to have more than 50% of their revenues deriving from what IAM call "environmental markets" (water, energy, waste management and the food/agriculture sectors). According to IAM, last year IEM's weighted average revenue exposure to these markets was approximately 74%.
In focusing on these sectors, the team's only objective is to deliver strong financial returns. However, the investment team have ESG analysis fully embedded as one of the critical components of their investment process.
In Impax's view, performing ESG analysis is as important to future investment returns as understanding a company's main products or its competitive position in a market.
Impax see ESG analysis as one of the most effective ways of mitigating risks in investments. They observe that the speed of change in markets is accelerating, and so understanding correctly the environmental, social and governance risks is one of the key contributors towards finding successful long-term investments. In their view, good businesses help to futureproof themselves by having good ESG processes.
In this way, we believe IEM offers a differentiated exposure to what some investors may consider strong ESG themes – those of businesses positioned for a more sustainable future.
Many of these are smaller, higher growth businesses which have delivered superior earnings growth over the past five years. Aside from a strong philosophy that has guided Impax Asset Management for over 20 years, the team perform detailed ESG analysis within their investment process. As such, we believe IEM could rightly be considered for any ESG portfolio, but given the specialist nature of the manager's focus, would likely complement many traditional portfolios too.
Martin Currie Global Portfolio
Martin Currie Global Portfolio (LSE:MNP) aims to achieve long-term outperformance of the FTSE World Index from a portfolio of 25-40 high-growth companies from around the world, centred on three broad themes – "future of technology", resource scarcity and demographic change.
Since taking over the portfolio last year the manager, Zehrid Osmani, has achieved exceptional returns. Since July 2018 to the end of August 2019, he has delivered a 17.2% total return, considerably more than the FTSE World benchmark (11%) and almost triple the AIC peer group which has delivered 5.5% on average.
The process of achieving such returns has been built around a proprietary 'toolkit', where financial models, qualitative and thematic research are utilised to uncover opportunities. A vital part of this for the team in recent years has been ESG.
Importantly, the team at MNP actually integrate ESG into their analysis at every stage, identifying that this will help to understand how a company will create and deliver value over the long term. Quantitative scores are given to companies based on how the team rate their ESG practices, putting the rankings on par with financial data.
We have identified that MNP has a particular focus on the governance and sustainability aspects of ESG, as opposed to 'investing for good' or having an environmental focus – reflected in the relatively broad number of sectors represented in the portfolio.
Martin Currie actively engage with the companies within their portfolio, constantly assessing information including the risks of the company (environment, social or management), the make-up of the board, their remuneration and the culture.
These areas are not easy for investors to understand without meeting the company directly, and in Martin Currie's view, a source of additional alpha, relative to peers who may consider ESG a lesser factor.
Greencoat UK Wind
As we have discussed, ESG as a concept is multi-faceted. In the case of Greencoat UK Wind (LSE:UKW), the investment thesis of the fund clearly ticks many environmental boxes.
By investing in UKW, investors are actively helping the transition to a lower carbon economy. UKW does not itself develop windfarms, but by buying operating assets from developers and operators, it enables capital to be recycled back into developing more renewable energy generation.
The managers estimate that at the current size of the portfolio, over 1 million tonnes of CO2 emissions per annum are being avoided compared to thermal generation. We calculate that this is equivalent to 0.8kg per share, in the context of 181kg of CO2 emitted for a flight from London to Milan (Source: Atmosfair). A £10k investment in UKW is equivalent to 5.6 tonnes of CO2 "prevented" per year.
In other respects, Greencoat as manager is clearly a keen proponent of ESG, and aware of their responsibilities therein. Greencoat were signatories to the UN- supported Principles for Responsible Investment (PRI) in 2016 and provided a lot of detail of how they incorporate ESG issues in their decision-making process and asset management.
However, in contrast to a typical equity fund where the ESG impact of the fund's investments might be relatively indirect or opaque, UKW's impact is abundantly clear. The manager's efforts in terms of the six PRIs will clearly have a positive effect at the margin, but in our view the main attraction to ESG investors will be that investing in UKW has a positive effect in helping the shift to a lower carbon economy.
Kepler Partners is a third-party supplier and not part of interactive investor. Neither Kepler Partners or interactive investor will be responsible for any losses that may be incurred as a result of a trading idea.

These articles are provided for information purposes only. Occasionally, an opinion about whether to buy or sell a specific investment may be provided by third parties. The content is not intended to be a personal recommendation to buy or sell any financial instrument or product, or to adopt any investment strategy as it is not provided based on an assessment of your investing knowledge and experience, your financial situation or your investment objectives. The value of your investments, and the income derived from them, may go down as well as up. You may not get back all the money that you invest. The investments referred to in this article may not be suitable for all investors, and if in doubt, an investor should seek advice from a qualified investment adviser.
Full performance can be found on the company or index summary page on the interactive investor website. Simply click on the company's or index name highlighted in the article.
Important Information
Kepler Partners is not authorised to make recommendations to Retail Clients. This report is based on factual information only, and is solely for information purposes only and any views contained in it must not be construed as investment or tax advice or a recommendation to buy, sell or take any action in relation to any investment.
This report has been issued by Kepler Partners LLP solely for information purposes only and the views contained in it must not be construed as investment or tax advice or a recommendation to buy, sell or take any action in relation to any investment. If you are unclear about any of the information on this website or its suitability for you, please contact your financial or tax adviser, or an independent financial or tax adviser before making any investment or financial decisions.
The information provided on this website is not intended for distribution to, or use by, any person or entity in any jurisdiction or country where such distribution or use would be contrary to law or regulation or which would subject Kepler Partners LLP to any registration requirement within such jurisdiction or country. Persons who access this information are required to inform themselves and to comply with any such restrictions. In particular, this website is exclusively for non-US Persons. The information in this website is not for distribution to and does not constitute an offer to sell or the solicitation of any offer to buy any securities in the United States of America to or for the benefit of US Persons.
This is a marketing document, should be considered non-independent research and is subject to the rules in COBS 12.3 relating to such research. It has not been prepared in accordance with legal requirements designed to promote the independence of investment research.
No representation or warranty, express or implied, is given by any person as to the accuracy or completeness of the information and no responsibility or liability is accepted for the accuracy or sufficiency of any of the information, for any errors, omissions or misstatements, negligent or otherwise. Any views and opinions, whilst given in good faith, are subject to change without notice.
This is not an official confirmation of terms and is not to be taken as advice to take any action in relation to any investment mentioned herein. Any prices or quotations contained herein are indicative only.
Kepler Partners LLP (including its partners, employees and representatives) or a connected person may have positions in or options on the securities detailed in this report, and may buy, sell or offer to purchase or sell such securities from time to time, but will at all times be subject to restrictions imposed by the firm's internal rules. A copy of the firm's conflict of interest policy is available on request.
Past performance is not necessarily a guide to the future. The value of investments can fall as well as rise and you may get back less than you invested when you decide to sell your investments. It is strongly recommended that Independent financial advice should be taken before entering into any financial transaction.
PLEASE SEE ALSO OUR TERMS AND CONDITIONS
Kepler Partners LLP is a limited liability partnership registered in England and Wales at 9/10 Savile Row, London W1S 3PF with registered number OC334771.
Kepler Partners LLP is authorised and regulated by the Financial Conduct Authority.