Hurricane Energy near 'breakout' territory
Hurricane Energy (LSE:HUR)
With all the recent publicity given toward hurricanes, it seems strange Hurricane Energy failed to capitalise on how popular their naming inspiration is!
While share price movements since our last analysis have proven somewhat lacklustre, the share price has achieved and bettered our initial growth target of 33p, while the drop cycle appeared determined not to break 26p. Perhaps some strength is actually evident.
It's now time to make another attempt at explaining how we view price movements.
Firstly, we'd proposed criteria for a drop to 25p. In reality, the share "only" dropped to 26.25p before bouncing. Strength?
Second, we've proposed criteria for a lift to 33p initially with secondary, if bettered, of 36.75p. It managed close at 33.25p. Strength?
Third, we've given a small inset on the chart highlighting the last few weeks. The price seems afraid to cross a line. Confusion?
There's a particularly uncomfortable facet with Hurricane which we really should not ignore. We'd be horrified if the share now actually closed a session below 25p as this risks a phase toward 10p with ultimate bottom 1.75p.
It looks unlikely and we'd be delighted if an excuse were now found to allow the price to close above the blue line on the chart as it substantially, very substantially, reduces the drop calculation logic.
However, quite often when a share price is snake charmed by a trend, it indicates some significant news is due and results in the situation where movement above the trend is liable to provoke rather sharp upward travel.
In the case of Hurricane, it means (to us, anyway) intraday traffic bettering 33p is very liable to approach 36.75p initially but, to be honest, it should not prove difficult to attain our 42p as moves perceived as "breakout" will often prove flamboyant.
Fingers crossed time, but even near-term intraday traffic above just 32p should give early warning something is coming.
Ideally, it will not be an opening minute spike as the "something coming" risks being a train in the other direction!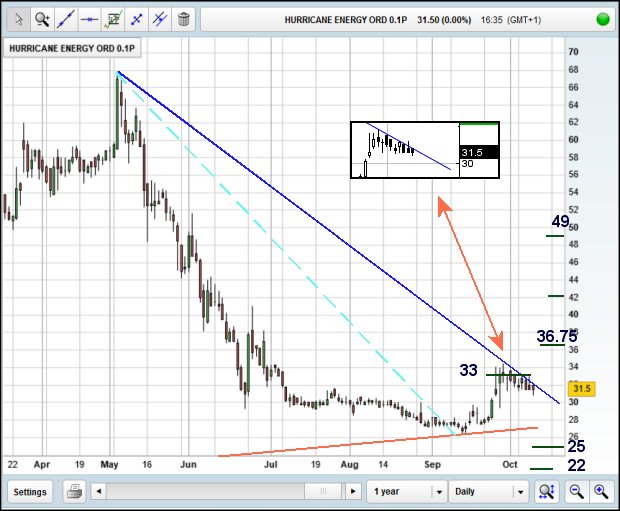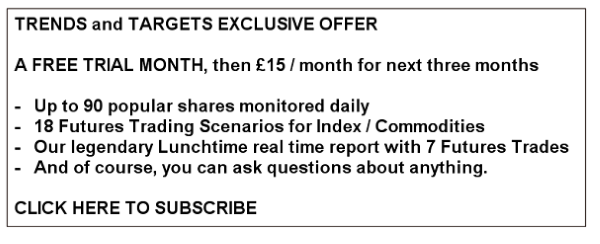 Alistair Strang has led high-profile and "top secret" software projects since the late 1970s and won the original John Logie Baird Award for inventors and innovators. After the financial crash, he wanted to know "how it worked" with a view to mimicking existing trading formulas and predicting what was coming next. His results speak for themselves as he continually refines the methodology.
Alistair Strang is a freelance contributor and not a direct employee of Interactive Investor. All correspondence is with Alistair Strang, who for these purposes is deemed a third-party supplier. Buying, selling and investing in shares is not without risk. Market and company movement will affect your performance and you may get back less than you invest. Neither Alistair Strang, Shareprice, or Interactive Investor will be responsible for any losses that may be incurred as a result of following a trading idea.
This article is for information and discussion purposes only and does not form a recommendation to invest or otherwise. The value of an investment may fall. The investments referred to in this article may not be suitable for all investors, and if in doubt, an investor should seek advice from a qualified investment adviser.