Why Tesco results were hit and miss
Tesco's recovery mission under Dave Lewis gained traction Wednesday after a decent set of half-year results, which included a resumption of dividend payments. Margins have improved and the pension deficit – a key issue for investors – has also been reduced substantially.
Discounters like Lidl and Aldi have caused massive problems for Tesco and the rest of the Big Four grocers in recent years. It's partly why Tesco shares are worth two-thirds less now than they were a decade ago.
But we reported six months ago that last year Tesco, the UK's biggest supermarket, saw full-year UK sales grow for the first time since 2009/10. While that was clearly a boon for Lewis and co, profits were still down 40% and fines still being levied by the Serious Fraud Office.
Fast forward six months and things look brighter. Tesco's first-half of the 2017/18 financial year beat analyst forecasts, with many brokers expecting to upgrade forecasts over the next few days.
Group operating profit in the first half came in at £759 million. Although that was helped out by property gains of £33 million, it still smashed consensus estimates for £703 million.
The dividend was reinstated – "an important symbolic milestone," according to broker Bernstein's Bruno Monteyne. An interim dividend of 1p per share, the first payout to shareholders since 2015, "reflects improved performance and board confidence", says Lewis. Analysts expect 3-4p per share for the full-year.
The operating margin took a big step toward Tesco's ambition of 3.5-4% by 2019/20, up 50 basis points year-on-year to 2.68%. Meanwhile, net debt fell more than expected to £3.3 billion, and increasing annual contributions of £15 million from next April will start eating into Tesco's hefty pension deficit.
However, there were some areas of concern responsible for unwinding early share price gains, among them UK like-for-like sales growth of 2.1% for the second quarter, way below consensus estimates for 2.5%. That's partly because Tesco passed on less of any increase in food costs to shoppers than rivals.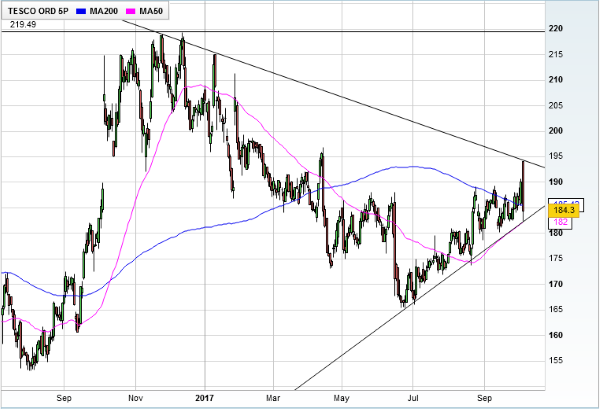 Still, Tesco remains firmly on track to deliver medium-term ambitions of reducing costs by £1.5 billion, generating £9 billion of retail cash from operations by 2019/20 as well as that margin improvement, says Lewis. "In addition… we can continue to strengthen the balance sheet, return to investment grade credit metrics and generate an increasing level; of free cash flow."
Tesco shares have had a strong run into these results, up 13% since July. They've outperformed listed rivals Sainsbury's and Morrisons, both in negative territory, and the wider market, which is up less than 2%.
After initially opening up a further 2% higher at a six-month high 194p, shareholders took the opportunity to bank some profits and Tesco shares traded as low as 182p.
What's in the price?
While there's plenty of good news here, it seems this is already factored in. And there are still risks, with a fraud trial ongoing and the £3.7 billion acquisition of wholesaler Booker yet to receive regulatory approval.
While a forward price/earnings (PE) multiple in the high teens looks demanding, it's only just emerging from its recovery phase and earnings are projected to see an uptick over the next few years.
Morgan Stanley notes that on consensus full-year 2018 numbers Tesco is trading on EV/EBITDA and PE of 7.2 and 15.2 times respectively – pretty much in line with the European food retail sector. The PE falls on UBS estimates to 9.8 times on 2020 forecasts. The Swiss broker likes the shares up to 260p.
Clive Black at Shore Capital reckons that EV/EBITDA valuation is "becoming much more interesting".
Still, not interesting enough for prospective buyers, not yet anyway. Some investors may prefer to sit on the fence until the Competition and Markets Authority reports provisional findings on the Booker deal by the end of October. A final report is due by the end of this year.
This article is for information and discussion purposes only and does not form a recommendation to invest or otherwise. The value of an investment may fall. The investments referred to in this article may not be suitable for all investors, and if in doubt, an investor should seek advice from a qualified investment adviser.