Join today & trade from just £3.99
Trade from one of the largest choices of UK and US shares, UK funds, ETFs and investment trusts for £3.99.
Our subscription plans start from just £4.99 a month.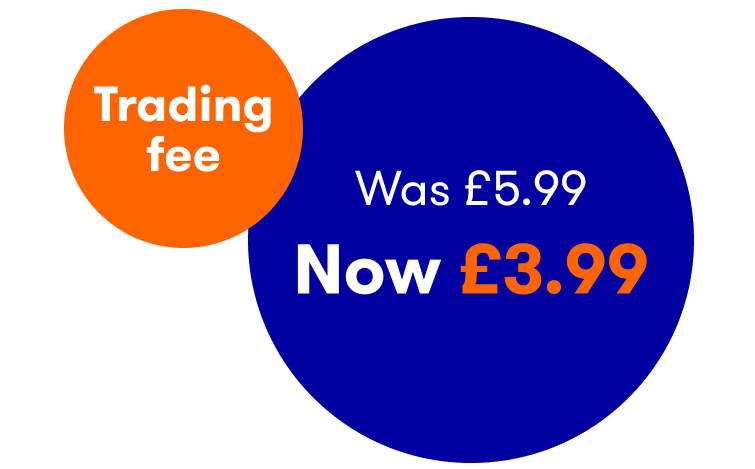 Please remember, investment value can go up or down and you could get back less than you invest. The value of international investments may be affected by currency fluctuations which might reduce their value in sterling.
Get £100 when you open an ISA or Trading Account
New customers who open an ISA or a Trading Account before 31 December 2023 could receive £100 cashback when they fund their account. Subject to a minimum account value and holding period. Terms and fees apply.
Get better rates for your cash.
Our Cash Savings Account helps you find better interest rates, then seamlessly move to another deal at the end of your offer period.
Other investment accounts
Junior ISA: A tax-efficient investment account to help you save for your child's future. Anyone can pay into it but there is a £9,000 total annual allowance. Available at no extra cost on our Investor or Super Investor plans.
Joint Trading Account: joint share dealing account held in the names of two people. Invest in funds, shares, trusts and more.
Company account: An account for UK limited companies to trade online. Investment options include UK and international shares, funds, ETFs and trusts.
Choose an investment account that meets your needs
ISA
A Stocks and Shares ISA allows you to invest up to £20,000 a year without paying tax on your gains. You can access your money at any time. Many people start with an ISA for the tax benefits, and then move on to a Trading Account for the rest of their investing.
General investment (trading account)
These investment accounts (our Trading Account, Joint Trading Account and Company Account) give you the flexibility to invest on your terms. There is no upper limit on how much you can invest, and you can withdraw your funds at any time. However, they do not have the tax advantages of an ISA.
Planning for your future? Get your pension SIPP-shape
.
Take control of your future with ii's Which? Recommended SIPP. Open before 31 December. New customers only. Minimum £15k investment. Capital at risk. Terms apply.
Why choose ii?
We're trusted by over 400,000 investors
Rated 4.7/5 with 22,000+ reviews on Trustpilot
More than 50% of our customers have been with us for more than 10 years
1 in 4 UK share trades are executed on the ii platform
Our average hold time with our customer service team is under a minute
Analysis shows you could be better off by £43k over 30 years of investing in an ii Trading Account (General Investment Account) plus an ii ISA due to our low flat fees. This is just for illustration if all other factors were the same. The advantage of lower flat fees over time means that you could be significantly better off in the long run. By how much will always depend on your personal circumstances. More about our analysis
Transfer investments to ii
Make your investments easier to manage by keeping them all in one place. Our low, flat fees mean that the more you keep with us, the more you will save.
You can transfer your Stocks and Shares ISA, Cash ISAs, general investment accounts and pensions to us. We'll keep you updated along the way.
Stocks & Shares ISA and Trading Account fees and charges
When you open a Stocks and Shares ISA or Trading Account you will start on our £4.99 a month Investor Essentials plan. Should your investments grow above £50,000, you will move onto our £11.99 a month Investor plan.
Investor Essentials plan: £4.99 a month. Our low-cost plan for those investing up to £50,000. UK and US trades are £3.99.
Investor plan: £11.99 a month. Our most popular plan. It includes your first trade free every month and you can add as many Junior ISAs as you need for your children. You can also add 2 friends or family members for free. UK and US trades are just £3.99.
Super Investor plan: £19.99 a month. For super-charged investors. Your first 2 trades are free every month and you can add as many Junior ISAs as you need for your children. You can also add up to 5 friends or family members for free. UK and US trades are just £3.99.
All our plans allow you to invest as little as £25 a month using our free regular investing service.
Other fees such as stamp duty and foreign exchange charges may apply.
On Investor Essentials, you must be set up to pay your fees by direct debit, and receive your communications electronically. Full terms for our Investor Essentials plan can be found here.
Read more: Our charges