Fitbug deep in red despite sales surge
It's been a massive year for Fitbug. A year ago, few had heard of the wearable fitness devices firm and its shares traded at a fraction of a penny. Now, it's made its fair share of headlines and the shares are worth over eight times more. However, while sales have soared, heavy investment in product development and marketing, and a huge legal bill increased losses by over £1.1 million.
Retail agreements with Target and Sainsbury's in October, then others with Amazon and Best Buy a month later, brought Fitbug to the public's attention. Getting the big retailers to stock its Fitbug Orb wearable device and digital coaching product Kiqplan - responsible for Beer Belly Blaster and Goodbye Baby Bump plans - was a major coup, and crucial if the company was to compete with much larger rivals.
Revenue in 2014 tripled to £2.3 million, and both Target and Sainsbury's have placed additional orders in 2015, we're told. But developing Kiqplan is expensive. So is marketing. Fighting a trademark and patent case against Fitbit Inc racked up £742,000 in legal bills, too. That's why Fitbug's loss before tax swelled to nearly £3.8 million from £2.7 million a year ago.
Still, management was smart enough to raise cash after the share price rally. Investors paid 9p a share to raise £3.5 million to scale up the sales and marketing programmes. Fitbug also managed to get an extension to most of the repayments on a £4.35 million loan from NW1 Investments extended to 31 July 2016. Terms on the remaining £0.5 million convertible loan note were extended to June next year.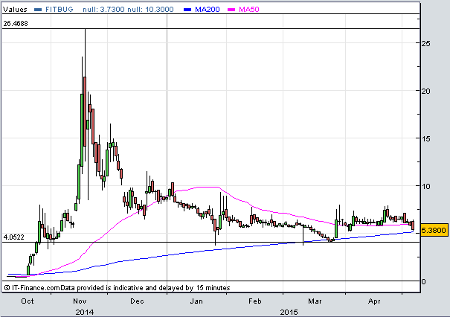 "2014 was an exciting and transformational year for Fitbug as a result of our increased emphasis on the emerging consumer space for wearable technology and the development of a pioneering new coaching framework called Kiqplan," said boss Paul Landau. "This, along with the establishment of high profile retail and B2B partnerships, provides an important foundation upon which to drive the business forward over the coming years."
Clearly, there's a big market for this wrist-worn technology - just look at the current craze for Apple watches - but valuation has always been the issue with Fitbug, and sales will have to keep rising sharply to justify current prices.
Shortly after the October rally, we had a go at pricing Fitbug shares. The results can be seen here. And they've turned out to be pretty accurate. In summary, we valued the shares at 5.3p, exactly where they are now.
However, Fitbug now trades on a whopping 7.7 times enterprise value-to-historic sales. As a guide, US-listed sportswear apparel company Under Armour trades on an ultra-aggressive 5.7 times, Cherokee on 5.6 times, Lululemon Athletica on 5 times, and Gildan Activewear on 3.5 times.
This article is for information and discussion purposes only and does not form a recommendation to invest or otherwise. The value of an investment may fall. The investments referred to in this article may not be suitable for all investors, and if in doubt, an investor should seek advice from a qualified investment adviser.