Woodford suffers £300m Provident blow after second profit warning
Last month we asked if Provident Financial's beleaguered boss Peter Crook could turn around the fortunes of the sub-prime lender.
Today we got an emphatic answer. Crook's out the door and investors, including star fund manager Neil Woodford, are nursing huge losses after a spectacular profits warning - Provident's second in two months.
Collection performance is currently running at 57%, versus 90% in 2016, and sales are some £9 million a week lower than the same weeks of last year. This follows the botched overhaul of the Consumer Credit division, when 4,500 self-employed local agents were replaced by 2,500 full-time staff.
With full-year losses now expected in the range of £80 million and £120 million, Provident pulled the interim dividend of 43.2p it declared only last month. And, as the group looks to protect its capital base and financial flexibility, it has also indicated that a full-year pay-out is unlikely.
Shares in the FTSE 100 stock, which was once worth more than £4 billion, dived by 64% to just 630p, lower than at any time since the start of 1999.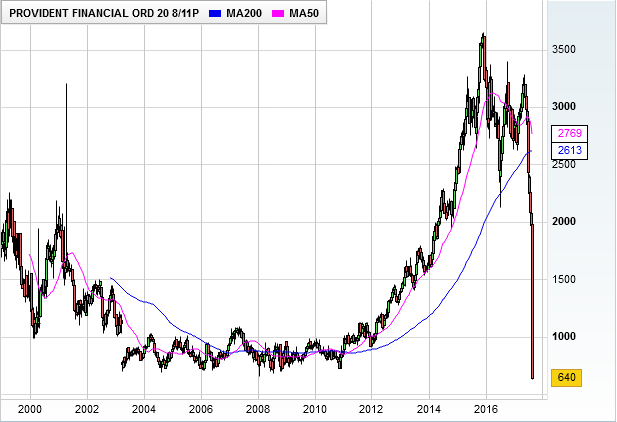 Where does today's warning leave Woodford, whose Equity Income and Income Focus funds took advantage of the recent share price slump to top up their Provident exposure?
By 27 July, Woodford's funds held 19.9% of the company. Yesterday, that holding was worth over £500 million. Today, it's valued at just £185 million. In the wake of Provident's first profits warning, the fund manager called the company's difficulties a temporary event and that the long-term attractions "remain very much in place".
He added: "More often than not, the market over-reacts in response to bad news, even if the causes are only transitory. We believe this to be the case here - it doesn't disrupt the long-term investment case, in our view."
He pointed to the real business growth drivers of the group being Vanquis Bank, vehicle finance specialist Moneybarn and online instalment loans business Satsuma.
Provident said today that protecting these "highly valuable franchises", which continue to perform to plan, was the priority for the group whilst it continues to work on the turnaround of the home credit business.
However, in a further blow to the business, Provident revealed that the Financial Conduct Authority is investigating Vanquis Bank's Repayment Option Plan, which currently generates top-line revenues of £70 million a year.
Vanquis, which offers credit cards for people with poor credit history, recently grew half-year profits to just over £100 million.
Smaller rivals Non-Standard Finance and Morses Club, are both likely to have capitalised on Provident's doorstep woes by recruiting former Provident agents and taking market share in areas where Provident agencies have been vacated.
The disruption caused by the overhaul has not just impacted on Provident's rate of collections, it has made it harder to sell to existing customers and to keep them on the books.
The task of reversing this trend will fall to Manjit Wolstenholme, executive chairman, who will lead the business following the departure of Crook.
This article is for information and discussion purposes only and does not form a recommendation to invest or otherwise. The value of an investment may fall. The investments referred to in this article may not be suitable for all investors, and if in doubt, an investor should seek advice from a qualified investment adviser.