13 shares for the future
by

interactive investor

|

from
As it should be, the first snapshot from my Decision Engine in 2018 is little different from the last cut of 2017, taken a month ago. However, the gradual process of re-evaluation continues.
This month, there have been dramatic announcements from System1 and Games Workshop, forcing me to think again.
Businesses may have good or bad years, half-years or quarters, but events only change my opinion when I learn something that compromises or enhances a firm's prospects for many years to come.
These judgements are reflected in the Decision Engine, a gaggle of spreadsheets weighing the numbers, valuations and levels of profitability, and narratives: how resilient and adaptable firms are to competitive threats, and whether they're managed equitably, in the long-term interests of shareholders, employees and customers.
The Decision Engine ranks the shares I follow on a scale of 0 to 10, those scoring 10 being the most attractive: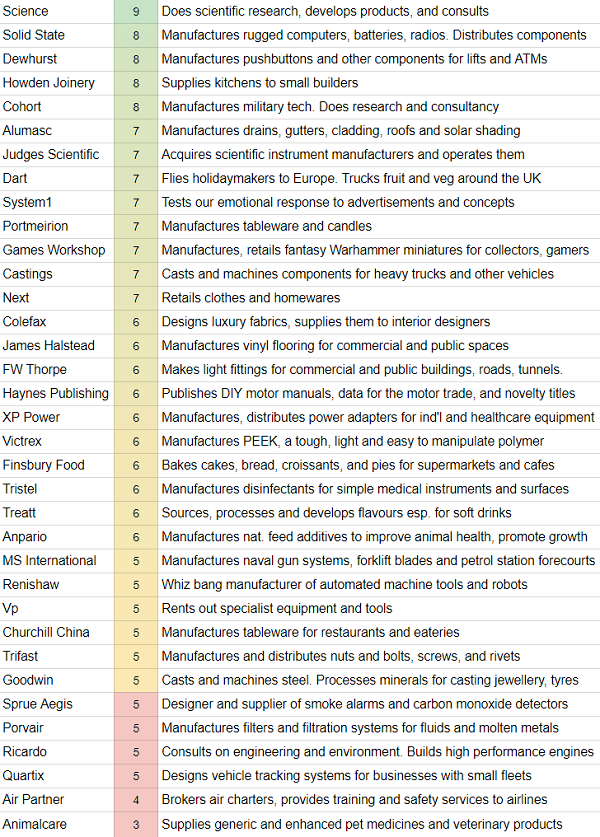 Meltdown at System1
System1 is more risky than I appreciated. The market research firm published a trading update on 8 January, confirming it expects to achieve little more than break-even for the full-year to March 2018.
That's far worse than the firm's previous worst performance since 2007, as far back as I've looked. Then, in 2012, System1's customers, big consumer goods companies like Unilever and Procter and Gamble, suddenly and temporarily cut their advertising budgets. Nevertheless, return on capital fell to a still remarkable 19%, exactly half System1's nine-year average.
In this month's trading update, System1 again reports a sudden drop in demand, so it's very tempting to believe the problems are temporary, exaggerated by higher costs due to System1's expansion, particularly in the US, where the salaries of consultants are higher.
The company responded by curbing costs and 're-engineering' its market research products into a faster, cheaper "Creat1ve Guidance System". Frankly, I have no idea whether the changes are window dressing, System1 has a habit of renaming products with quixotic names.
If the changes are significant, System1's accelerated its strategy, which is to turn market research services into relatively low-cost products that win mandates to routinely test customers' advertisements and products. The problem is advertising hasn't delivered the growth consumer goods companies craved so they're questioning its efficacy in general, and cutting costs to safeguard profit.
Even though System1 has slipped in the rankings as it has turned out to be less resilient than I believed, I still admire its entrepreneurial executives and believe it is managed equitably. That, and a share price that makes System1 look very, very cheap when you consider how profitable it's been, mean it's still ranked 7 out of 10.
Technically, System1's a 'buy', because I regard companies scoring seven or more as attractive investments. But it's as contrarian a 'buy' as can be.
Melt up at Games Workshop
Games Workshop's half-year results, reported on 9 January, were as fantastic as they were unexpected, at least by me, only a few years ago. It earned more in the six months to November 2017 than it did in the previous financial year. That year was a record year.
Games Workshop has always scored highly because it's unique, there is no other tabletop wargaming and modelling business approaching it in size, and Games Workshop controls almost every aspect of the Warhammer "hobby" it owns, from manufacturing the figurines to running the stores and publishing the books and magazines that perpetuate the lore.
A few years ago, in annual reports and at the annual general meeting, I sensed the company was disinterested in promoting the gaming aspect of the hobby which acts as a gateway to the more lucrative modelling aspect. It was dismissive of customers and investors who complained it should perhaps listen to them.
Games Workshop seemed introverted, focused on efficiency improvements rather than growing the hobby. Those efficiency improvements weren't a bad thing, they've contributed to a dramatic boost in profitability, but as a long-term investor I was concerned about the hobby's future.
Since then, the company's confounded me by revitalising its two principal gaming systems, sponsoring a major games convention, and for the first time I remember its half-year report talks of customer-focus, and interactions on its newish Facebook pages and Warhammer Community website.
The shift in one number is, perhaps, even more impressive than the 178% increase in profit for the half-year compared to the same period a year ago, and that is the rise in the share price. Since its most recent trough in June 2016, the share price has risen nearly 500%.
That's why, despite a run of amazing results, Games Workshop is only tenuously in the buyzone, scoring 7 out of 10. The Decision Engine is designed to protect me from from over-enthusing about companies on high valuations, even if I admire the business.
A lesson in operational gearing
Both Games Workshop and System1 are experiencing the impact of operational gearing. When much of a company's costs are fixed, but revenue changes substantially, the effect on profit can be dramatic.
System1's principal cost is people. In normal years it can ameliorate the impact of reduced profitability because a substantial proportion of pay is profit related and therefore variable, however high levels of recruitment in the first half of the year will convert an estimated 20% reduction in gross profit into an almost 100% reduction in pre-tax profit.
Games Workshop must also bear high fixed costs, its factory, hundreds of stores, and a swashbuckling HQ, but the cost of manufacturing, selling, and marketing more models does not rise in proportion to the revenue received from them. Games Workshop converted a still remarkable 54% increase in revenue into that profit increase of 178%.
As System1 and Games Workshop show, operational gearing works both ways. Being a born contrarian I believe it probably will in future, which makes me more cautious about Games Workshop and more optimistic about System1.
However there is an important difference. When Games Workshop was in the doldrums I could see what made the business resilient, I just couldn't see the entrepreneurship. With System1, it's the other way around. I can see the entrepreneurship, but I'm not sure it's resilient. I don't know whether the products are special enough that customers will go on buying them in quantities sufficient to keep the firm profitable, come what may.
Resilience gives businesses more time to bring entrepreneurship to bear.
Bits 'n pieces
Since the last update I've written about Cohort, (click here to read) and James Halstead (click here to read). I shall be profiling Treatt, Dewhurst and Victrex shortly because they've published annual reports.
Contact Richard Beddard by email: richard@beddard.net or on Twitter: @RichardBeddard
ii publishes information and ideas which are of interest to investors. Any recommendation made in this article is based on the views of the writer, which do not take into account your circumstances. This is not a personal recommendation. If you are in any doubt as to the action you should take, please consult an authorised investment adviser. ii do not, under any circumstances, accept liability for losses suffered by readers as a result of their investment decisions.
Disclosure
We use a combination of fundamental and technical analysis in forming our view as to the valuation and prospects of an investment. Where relevant we have set out those particular matters we think are important in the above article, but further detail can be found here.
Please note that our article on this investment should not be considered to be a regular publication.
Details of all recommendations issued by ii during the previous 12-month period can be found here.
ii adheres to a strict code of conduct. Members of ii staff may hold shares in companies included in these portfolios, which could create a conflict of interests. Any member of staff intending to write about any financial instruments in which they have an interest are required to disclose such interest to ii and in the article itself. We will at all times consider whether such interest impairs the objectivity of the recommendation.
In addition, staff involved in the production of investment articles are subject to a personal account dealing restriction, which prevents them from placing a transaction in the specified instrument(s) for a period before and for five working days after such publication. This is to avoid personal interests conflicting with the interests of the recipients of those investment articles.