Top share tips for value investors in 2018
by

interactive investor

|

from
Most of the past decade has been a miserable time to be a value investor. These investors follow the school of thought that says one way to gain an edge over the wider stockmarket is to hold a selection of shares that are trading at a significant discount to their intrinsic value.
Loose monetary policy, in the form of ultra low interest rates and quantitative easing (QE), has been blamed for putting value investing in the shade. The theory is that QE has led to a rising market tide that has lifted all assets, which in turn has made life more difficult for investors who follow an investment discipline based on hunting for shares that have been mispriced by the market.
According to some, buoyant markets have made it difficult to source value at a sensible price. Cheap stocks are often cheap for a reason, argues Gabrielle Boyle, manager of the Trojan Global Equity fund, so investors need to assess whether the potential payoff is worthwhile.
"The meaning of the word "value" is in the eye of the beholder to an extent, but it is evident that eight years into a bull market for equities, there is a shortage of good-value opportunities out there," says Boyle.
Indeed, various stockmarkets, including the US S&P 500 index and UK's FTSE 100, have achieved record highs in 2017. Overall, though, looking at both these markets as a whole using conventional valuation measures such as the price/earnings (PE) ratio, the UK looks the more appealing - particularly on drilling further down into the numbers.
The big winners of recent times have been the international earners, largely thanks to the pound's slide in 2016 following the Brexit vote. The big losers, on the other hand, have been UK consumer-facing stocks, which have been hit by Brexit uncertainty and seen their prices nosedive. According to fund manager Investec's value team, some domestic stocks - the likes of Next, Tesco and WM Morrison - are pricing in a recession.
A number of other value-oriented fund managers are also favouring domestic names, including Invesco Perpetual's Mark Barnett and Jupiter's Steve Davies. Barnett and Davies are mindful that the UK economy faces some big challenges over coming years as the Brexit negotiations rumble on. But despite all the uncertainty, both investors share the belief that domestic stocks have been unjustifiably penalised.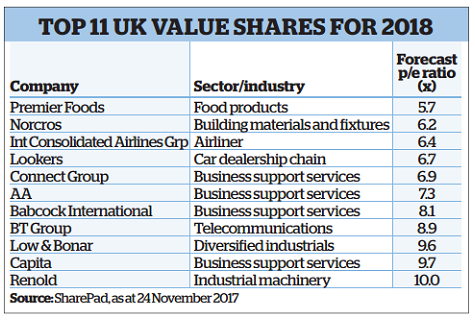 Barnett says: "The market believes the UK economy is going to run out of steam, which is why there continues to be this polarisation between domestically focused stocks and international names. I think these fears are misplaced and that the underlying UK economy is in better condition than the market believes, so I am a happier buyer of domestic stocks that are offering depressed valuations."
According to Davies, the fact that there is "no less popular area anywhere in the investment universe at present than UK domestic stocks" should naturally appeal to contrarian investors.
He says: "Stockpicking will be vital, as a number of domestic companies are facing structural challenges as well as cyclical ones, be it from lowcost discounters in the case of food retailers, or new online competition in a host of other sectors. However, several well-placed businesses have seen their share prices dragged down by the apathy towards the UK." Look for resilence.
Look for resilience
In the current economic climate, a company's resilience in the face of economic headwinds is key, according to Davies. He picks out four cheap shares with this attribute: WHSmith, Howden Joinery, Taylor Wimpey and ITV. Investors fishing for bargains should look out for certain quantitative factors in order to reduce the risk of them picking a poor value investment.
Phil Oakley, at SharePad, an online data service for private investors, has filtered the FTSE All-Share index using the following criteria: a forecast PE ratio of 10 or less, growing profits and no imminent danger of bankruptcy (as measured by having a fixed charge cover ratio of 1.5 times or more).
"This [latter] ratio measures how many times a company's trading profits can cover interests on debts and other fixed liabilities such as rents on buildings or equipment," explains Oakley.
A final filter excludes cyclical companies, whose fortunes hinge heavily on the performance of the wider economy.
"Shares are generally cheap for a good reason. This is usually because investors are worried about some aspect of the business behind the shares, such as increasing competition or a weak financial position," adds Oakley.
"But the market can sometimes overreact and be too pessimistic about the outlook for a company and its shares. These are the kind of situations value investors seek out with the aim of bagging themselves a bargain. They are betting that the company will recover from its difficulties and find favour again."
Barnett selects Next, which offers a total dividend yield (including special dividends) of 8%, as the standout bargain share in the UK market.
He says: "The dividend is backed by strong cash flows, and my view is that the market is overly pessimistic about the threat of Amazon and other online retailers, particularly when Next itself has been responding in upgrading its digital offering." The other main standout sector where bargains look plentiful is banks, which have finally set their houses in order a decade on from the financial crisis.
Like other investors, Scott McKenzie, who runs the TB Saracen UK Income and TB Saracen UK Growth funds, has been boosting exposure to the sector through holdings in Lloyds and Close Brothers.
He says: "Banks have been left behind and remain unloved, despite the fact that from an income perspective they have become more attractive. There's also the prospect of more interest rate rises, and with them a rise in bond yields, which will be a positive for banks."
A closely related sector attracting McKenzie's attention, but less talked about as a bargain, is life insurers. He says: "In 2017 the sector did not really do much from a share price perspective, and I put this down to a lack of investor interest because insurers are pretty dull businesses." McKenzie holds Aviva and Phoenix Life.
When looking at the market as a whole, "there are plenty of good-value income opportunities", he adds, flagging up the 28 FTSE 100 shares that currently offer yields of 4%; "but in terms of growth names, it is much harder to find businesses trading on sensible valuations."
Elsewhere, miners and oil companies are still catching the eyes of some contrarian investors, even though shares have enjoyed a good run over the past 18 months or so.
Other investors, however, are steering clear on the grounds that the fortunes of these companies are at the mercy of the performance of the underlying commodities they produce.
That can be subject to political influences, in the case of oil, and global economic growth, as is the case for mining stocks.
Take your pick
This polarisation underlines the highly subjective nature of value investing; indeed, one investor may deem a stock to be oversold for the same reason that another chooses to steer well clear of it.
Value investing is not a strategy for the fainthearted. Experienced investors can testify that the stockmarket rarely provides free lunches. Nonetheless, stocks can be oversold and mispriced, which offers investors opportunities to get in on the ground floor and benefit from a subsequent recovery.
This article was originally published in our sister magazine Money Observer. Click here to subscribe.
This article is for information and discussion purposes only and does not form a recommendation to invest or otherwise. The value of an investment may fall. The investments referred to in this article may not be suitable for all investors, and if in doubt, an investor should seek advice from a qualified investment adviser.