ii Super 60 Annual Review
January 2021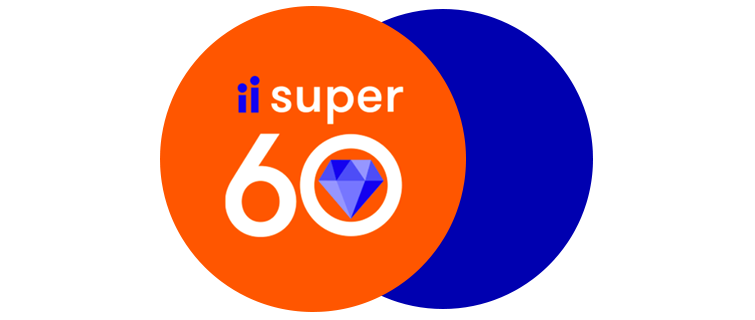 The Super 60 is reviewed on an ongoing basis. Throughout the year we closely follow fund-specific developments and regularly communicate with fund managers, while also paying attention to market-related macro events.
Our annual review process, which performed the same time each year (published every January), ensures that we endorse only the best-in-class products.
For our analysis we look at the entire universe of potential investments and apply specific criteria, which include the consistency of performance, efficiency of risk controls and a well-defined investment process.
Below is a diagram of our seven-step robust selection and monitoring process. A more detailed version is available here.
What we look for
Our goal is to offer a range of individual investments in order to capture the broader market. Therefore we include different asset classes, styles and approaches. We pick investments that fit different purposes in each individual's portfolio, including a mixture of core and more adventurous options. We consider different investment styles (such as value, growth and momentum), and whether the fund manager tends to favour larger companies or smaller companies. By including different investment approaches, this could result in lower correlation and greater diversification benefits for the end investor.
In line with our methodology, we scrutinise not only funds that are falling behind their benchmark, but also those that show consistent performance above their representative index and sector. This is necessary to ensure we are not picking managers that are at the top of their performance cycle and could potentially head into a period of underperformance. That said, fund managers that have underperformed the market due to reasons such as their style being out of favour could still make it to our list if they are able to show robust investment processes that have proven to be successful over the long term (ideally over a full market cycle).
Quality growth strategies have dominated over recent years as their performance strongly benefited from the market environment, while on the other hand value-biased managers have been out of favour. We acknowledge all factors and realise that it is extremely difficult to make the right call and our choice will not always be the perfect. However, our aim is to pick the best fund managers at the right time with the view to hold the product for the long term. This is applied into our robust assessment criteria, in which we have no conflicts of interest and is designed to align our goals with the best outcome for our customers.
It is, however, important to note that past performance is not an indicator of future returns.
The latest review and changes
The Super 60 Annual Review has officially been completed and we have made some changes.
The following investments have been promoted to the rated list:
The two strategies below have been removed:
The SPDR S&P Global Dividend Aristocrats ETF has been removed due to the higher risks attached to this strategy. Our analysis found the market environment has resulted in higher volatility and larger than expected tracking error.
The North American Income Trust lost its place following an extended period of unsatisfactory performance. Our analysis did not find enough evidence of the managers' decisions and stock picks adding value to the overall performance over the long term.
Along with the new entrants, several potential candidates were carefully considered and were added to our reserve list for further monitoring.
Our funds working group completed a full review of the funds universe, in which we analysed each sector for the best options. This was a rigorous process and we are delighted that most of the selections were able to be retained as best in class options.
We will continue to monitor the market and meet with fund managers regularly throughout 2021 to ensure our list continues to offer the best options for our investors.
Risk warnings
Past performance of the underlying constituents is not a guarantee of future performance. The value of investments, and any income from them, can fall as well as rise so you could get back less than you invest.
Annual performance can be found on the factsheet of each fund, trust or ETF. Simply click on the asset's name and then the performance tab.
The information we provide in the ii Super 60 investments list is an opinion provided by ii or one of its partners on whether to buy a specific investment. Please note that none of the opinions we provide are a "personal recommendation", which means that we have not assessed your investing knowledge and experience, your financial situation or your investment objectives. Therefore you should ensure that any investment decisions you make are suitable for your personal circumstances.
If you are unsure about the suitability of a particular investment or think that you need a personal recommendation, you should speak to a suitably qualified financial advisor.
Any changes to the ii Super 60 investments list and the rationale behind those decisions will be communicated through the Quarterly Investment Review.
Details of all recommendations issued by ii during the previous 12 month period can be found here.
ii adheres to a strict code of conduct. Members of ii staff may hold shares in companies mentioned in the ii Super 60 investments list, which could create a conflict of interest. Any member of staff intending to complete some research about any financial instrument in which they have an interest are required to disclose such interest to ii. We will at all times consider whether such interest impairs the objectivity of the recommendation.
In addition, staff involved in the production of this ii Super 60 list are subject to a personal account dealing restriction. This prevents them from placing a transaction in the specified instrument(s) for five working days before and after an investment is included or amended and made public within the list. This is to avoid personal interests conflicting with the interests of the recipients of this ii Super 60 investments list.